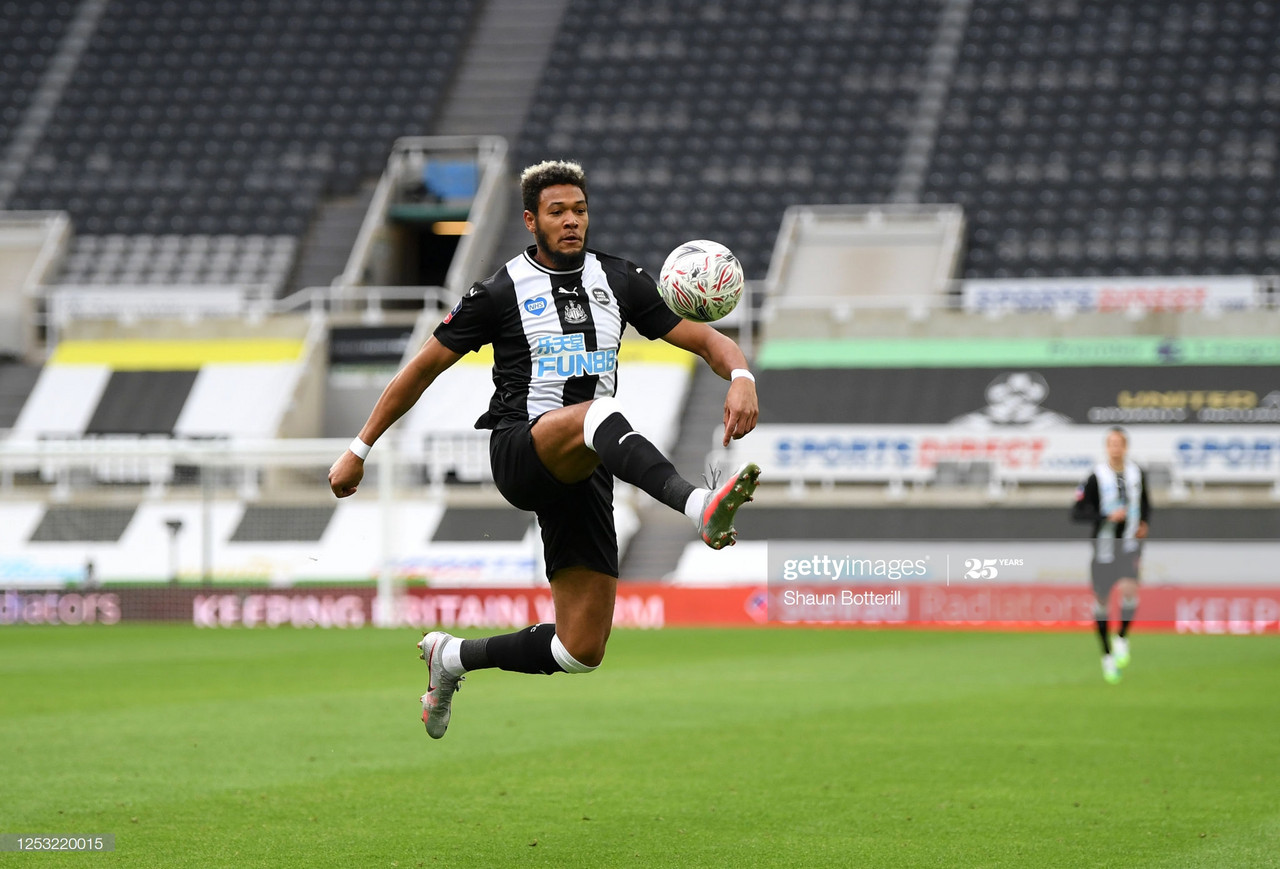 Make no mistake, as brilliant as Newcastle United's 3-0 dismantling of Sheffield United was ten days ago, it was an exception to the rule rather than an emergence of a new post-lockdown trend. Scoring goals still doesn't come easily to The Magpies. At the time of writing, only bottom club Norwich City have scored fewer league goals.
It is worth remembering that in the Sheffield United game when John Egan was sent off five minutes into the second half, the score was still 0-0. It wasn't until the Blades were down to ten men that Newcastle attacked at will and put them to the sword.
Prior to this, there was little suggestion that there would be more than one goal in the game. Full credit to Newcastle though they capitalised on the situation, and that is one of the reasons they are not currently fighting a relegation battle. However, if they don't address their troubled forward line in the summer they could well find themselves struggling next season.
He may have finally broken his St James' Park duck, ten days ago but don't expect Joelinton to suddenly start finding the back of the net with regularity. There is a reason that 31 Premier League appearances have yielded just two goals.
A lot of effort but still little end product
Against Aston Villa, he was presented with a good chance when Jonjo Shelvey dispossessed Kortney Hause and slid the ball to the Brazilian forward on the edge of the area. Joelinton burst into the penalty area but by the time he'd worked it on to his left foot and unleashed the shot, Tyrone Mings had been able to get back and make a block. It was a great opportunity and although Joelinton didn't appear to lack confidence he took far too long to decide what to do with it.
Great strikers control the ball quickly and work it onto their strong foot, sometimes even in one movement, and then get their shot away. There isn't the time for the nine or ten touches Joelinton seems to want to have before shooting.
As is well publicised, Joelinton works incredibly hard for the team but this seems euphemistic for not scoring enough goals. Newcastle have plenty of players in their ranks who work hard: Shelvey, Isaac Hayden, Allan Saint-Maximin to name a few. They need more than that from their strikers, they need goals on a consistent and almost effortless basis. Unfortunately, Joelinton doesn't seem the right man for that task.
A more direct approach may be required
It's also worth noting that Newcastle seem more likely to score with two upfront. This was certainly the case against Villa, last time out in the league. It was the two strikers, both on as substitutes, that combined for their only goal of the game.
Andy Carroll crossed the ball to the feet of Dwight Gayle and he found the right finish to give The Magpies the lead. When they play one up top, they don't create much and the lone striker, normally Joelinton, ends up being isolated and not seeing much of the ball, therefore, decreasing his effectiveness. With two forwards on the pitch, there is an increased threat going forward and more options for the midfielders to pick out, particularly when playing on the counter-attack.
Joelinton might also benefit from having a partner, he can certainly hold the ball up and pick a pass so if he was to be paired with a clinical finisher he could assist them and then his lack of goals wouldn't be as detrimental to the cause.
However, moving to two upfront and relying on Carroll and Gayle to produce the goals needed every week would also be a mistake. Carroll is yet to find the back of the net since his return to Tyneside and Gayle isn't consistent enough at the top level. After taking his chance superbly against Villa, he spurned a gilt-edge chance against Manchester City in the FA Cup at the weekend; firing wildly over from six yards when it looked easier to score.
However, on both occasions, Gayle was on as a substitute. Perhaps with regular starts his sharpness in front of goal would improve and he'd be able to find the net with the regularity he did on loan at West Bromwich Albion last season.
Whatever the outcome of the remaining Premier League games, what is abundantly clear is that Newcastle must invest in their forward line over the summer months.