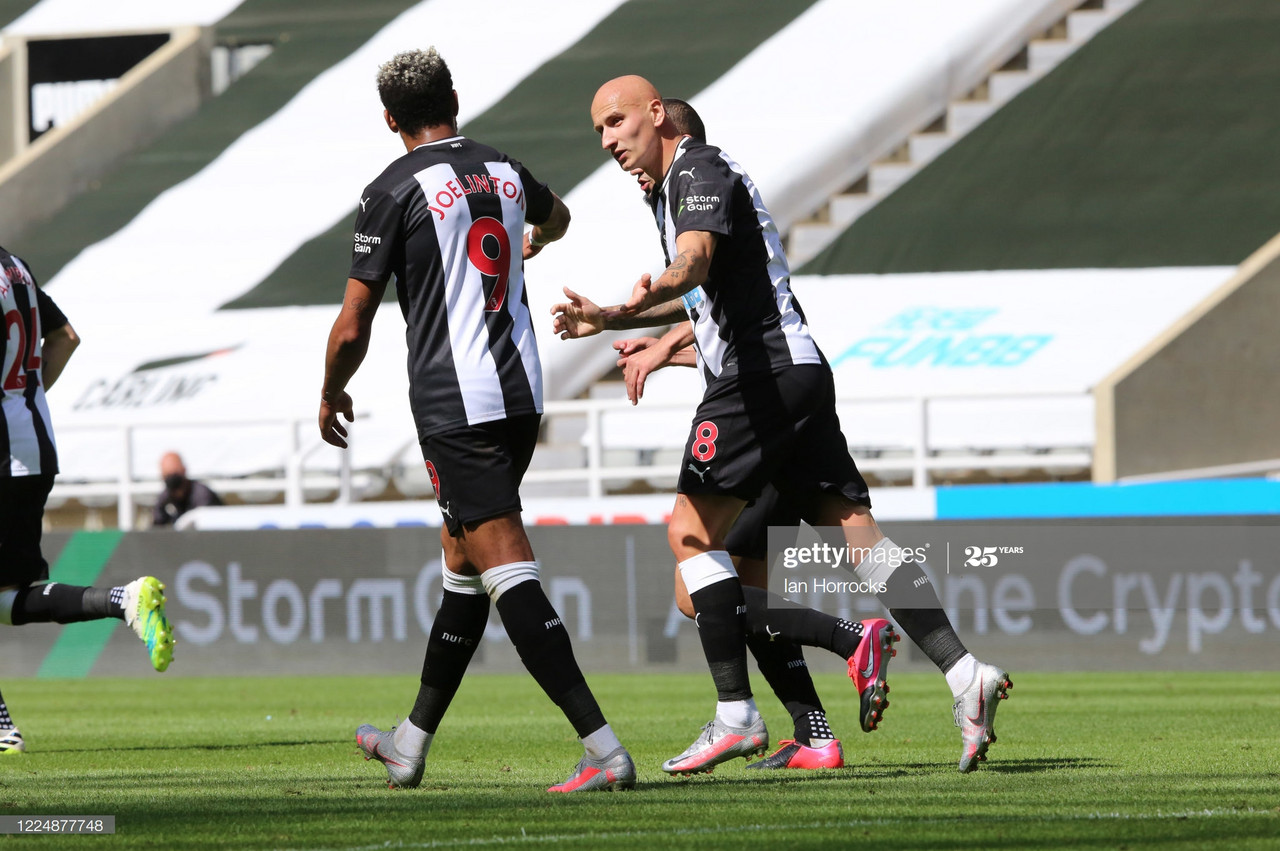 Newcastle United midfielder Jonjo Shelvey is aiming higher with the curtain beginning to fall on the Premier League season.
Speaking to NUFC TV after his side's 2-2 draw with West Ham United on Sunday afternoon, the England international revealed his frustration that the Magpies could only take a point after a positive return to competitive action following the forced break.
But it was a case of looking ahead for Shelvey who got Steve Bruce's side level for the second time at St James' Park.
"I think we should have taken all three points," Shelvey admitted.
"We're disappointed that we couldn't get them but West Ham are fighting for their lives.
"We're safe but we want to try and finish as high as we can and give the fans something to celebrate when they come back."
Great character shown against the Hammers
After falling behind twice in the game it could have been easy for Newcastle's players to let their heads drop early on but this wasn't the case and the Magpies reacted well to both goals conceded.
Shelvey believes that this attitude doesn't have a place in the Newcastle dressing room and it is something that has been evident on several occasions this campaign.
"All of the lads in the dressing room are fighters," said the goalscorer.
"We give it our all for this club and we all knew that we could get back into the game but we probably should have been ahead at half-time.
"Before I got my goal I was thinking there's no way their side is better than ours and they didn't deserve to walk away from the game with three points so I wanted to drag us back into it."
Miggy's the man
Miguel Almiron had failed to find the net in a black & white shirt until December 2019 after his big-money move from Atlanta United, but since then he has eight goals to his name including his latest against the Hammers.
The Paraguayan's teammates played a big role in helping him to add goals to his and Shelvey revealed that this support continues.
"We were always saying that he will get goals if he gets into the sort of positions he did in this game," Shelvey said.
"He got a great goal against Bournemouth and he's probably watched that one back a few times.
"It was nice for him to get another goal and he's got to keep doing what he's doing because he's been terrific for us."