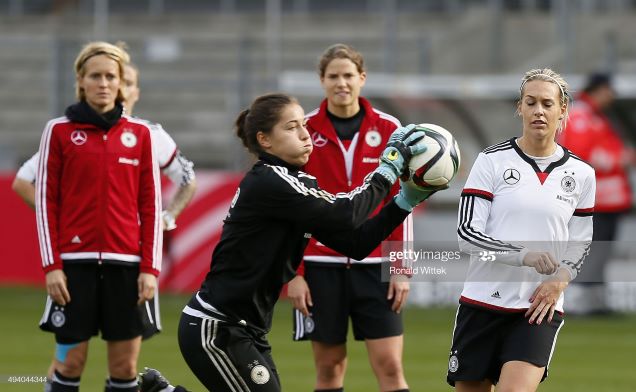 Aston Villa have announced the signing of German goalkeeper Lisa Weiß from French side Olympique Lyonnais following the expiration of her contract.
The 32-year-old becomes Villa's fourth signing since their promotion to the Women's Super League after the arrivals of Chloe Arthur, Anita Asante and Diana Silva earlier in the window. The length of the contract hasn't been disclosed.
Davies' latest signing
The German shot-stopper brings another wealth of top level experience to Gemma Davies' ranks going into Villa's debut WSL season.
She began her career at German outfit and hometown club SGS Essen, making her first team bow in 2009. She became Essen's number one for the next nine years, only leaving once French and European champions Lyon came calling in 2018.
Weiß played semi-regularly in the 2018-19 season, racking up ten appearances primarily in cup competitions. Six of those appearances came in the French Women's Cup and UEFA Women's Champions League, only playing four times in the league. She failed to make a single league or Champions League appearance this season, only playing three times in the cup.
The shot-stopper also has a limited amount of international experience with the German national team. She formed part of the squad that won the 2009 UEFA Women's European Championships, though she didn't play in that tournament. She has four caps to her name in total.
A dream come true
Speaking to Aston Villa's official website, Weiß revealed that playing in England has always been an aspiration of hers:
"I've always thought about playing in England, it's always been a goal of mine.
"I'm coming over from France, which was a good experience, but I didn't play much. I was also in Germany with Essen for 11 years. I was in my comfort zone. I needed something new, I needed a new step in my life.
"In England there are a lot of great teams. I'm looking forward to it".