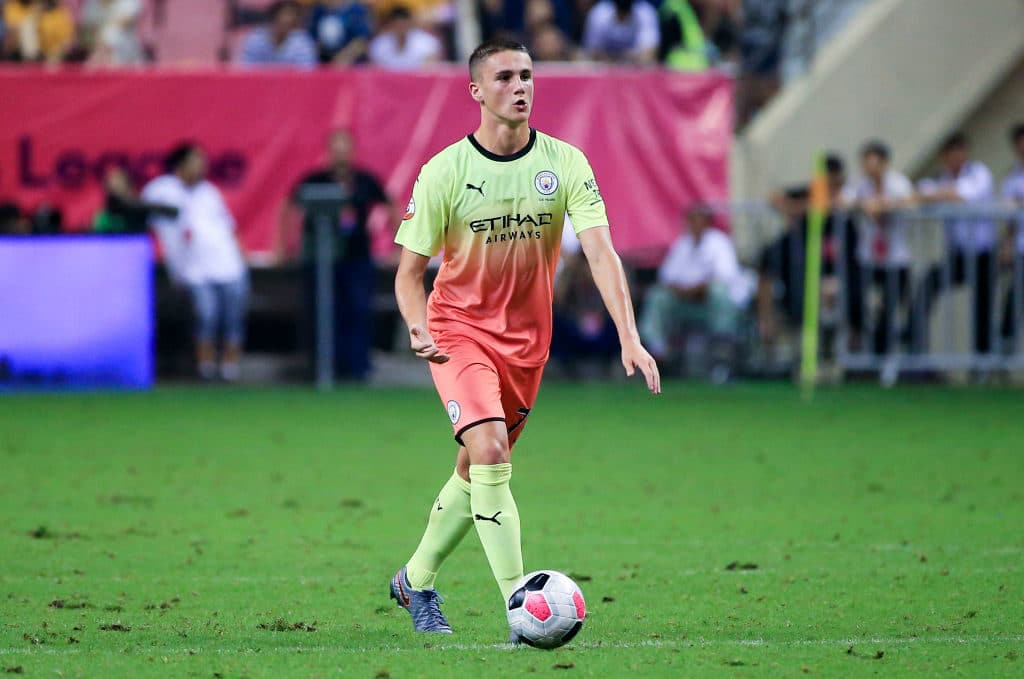 Taylor Harwood-Bellis
By now, we are all familiar with Phil Foden, the so-called Stockport Iniesta. As luck would have it, the Stockport Puyol may also be right under Manchester City's nose.
6-feet-2-inch, 18-year-old Taylor Harwood-Bellis is a true Blue. According to an interview he gave to Manchester Evening News, the youngster was right there in the stands when Sergio Aguero struck that jaw-dropping stoppage time winner against QPR in 2012.
Having served a 12-year apprenticeship with City's academy, including a centre-back partnership with Eric Garcia that won the 2019 FA Youth Cup, Harwood-Bellis made his first team debut in a League Cup tie against Preston North End last season. To sweeten the pot further, the then 17-year-old went on to became City's youngest goalscorer in 14 years when he netted his first professional goal in a 4-1 FA Cup win against Port Vale.
When not turning out for the first team, Harwood-Bellis spent much of last season captaining the Under-23s. His displays thus far have demonstrated a menacing mixture of guile and destruction. With an impressive stature and natural leadership, he is never one to shirk a challenge up high or down low. Meanwhile, his calmness on the ball is paired with a classy ability to ping the ball right footed to the opposite flank, drilled or floated.
With another year under his belt, do not be surprised to see Taylor Harwood-Bellis lining up in senior cup games again this season. In fact, with Eric Garcia potentially on his way out, his importance may be set to grow exponentially.
Tommy Doyle
Despite the lure of the Etihad on talent from around the globe, the next prospect is also City through and through. More than that, Tommy Doyle practically has royal pedigree as Grandfather Mike Doyle made over 550 appearances for Manchester City in the '60s and '70s.
The 18-year-old has enjoyed a stellar youth career, making 31 appearances in England's various youth ranks, appearing as captain on 15 occasions.
Doyle is a diminutive defensive midfielder, gifted with quick feet, agility and an enviable passing range. His skillset allows him to wriggle out of tight spaces with the ball at his feet, whilst he is surprisingly adept at finding the net despite his deep-lying position.
His youth performances have earned him three senior appearances thus far, including his Premier League bow at the back end of last season against Newcastle United. Understandably, the teenager stated in an interview with Manchester Evening News, "it's crazy when you look over to your right and you see some of the calibre you're playing with".
Considering Guardiola's tendency to utilise youth in the earlier rounds of cup competitions, City fans are likely to see more of Doyle in 2020/21. Fighting for a regular starting spot in central midfield, however, where even the supposedly generational talent of Phil Foden is struggling to muscle his way in, may still be some way off.
Liam Delap
With a surname like Delap, it is difficult to shy away from Liam's Premier League lineage. Although, the towering 17-year-old striker is likely to be on the receiving end of long throw-ins, instead of launching them long like his father did so famously.
Signed from Derby's youth ranks in 2019, this youngster has bedded in quickly to turn the heads of City coaches and fans. Having scored seven goals and provided six assists in just 11 games for City's Under-18s last season, Delap is gradually being eased into first team training.
His tall, rangy physique yields surprising pace and power. Whilst his legs do not blaze up and down the pitch in the way that might be associated with a vintage Aaron Lennon, he instead grows into a marauding gallop, akin to that of an Erling Haaland or Romelu Lukaku. Twitter is no stranger to his abilities, with a recent screamer doing the rounds to ensure his name is firmly in the back of fans' minds as one for the future.
At such a young age, it may be another season at City's various youth levels for Delap. However, if his head-turning ability continues to be put on display, do not be surprised if Guardiola gives him a big chance against some of the English football pyramid's lesser sides.