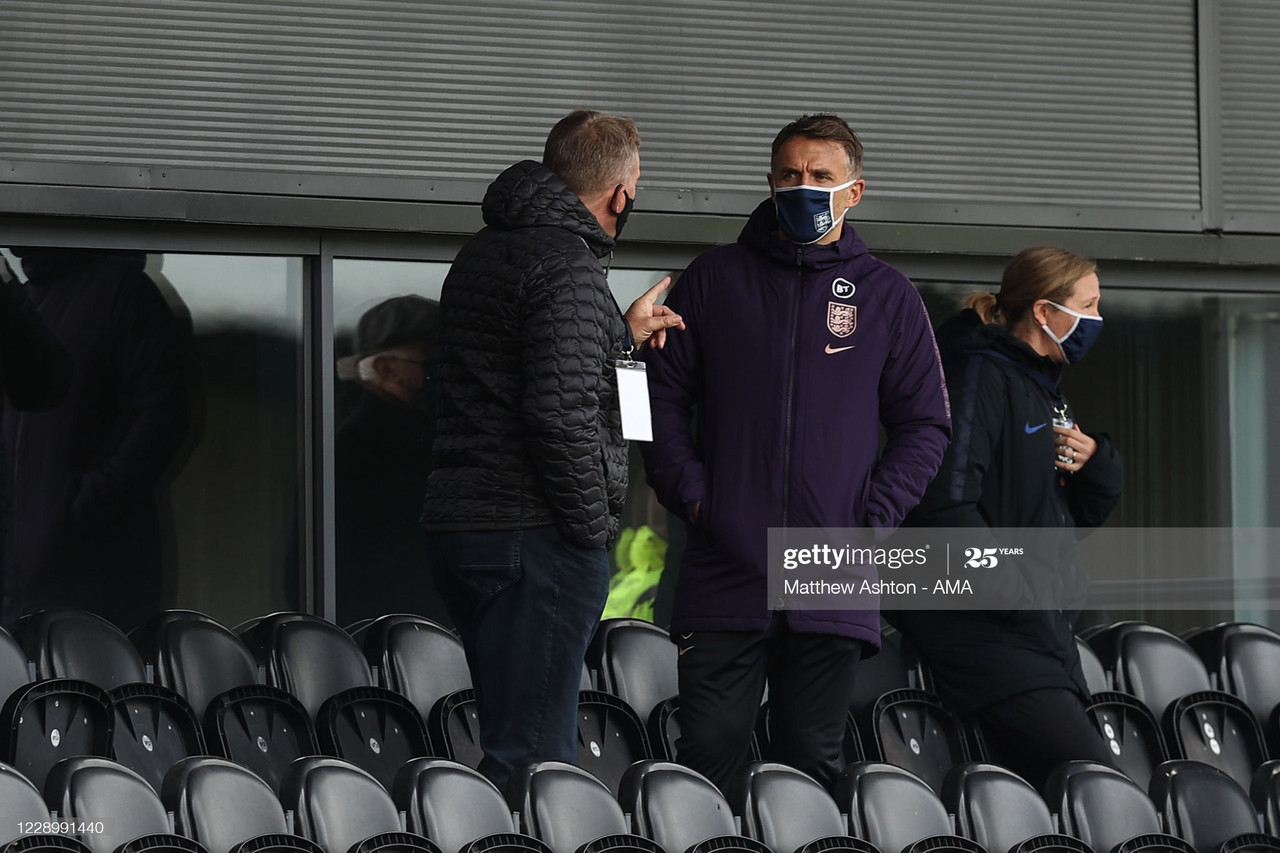 Phil Neville was praiseworthy of his young players but admitted there is a still a long way to go before they are ready for regular, first-team international football.
England Away thrashed England Home 8-1 at the bet365 Stadium in Stoke, with Ella Toone the pick of the youngsters as she bagged a hat-trick, whilst breakthrough Liverpool star, Rinsola Babajide, grabbed a goal and assist from the bench.
However, for some, Neville still believes there is work to be had: "You have to get used to playing in these types of stadiums.
"There was one team that was really focused and probably had more of the experienced players on, and then there was one team where we wanted to see how they would react under pressure.
"I think we saw everything today that probably confirmed what we thought and that there's still a long way to go with the players that we've brought in over the last three camps."
Neville picked a mix of youth and experience for his 28-player training camp squad, with Friday's game at Stoke a test of their character and readiness for competitive action.
Two youthful defenders on the home side, Esme Morgan and Grace Fisk, struggled to deal with the more experienced Nikita Parris and Beth England, meaning there is work to be done for some Lioness hopefuls.
However Toone truly staked her claim for a starting spot in February's internationals, as she opened her account from the penalty spot in the first half and scored two more after the break. Babajide also starred, assisting Beth England's second goal before putting away a tidy finish of her own off the bench.
"I think in there, there is the potential to be a real special player," Neville said, in regards Liverpool's rising star. "She does things that get me off my feet, and that's why we're going to invest a lot of attention, a lot of time, she's going to have to probably be patient.
"We're going to have to see some consistency in everything, elite behaviors and on and off the pitch consistency in her play."
In terms of timeframe for their development, Neville was honest: "I think there are players that you think when you get to those big moments, maybe in three years time, she could be one that could be a game changer for us.
"So we're going to invest time in those types of players and Lauren James, who are not ready yet, but maybe in two, three years' time, they will be.
"They've got a decision to make, those younger players that are not quite ready. They either go away and put the hard yards in or they go away and think I've got potential, I should be there without putting the work in.
"You've still got a long way to go. You've still got to get up to the levels of intensity of those top senior players that we've got. They are our foundation. They're the ones that I will select when it comes to February, because they're the ones that actually are at the level to play at the top level."
What does the future hold
Frustratingly for Neville, England haven't played a competitive fixture since March, owing to COVID-19 protocols cancelling matches against Germany and Norway, and this has left the squad itching to get some game time.
However with two more international breaks coming up at the start of next year, there is a chance for the whole squad to show what they're capable of on an international stage.
"I think the players are crying out for competitive games," Neville admitted. "Where they can go out into a stadium and test themselves against the best, and that's what I really want.
"We've got February, we've got April, where hopefully we've got some exciting plans and we can play some real top class opposition.
"We're working really hard with something really exciting in February. We can't announce it yet because obviously nothing is guaranteed and nothing's signed, sealed, and delivered. But I think if it does come off, it'd be really exciting for the players."
With two international tournaments on the way as well, Neville is getting to the point where he has to consider who is ready for the big stage, and which players he is preparing for which tournaments, in time for his successor to take over in July.
"A lot of players in this squad are probably more Euro's," he claimed.
"Probably because the Euro's is only 12 months away nearly, they're fully aware of what they need to do. But I think within the plans, you always get some people that really jump out and we've had, I think, two or three that have really jumped out."
The Lionesses are due to play another intra-squad friendly next week as they complete their 10-day training camp.