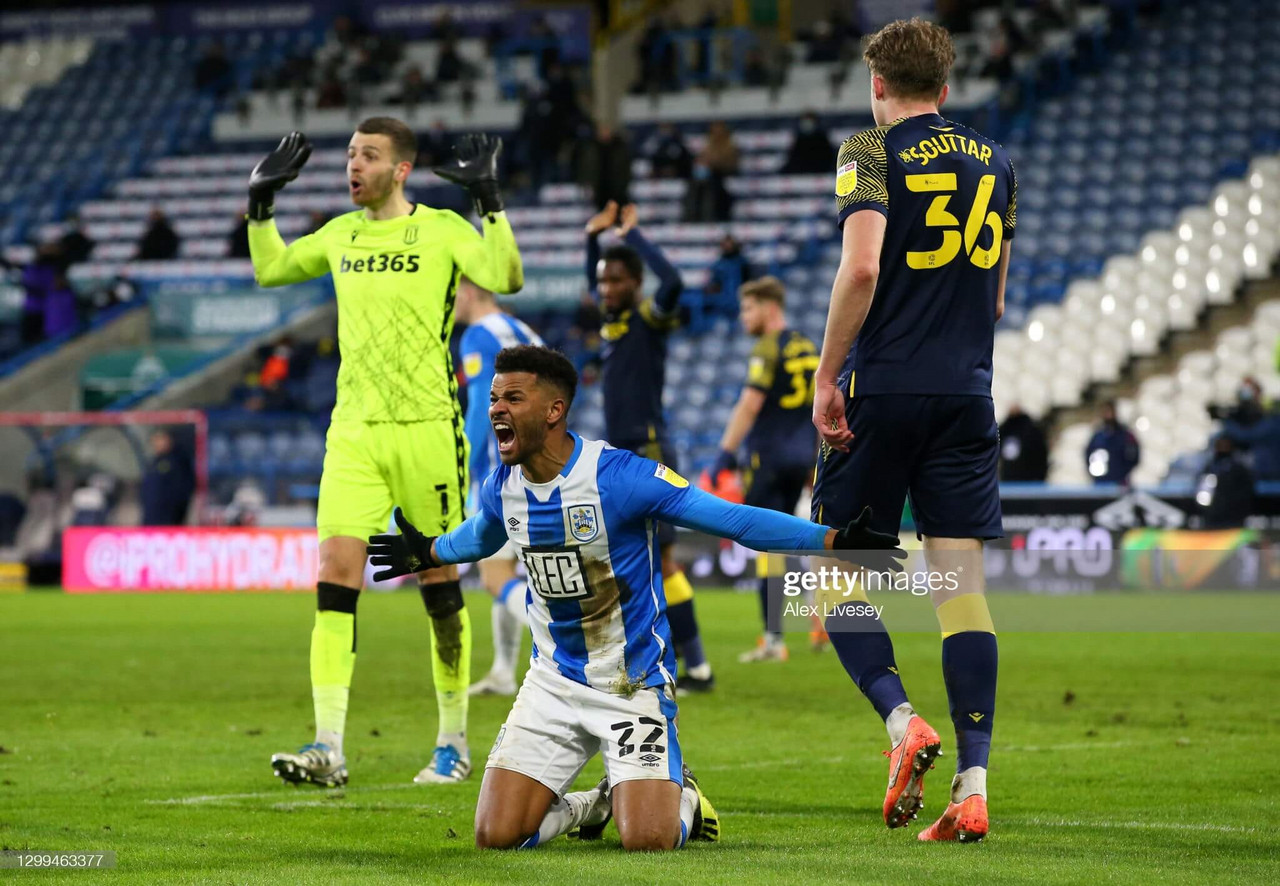 Huddersfield Town were unable to take advantage of 45 minutes with a man advantage, stumbling to a draw with Championship specialists Stoke City.
Pipa's deflected strike had given them the lead but a rash Naby Sarr challenge after Richard Keogh's mistake allowed Steven Fletcher to convert a penalty to restore parity.
Just before the half, Reece Norrington-Davies was given his marching orders for a debatable challenge on Juninho Bacuna.
Huddersfield couldn't find a second half breakthrough, having a couple of penalty shouts waived away by referee Gavin Ward and being unable to convert past Angus Gunn in the Stoke goal.
Story of the game
Carlos Corberan named an unchanged side from Tuesday's promising but disappointing defeat at Bristol City.
As for Stoke they made three changes, talisman Nick Powell was missing with a hamstring injury, Steven Fletcher replaced him. The other two changes were Angus Gunn in goal in place of Josef Bursik and Jordan Thompson in place of Sam Clucas in midfield.
Clearly still chomping at the bit after the second half on Tuesday, they flew out of the traps scoring after five minutes. A good cross from Harry Toffolo was missed by Fraizer Campbell, it fell to Isaac Mbenza on the far side of the box. With his path blocked he rolled the ball back to Pipa who fired an effort that probably would have been an easy save for Gunn had it not took a deflection which sent it into the corner, flat footing Gunn and giving the hosts a deserved lead.
They built on it and continued to press, creating numerous half chances. They did create two big chances. Huddersfield identified set pieces as an advantage point, Stoke are not the biggest team and with the likes of Naby Sarr in the side they are a threat, especially from corners. He came close from a Mbenza delivery stealing a yard on Harry Souttar but his header just went past the angle of post and bar.
Their guilt edged chance fell to Fraizer Campbell. Another Toffolo delivery from the left it was inch perfect and begging for Campbell to flick it beyond Gunn but he headed it too true putting it wide.
Stoke had offered little up until that point but when presented an opportunity punished Huddersfield. A loose pass by Richard Keogh gifted the ball to Tottenham Hotspur loanee Jack Clarke with acres of grass in front of him. He drove towards the Town box faking one way and the other inviting Naby Sarr to dangle a leg out which Clarke went over for a stonewall penalty.
Whether Sarr really needs to make the challenge is another question, Alex Vallejo was on the cover and Clarke would most likely had to have shot as he was running into trouble. He did and it allowed Steven Fletcher to step up, give Ryan Schofield in the Huddersfield goal the eyes and slot into the right hand corner.
Stoke started to get into the game without really testing Schofield. Huddersfield had been nullified in attack so lots of the play was in the middle of the park.
The game swung just before half time. Reece Norrington-Davies came flying in with a tackle and took man and ball. Referee Gavin Ward brandished a straight red and reduced the visitors to ten men.
It's difficult to judge whether it was the right decision. The defender went flying in and jumped at the ball, but he takes all of it and it was his body that Bacuna falls over.
Huddersfield weren't complaining, they like to stretch the pitch and with James Mclean having to go to left back, the attack minded Pipa would have been fancying himself on the overlap. Bacuna, who started on the right, had started to move into the pocket of space behind Campbell.
He was key in Town's attacking play, finding space himself and releasing an effort but it was tame and an easy save for Gunn. But he was attracting players and it was freeing up space.
Pipa was a beneficary of this, having a huge penalty appeal. Bacuna played the corner short to him and overlapped freeing space for him to burst into the area. He looked to head to the byline and it looked like he was illegally blocked by Jack Clarke but the referee wasn't having it. It would have been soft had he given it but it was similar to Stoke's in the first half.
Huddersfield weren't deterered and came close again a minute later. Again, Harry Toffolo finding space down the left. His low ball in seemed behind Lewis O'Brien but the Town number eight managed to scoop an effort on target and it required a fingertip save from Angus Gunn to tip it onto the bar.
Town kept coming though and it was Bacuna again at the centre of the play. Patient play by Town ended up with Lewis O'Brien down the left. He passed to Bacuna and in one touch he escaped the defender and fires an effort on goal which beat Gunn, but Mclean smartly had gone behind his goalkeeper and cleared off the line.
Stoke looked to slow the tempo and did so for a period without offering anything going forward. Once Harry Toffolo curled over from the edge of the box, Huddersfield were back on the charge.
It seemed as if all it would take was one big chance to settle the contest but Town, despite having two centre forwards on the pitch, looked to be fizzing out.
They had one final hurrah, including a penalty shout. A long ball by Bacuna bounced through to Campbell and under pressure from Gunn in the stoke goal went down.
From afar it looked stonewall but on a second look Gunn pulled out of the challenge and Campbell went down looking for it. Pipa then flashed an effort wide of goal but Town couldn't find a second a Stoke left with their point.
Man of the match: Juninho Bacuna
A few Town players could have won this award as they were superb today. There are the usual suspects, the ever reliant Harry Toffolo was outstanding down the left again. Lewis O'Brien was covered a lot of ground and nearly had his goal.
But one player stood out all game, Juninho Bacuna. If this isn't his last few months in a town shirt it will be a surprise. He is hard working coming back on defence but going forward is where he shines. Skillful and smart he finds space and is really the link between midfield and attack for Huddersfield and on his day is among the best in the division.
Takeaways
There is potential in this Huddersfield group
The way Carlos Corberan makes Huddersfield play is a joy to watch and at times they carve teams open like they aren't there. Two themes of the season stood out in that game. They would have won the game comfortably had they not gifted Clarke the ball and Sarr hadn't been rash and it's this sort of thing that has ruined their season. Even on Tuesday they gave themselves a mountain to climb and couldn't recover. If they are to progress they need to cut it out.
They also are in dire need of a striker, Fraizer Campbell has had a long career and can probably look back with joy. But at this point in his career he isn't good enough to be the spearhead of a Championship attack. They have promising youngsters but they aren't ready and if Corberan wants to keep progressing, he needs to enter the market which is easier said than done especially with the new work permit rules.