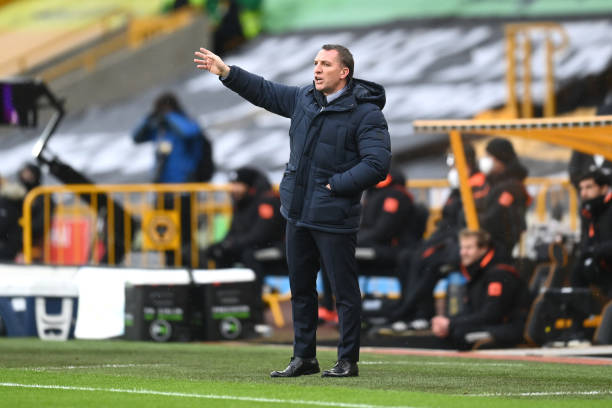 Leicester City will be confident of their prospects regarding an opportunity to reach an FA Cup quarter-final for the second season running as they welcome the in-form Brighton and Hove Albion.
The Foxes' boss Brendan Rodgers detailed the key aspects on Monday ahead of an extensive phase of football for the club, where the magnitude of a successful period across domestic and continental competitions is paramount.
Leicester have enjoyed immense success against The Seagulls in recent times and are unbeaten throughout their last seven meetings across all competitions - including a zestful 3-0 home victory earlier this season.
Ahead of the encounter, Rodgers discussed important matters for the side concerning: Jamie Vardy's return, the race for top-four and a variety of relevant topical affairs.
After a frustrating draw away to Wolverhampton Wanderers on Sunday, Leicester will hope for a refined display after a match of diminished offensive impotence.
Rodgers - acknowledging the congested period ahead – shed light on the potential team news for the anticipated clash.
The 48-year-old said, "We'll make changes, but it will be a strong 11. We have to consider the month of games and the early kick-off. I'm also going to take a look at one or two of our talented young players. I feel it's the right time to put them in. You never know until you put them."
Speaking of the refreshing return of Vardy – following minor surgery after a hernia operation – Rodgers was buoyant after his talismanic offensive icon made his return off the bench at the weekend.
He said, "Wednesday's a big game for us. He hasn't lost too much fitness. It's only been a couple of weeks. We gave him half-hour and you could see the dynamism he brings the team.
"We'll definitely get him some minutes on Wednesday, whether it's the first period of the game or the second."
Concerning the fitness of the versatile summer acquisition Timothy Castagne - who has been side-lined sporadically since his arrival - Rodgers said:
"No it's probably another week to 10 days away. He's been working well with the medical team."
The need for rotation was evident following Rodgers words, as the potential of damaging injuries to key players could prove detrimental.
"The players aren't robots, we have maximised everything we could out of the players at this point. We had a big injury list at the start of the season. Other guys have come in and done brilliantly.
"They are not featuring so much now but they've been a big help to get us where we are. You cannot use the same players every game because of the close proximity. You still want energy and enthusiasm."
The challenge for continental qualification
This campaign, Leicester have once again excelled under Rodgers' insightful tutelage and the reveries of returning to the esteemed competition have slowly become demanding expectation, such are the capabilities of this team.
For Leicester's pragmatic manager, the incentive remains to take it game by game, and above all else to maintain the levels of performance determined in order to bring success.
On the race for top-four, Rodgers said: "I haven't even thought about it. With so many games left to play, and it being so tight, I'm just looking at our performance level. We've been very good up to this point.
"I hear Liverpool and Manchester United looking at being in the top four. Where does that leave us and our aspirations if someone of these super clubs are focused on finishing in the top four? We just have to quietly go about our work. We'll fight right to the very end.
Maintaining vibrancy across the club
The current campaign has been disruptive and challenging for all involved, and Rodgers was keen to discuss the critical elements to maintain the energy and serenity for those at the midlands club.
He said: "I work with guys who are good people. They understand the climate. You communicate more. We're very fortunate that the training ground is spectacular, so that gives you a boost of confidence. They really like each other as well, they're friends, not just colleagues.
"They've been talking about the American football. Some of them stayed up and watched it. I've been talking with Kasper about it. I don't really understand it but I still have admiration for the likes of Tom Brady."
The Northern Irish manager detailed the potential toll the sport can inflict – not at all exclusive to the athletes – and spoke of the drive behind his passion for his profession.
"It's very demanding, but it's not anything other than what I love to do. There's not too many rest periods within it. There's a lot of work and thinking time, but with experience over the past few years is prioritise.
"When I was younger, I tried to do 20 things in the day, but you learn about efficiency, so you do the five things that are absolutely vital to you and make sure they are detailed. I love my work. I watch a game to two games every night. It's not the worst job in the world."