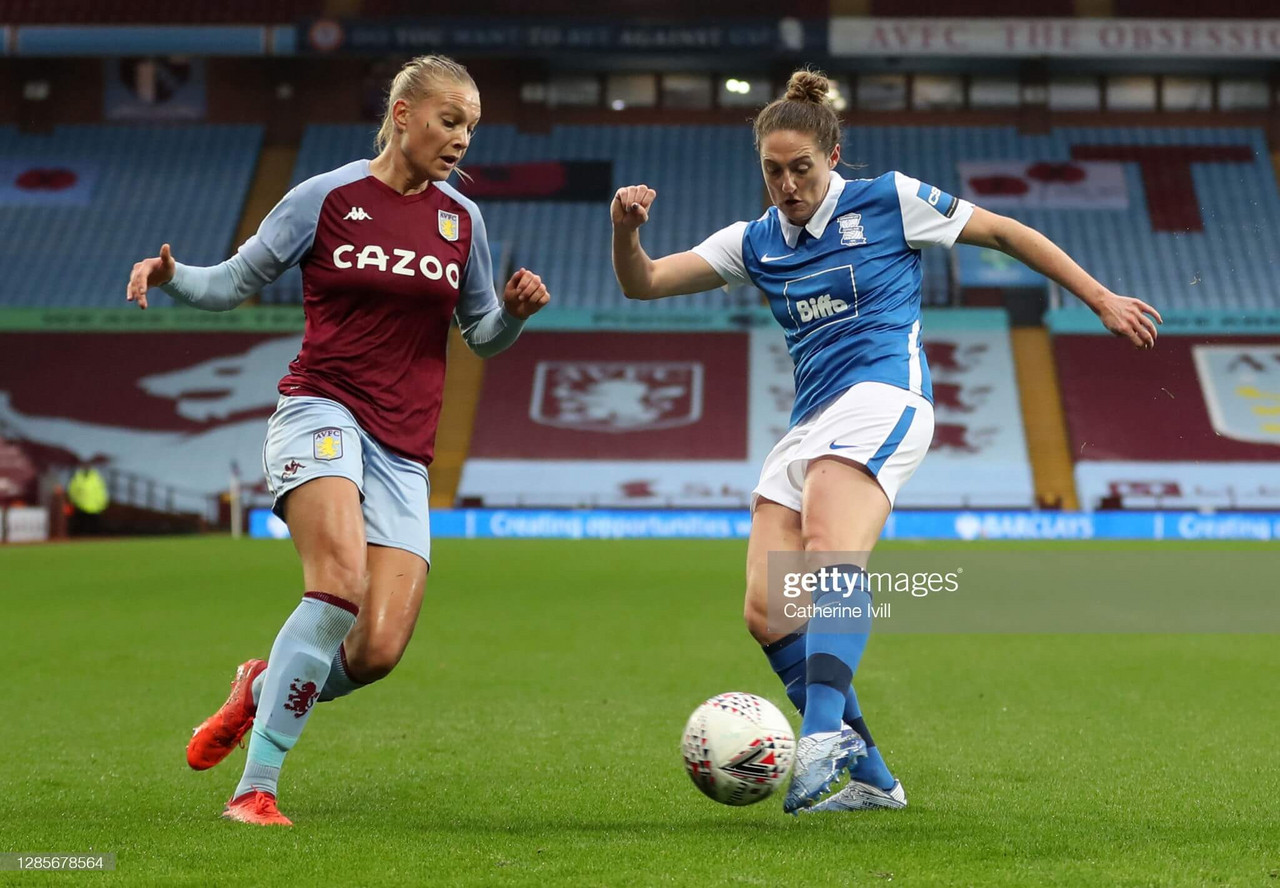 After Aston Villa's 1-0 win against Tottenham Hotspur at the weekend they moved up to tenth place in Women's Super League, just one place and one point behind rivals Birmingham City, who drew 1-1 to Everton on Sunday.
A win for both side could see them jump up the table, depending on results elsewhere.
This is a game of great expectations for Blues and Villa fans and both sides will be desperate to come away with three points against their opponents from across the pond.
Birmingham City manager Carla Ward spoke to the media team ahead of Wednesday's game, she said:
"I'd like to think we have come on since the first game, but so have they. It will be tough but the pressure is on them, they are the ones with the bigger resources so they will need to win it more than us, but we want to win it for the fans.
"Anyone in the game knows that derbies are the ones that everyone looks forward to. We hope it is a little bit more exciting than the last one, but for me it's an occasion for the fans, one where we absolutely have to deliver."
Aston Villa will be confident after the weekend results, where they secured their first home win of the season. Two academy players earned first team call ups for the match against Spurs, Freya Gregory and Isobel Goodwin were both on the bench.
Birmingham City: Hampton (GK), Mayling, Scott, Mace, Holloway, McCarron, Littlejohn, Whipp, Murphy, Walker, Napier
Aston Villa: Weiss (GK), Ale, N'Dow, Asante, Haigh, Hutton, Ewers, Hanssen, Iwabuchi, Larsen, Silva
City's new signing Ruby Mace, who is on loan from Arsenal impressed her boss at the weekend when she made her debut against Everton. The 17-year-old put in a solid performance at the heart of defence and will be hoping to continue this in the weeks to come wearing the Blues shirt.
After her debut performance, Carla Ward said:
"She was outstanding today and looked like she'd be there for years. She's a very talented individual that will go very far in the game.
"She is an intelligent footballer, she read the long balls and the runner - she was outstanding. If anyone from Arsenal was watching that, they will see she has a bright future."
It goes without saying that Japanese star Mana Iwabuchi will be one for Birmingham's defence to watch. She proved she can score from anywhere at the weekend with a stunning goal, finding the top corner from 25 yards out which ended up being the difference between the two sides.
After the weekend result and Iwabuchi's goal Aston Villa manager Marcus Bignot said:
"She's been brilliant. She is a standout performer on the pitch. As management, as staff and as players you look at the great recruitment of the club to get a player of that stature to come to this football club says what a job people are doing at this football club to get that type of player in."
Yet defender, Elisha N'Dow also made the Barclay's WSL Team of the Week after her excellent performance at the weekend. She is Villa through and through and puts everything into her game week in week out.
The reverse fixture at Villa Park did not live up to the expectations of a derby. A Claudia Walker 72nd minute goal was the only difference between the two sides. Villa had the majority of the possession yet only managed one shot on target.
The game kicks off at 18:00 GMT at the Sportnation.bet stadium on Wednesday 10 February.
It will be available to live stream on the FA player.