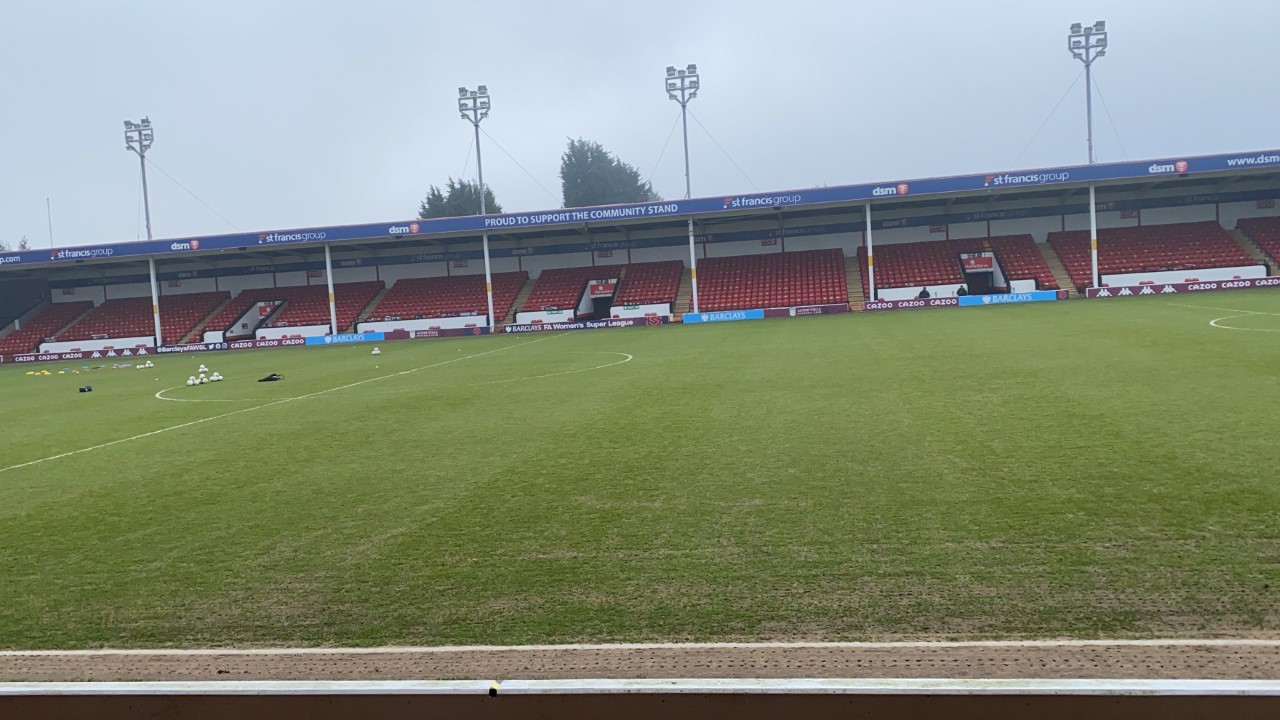 Aston Villa Women grabbed a well-deserved first home win of the season with a narrow victory over Tottenham Hotspur.
It was a battling performance from Villa, who finally displayed some long-awaited improved defensive form. The centre back trio of Anita Asante, Nat Haigh and Elisha N'Dow played together in central defence for the first time, but they looked a firm and commanding unit. There were many encouraging signs for the Villans as they look to pull away from the relegation place in the maiden Women's Super League season.
Story of the match
It was a lively start for Villa, with new manager Marcus Bignot starting ringing in the changes. He ditched the 4-3-3 formation used by Villa all season in favour of a more fluid 3-4-1-2 formation with both Stine Larsen and Diana Silva starting as strikers for the first time. From the off, their new manager whipped up his team to press aggressively high up the pitch and force errors from defenders, something Villa have sorely lacked this season.
Star signing Mana Iwabuchi continued her fine start to life in claret and blue with a beautiful goal in the 12th minute. The Japanese World Cup winner collected a clearance just outside of the penalty area and curled her shot into the top corner, leaving Aurora Mikalsen no chance. Spurs almost had a quick reply as Kit Graham fired just wide from distance after a panicked clearance by Lisa Weiss, but it wasn't close enough.
Spurs recovered well and began to dominate after the half hour mark, coming close again courtesy of poor Villa defending. Elisha N'Dow first failed to keep Graham contained on the touchline, letting her breeze past far too easily. The Spurs forward managed to get her cross into the area, but it should have been dealt with by Haigh. However, the defender missed her clearance, forcing Weiss to come across and claim it.
Villa's formation change paid dividends for Bignot, particularly with the wing backs. The more attacking focus of a wing back complimented Asmita Ale and Jodie Hutton perfectly and Spurs struggled to deal with them. Ale especially gave Kerys Harrop and Kit Graham no time on the ball while also not being afraid to put the hard yards in running in the opposite direction.
The second half started much as the first ended, with Spurs in control. They made a double switch at half time, bringing Jessica Naz and Rosella Ayane into the game, but they had little impact in front of goal. Naz was the more effective of the two in the opening period of the half as she used her pace to harass Hutton on Villa's left flank, but she couldn't force any errors or chances.
Ultimately, Villa's defensive resilience paid off as they kept Spurs at bay despite being practically under siege for much of the second half.
Takeaways from the match
There is new life in this Aston Villa team
Villa have put in a series of much improved displays in their last three games, but this was the most impressive of them all. Following their 7-0 embarrassment at the hands of Manchester City earlier in the season, Villa have shown much more resilience and determination to grind out results. Even when losing 4-0 to Chelsea in their last game, they displayed defensive form vastly superior to the first half of the season.
Not only that, but Mana Iwabuchi has injected energy into Villa's strike force. With two goals and an assist in her first three starts, she is grabbing this team by the scruff of the neck and dragging them back towards safety.
Marcus Bignot is exactly what Villa needed
While the manner of his appointment may have stung some, with a number of fans believing the move to be disrespectful to head coach Gemma Davies, but his skillset is perfect for Villa. Ever since his appointment, the bench has been much more vocal and clear on their demands for the players. This has shown in performances on the pitch, with Anita Asante shaking off her early season struggles to finally show the class that Villa signed her for. Diana Silva and Nadine Hanssen have also stepped up their games under Bignot so far.
This motivation from Bignot will bring the best out of his players, which they will sorely need as they go into a crunch derby match with Bignot's former club Birmingham City in midweek.
Stars of the match
All of Villa's players were mightily impressive, but by far the best was Diana Silva. While Iwabuchi scored the winner and kept things ticking for the Villans, Silva's pressing is what made the chances in the first place. For the first time arguably since the season opener against Manchester City, she finally displayed the aggressive style of play that Villa need so badly. Her linkup with the taller, more powerful Stine Larsen suited each other brilliantly and Silva put in a display to be proud of.
As for Spurs, their best player was undoubtedly Kit Graham. The diminutive midfielder was absolutely everywhere for the visitors and she never stopped running. She also drew a number of fouls to keep her team advanced and keep Villa inside their own half. Graham also looked like her side's only real goal threat for much of the game, securing her status as Spurs' best player in this game.