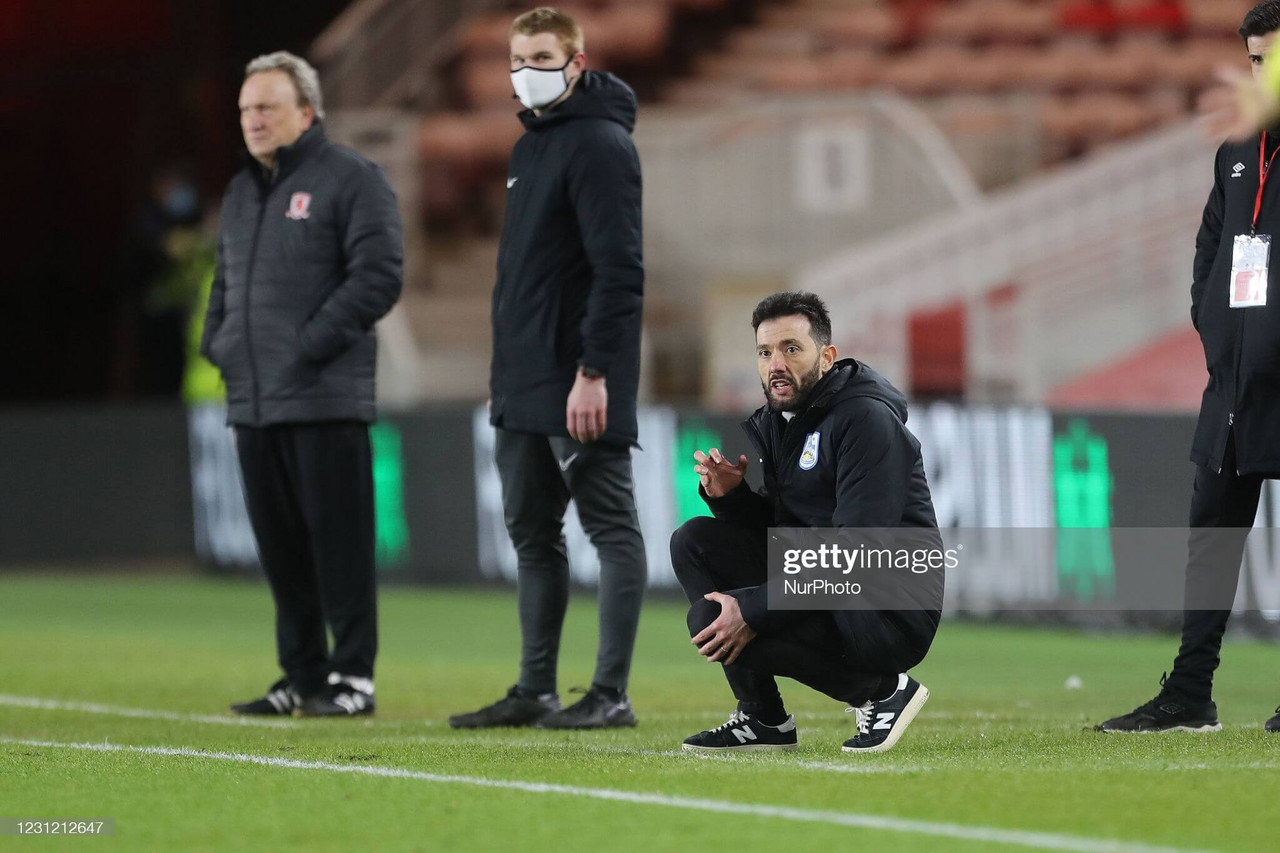 Huddersfield Town head coach Carlos Corberan had a flying start to life in West Yorkshire, as Huddersfield became one of the most challenging teams to beat in the Championship over the Autumn period.
The former Leeds United coach had the Terriers playing some free flowing football, that delighted the Huddersfield Town faithful, and saw the West Yorkshire side sit comfortably within the top 12 of the Championship table, and seemingly an outsider for the play-offs.
Things have gone badly wrong at Huddersfield over the last couple of months however, with the Terriers still awaiting their first win of 2021, they are the only team in the Championship yet to have a win since the start of the new year.
Injury troubles for the Terriers
When Huddersfield went on their impressive run of form over October and November last year, they were dominating games and took some exceptional victories, with a prime example of this being their triumph in South Wales against their opponents today, Swansea City.
However in that purple patch of form, Huddersfield were dependant on a trio of players who will all be absent tomorrow, with two of them sidelined with long term injuries.
The three that made this trio were Belgian Isaac Mbenza, top scorer Josh Koroma and Dutch midfielder Carel Eiting, with the latter two being absent for well over a month now and their truancy causing Corberan all sorts of difficulties.
In the January transfer window Huddersfield did try to fill this void with the signings of Rolando Aarons and Duane Holmes amongst others, but it's quite clear that the absence of Eiting and Koroma, has been the main factor in Corberan's current downfall in West Yorkshire.
Make or break against the Swans
Perhaps the main concern amongst Huddersfield fans is that their Spanish head coach has failed to find any sort of form without Eiting and Koroma and with both expected to be absent until April at the earliest, Corberan must start to find a way to resolve things without them.
Tomorrow may prove to be a crucial game for Corberan as the match against Swansea will remind him and his team of their performance against the Swans back in October, when Huddersfield were a side flowing with confidence. This in stark contrast to the side they've become now, which has seen them slide to a miserable 19th in the League standings.
So while a win tomorrow, could reignite the Terriers, a defeat would pile the pressure on Corberan and drag Huddersfield Town even further in to a relegation battle.