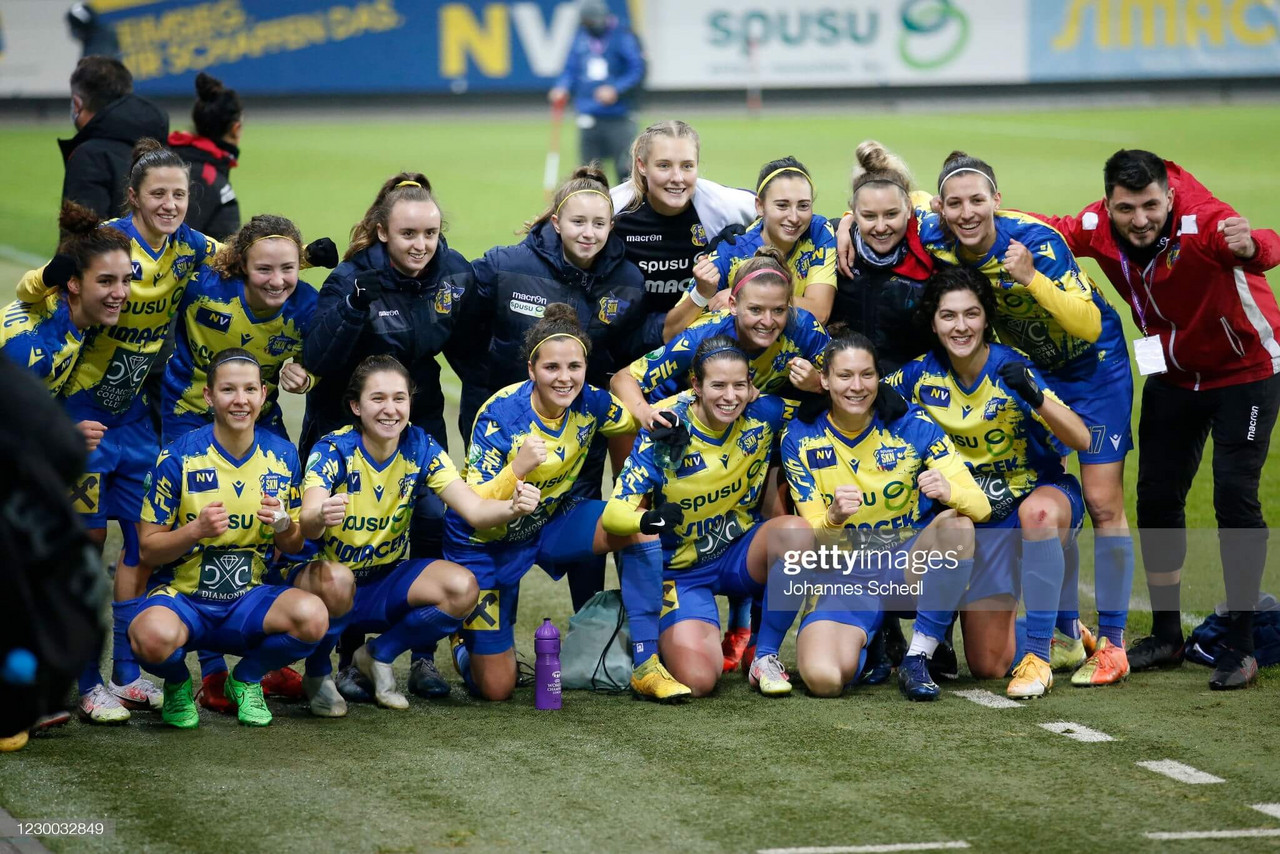 A Mateja Zver brace put St.Pölten in charge of the match, but their brave defence was eventually broken thanks to finishes from Sanne Troelsgaard and Caroline Seger. The score would have undoubtedly been much worse for the visitors if not for the heroics of goal keeper Isabella Kresche who made an astonishing nine saves including some excellent stops.
Rosengård will be kicking themselves and cursing their luck as they were only able to score two goals despite creating numerous chances. While they rescued the situation by bringing the scores level in the dying minutes the Austrians will certainly be the happier of the two sides and happy to take an away goals advantage back home.
As anticipated, Rosengård dominated possession early but with no real penetration. St. Pölten were more than happy to sit in a narrow 4-3-3 and play on the break, the first shot on the target not coming until the 20th minute when Jelena Čanković's freekick went down keeper Kresche's throat.
While Rosengård pressed high they did look vulnerable to balls over the top of the back for and St. Pölten took advantage of this just a minute later. Kresche's long ball was brilliantly flicked on by Bernadett Zágor for Mária Mikolajová to race through on goal before squaring for Zver to finish.
Having taken the lead St. Pölten dropped deeper and deeper allowing for more of the ball for Rosengård who were struggling for ideas. The only threat for the Swedes was their number 10 Čanković who looked like creating something every time she got the ball. Their best chance of the half coming from a brilliant flick that she played through to Mimmi Larsson who's effort was brilliantly saved by Kresche.
If the first half started slowly, the second half exploded into life. Just a minute from kick off Zver took advantage of a mix up in the midfield of Rosengård before riding a challenge and running the whole half and cooly finishing to put the Austrians up 2-0.
With the urgency of being down by two, the side from Malmö nearly struck back immediately. They had three brilliant chances in the next five minutes in which Kresche saved two one-on-ones from Larsson and Troelsgaard. The chances came either side of Larsson's finish from a cross that beat Kresche, but was cleared off the line by Leonarda Balog.
The pressure was building on the St.Pölten defence and with few outlets once Zágor was subbed off there was no respite. It was another piece of magic from Čanković that eventually unlocked the defence. Her lovely clipped ball in the 68th minute found Troelsgaard who chested the ball before lifting it over the oncoming Kresche.
Rosengård continued to press for an equaliser and another brace of saves from Kresche denied Troelsgaard and Nathalie Björn from close range. Larsson then headed wide from six yards out with 12 minutes remaining, but St. Pölten were able to disrupt the flow of the game and Rosengård's pressure and looked like they might sneak away from Sweden with the win. That was until captain Caroline Seger was able to take advantage of the ball ricocheting in the box from a corner to hook the ball into the top corner.
St. Pölten came to Sweden with a clear structure and style of play to frustrate the home side by defending deep and playing on the break. While periods of the game they executed that plan well, the reality is that they conceded numerous clear cut chances. The real reason they only conceded two goals was down to the brilliance of Isabella Kresche.
The keeper was immense right from the off, claiming crosses and commanding her area while pulling off some excellent saves. She went down early in the second half with an injury to her side which needed treatment, but that in no way impacted her brilliant goal keeping. If St.Pölten come out of this tie to the next round they will be indebted to Kresche.
Rosengård cannot believe that they did not win...
Jonas Eidvall's side dominated the game from start to finish. They moved the ball around the pitch with quality and cut threw a tight defence time and time again. However, the cruel reality is that the two moments they switched off they were ruthlessly punished. If they want to get through to the next round they need to clean up those mistakes and let their quality shine through.
St.Pölten have a slender advantage but must provide more of a threat...
If the Austrians are to make it through to the quarter-finals for the first time in their history they will have to provide more of a threat going forward. While they were clinical with their chances, they only created through their own play one chance of note throughout the ninety. Maria Wolf will be delighted that her team will go into the second leg in a strong position with their away goals in a tie which they were definite underdogs, but they will have to improve if they want to progress.