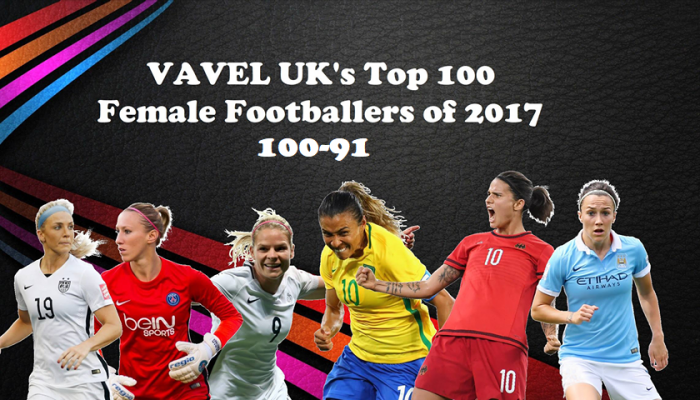 It's that time of year again, tinsel is going up in the houses of many across the west and those in the southern hemisphere are cracking out the factor 50: the end of the year is drawing closer so there's no better time for our best players of the year list. For the eagle-eyed among you, you may have already spotted that unlike our countdowns in 2015 and 2016, we have doubled the fun this year to bring you the Top 100 female footballers of 2017.
After going back to last year's list, we realised whilst we were happy with those we had picked, the representation was a little skewed, so we've taken extra care this time around – which means many more agonising hours trying to get this list done. As always, we know there are many fans who will be upset not to see their favourite players on the list and we do regret that we could not include everyone in our long-list (and in fact had about 20 players we wanted at 101) but this is the culmination of 11 months of work and we think it is as close to the money as possible.
Much like last year we have looked at the entire year from January to the first days of December, taking into account domestic and international form. If there are players who had very strong Euro campaigns but were comparatively off the pace for their league club we've balanced out whether or not they should be included, every match has been taken into account.
A player well known in her native Denmark, it wasn't until Sanne Troelsgaard took the step up to Damallsvenskan with Rosengård this year that the 29-year-old found her best form. Having to grow into the league, the increase in qualify opposition saw the attacker speed up her reflexes to keep up with the pace, becoming more and more of a threat in the final third, her year punctuated with tireless performances for the Danes over the summer.
Unquestionably a talented attacker, Fran Kirby has consistently struggled with injuries since making the switch to Chelsea in 2015 but has consistently managed to impress when she's featured. Unpredictable and determined, Kirby is fast to rack up the goals and given a full injury-free season could be one of the shining stars in WSL.
Catching the public's attention during the Summer with an over-performing Austria team, Sand's Verena Aschauer remains a consistent performer for the Willstätt club. A full-back who loves to bomb on, Aschauer is best when she can tear up the wing, slipping around the midfielder to spark an attack, whether in blue or red.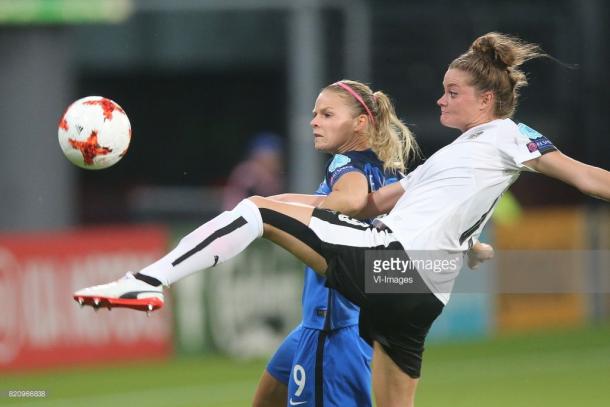 97. Millie Bright – Chelsea/England
Now well-recognised as a defender, Millie Bright has adapted well to her new role, adding a Yorkshire grit to all she does on the pitch. Given Emma Hayes' full faith, Bright has grown into her defensive duties, carving out a starting role next to Steph Houghton for England, her no-nonsense defending complimented well by the three lions on her chest.
96. Stine Larsen – Brøndby/Denmark
A quiet performer at the Euros, 20-year-old Stine Larsen was asked to step-in to the vacant centre-back role for her country when the Red and Whites were hit with a mid-tournament injury crisis. A former defender, Larsen slipped back into the role and impressed with her consistent performances against some of Europe's best.
Away from the European championships, Larsen has been firing on all cylinders for Brøndby in her favoured attacking role, the towering striker keen to impress for Denmark when given the chance.
95. Mizuho Sakaguchi – NTV Beleza/Japan
Experienced midfielder Mizuho Sakaguchi had yet another strong season this year, the 30-year-old marching to another Nadeshiko League title-winning season with Beleza, crowed as league MVP. Consistent in Asako Takakura's Japan squads since taking over, Sakaguchi's experience is vital to the team as Takakura rebuilds the fallen World Champions.
Only the third woman to win Serie A Footballer of the year after Melania Gabbiadini and Barbara Bonansea, 30-year-old Alia Guagni has made herself invaluable for Fiorentina, a lynchpin for her home-town club. While most plaudits usually go towards the attackers in Italian football, Guagni stood out with her exemplary defensive ability over the course of Fiorentina's title winning 2016-17 season, the Fiorentini well worthy of a spot in our top 100.
A bright spark for Eskilstuna this year, Mimmi Larsson's unpredictability and hunger saw her claim double-figures again this season. Though United's season abruptly dropped off just before the summer break, Larsson remained a consistent threat throughout, whether fruitful in front of goal or not. Her spike in form enough to see her on the periphery of Pia Sundhage's final Sweden squads though the veteran coach ended up favouring her regular starters.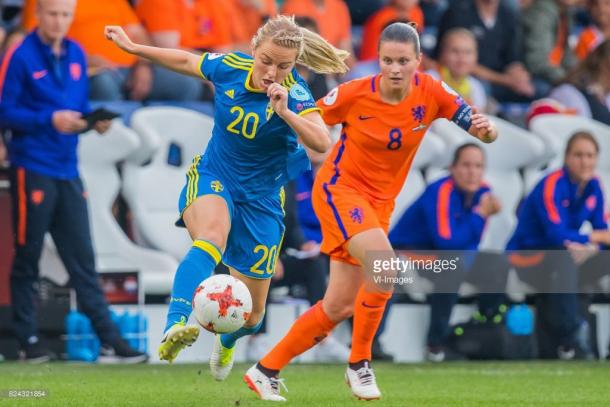 92. Maria Thorisdottir – Klepp/Chelsea/Norway
2017 saw a strong come-back for long-term absentee Maria Thorisdottir, the defender involved from the get-go in Martin Sjögren's Norway squads, the centre-back one of the few bright sparks for the Football Girls over the summer. Strong performances for Klepp culminated in a summer move to Chelsea for the Scandinavian defender, though a lack of playing time has rather stalled what was shaping up to be a fine year for the 24-year-old.
91. Wang Shuang – Dalian Quanjian/China
Well known to football fans around the world for her dazzling displays with her national team, Wang Shaung remains one of the bright sparks in any team she plays in. Another strong season with Dalian Quanjian brought about a second-successive league win for the 22-year-old - her input from midfield invaluable in a team filled with superstars.