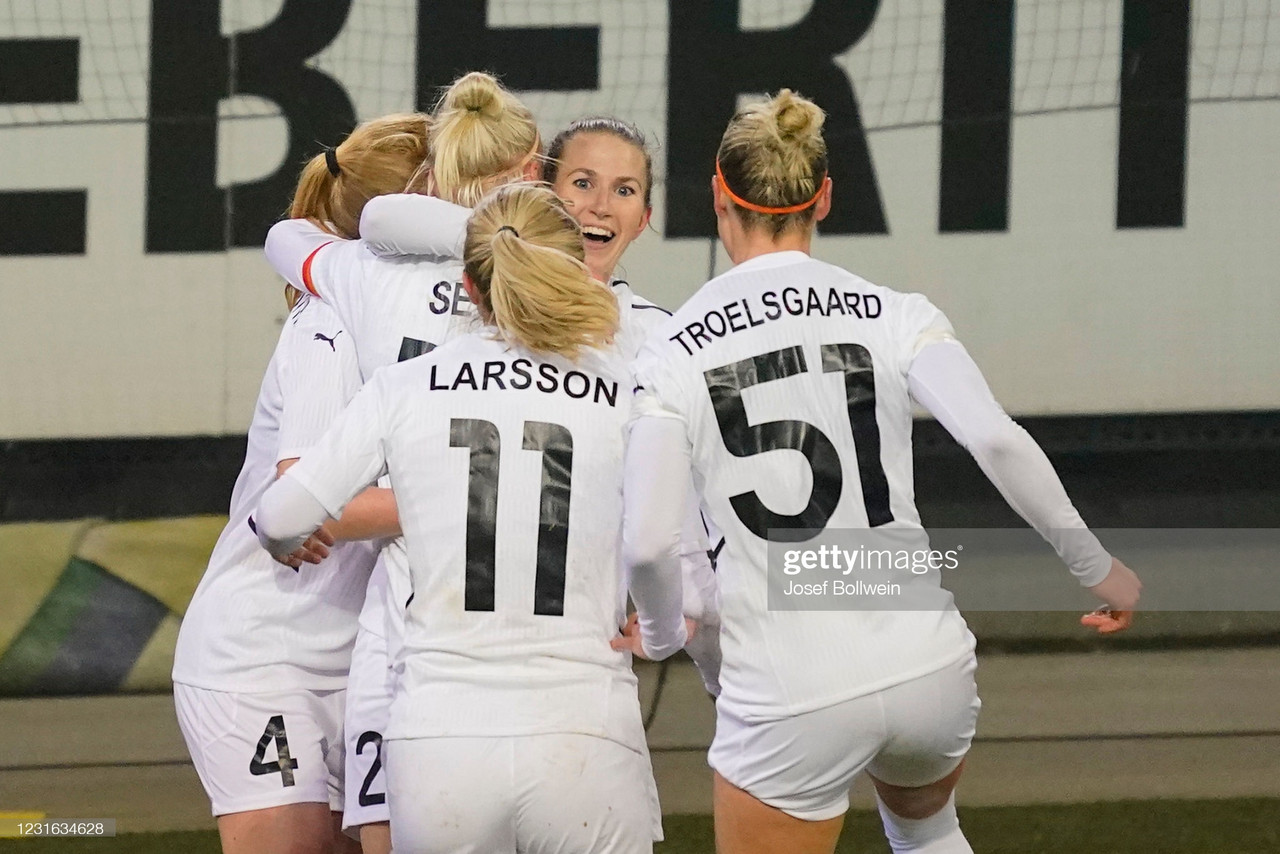 Rosengård, who dominated the first UEFA Women's Champions League round of 16 leg without taking their numerous chances pulled out a much grittier performance but this time scored two goals and denied St. Pölten a route back into the match.
First half goals from Emma Berglund and Mimmi Larson sent the Swedish side on their way to victory, but it was a resolute second half performance that saw them over the line and takes them into the quarter-finals.
Much like the first leg, the first twenty minutes of the match were cagey and lacking in any quality. While Rosengård saw more of the ball, neither side really looked like scoring.
It was a game that needed some thing to kick it into life and that came in the 25th minute when Olivia Schough's free kick ricocheted off Caroline Seger and into the path of Berglund, who's finish looped into the net after Isabella Kresche got a hand to it.
Despite the goal, neither side could get a firm foot hold in the match and tempers flew as tackles came in from both sides. It looked like the score would remain 1-0 until half time until Katrine Veje went on a mazy run from left-back before slipping through Mimmi Larsson, who rounded the keeper before slotting home from a tight angle.
St. Pölten needed a response, and came out flying in the second half. They won a series of corners, had a penalty appeal turned down, before Anna Bereuter was played through on goal but could only shoot straight at the keeper.
While the visitors were able to create one or two chances on the break, notably a fierce drive from Nathalie Björn that narrowly cleared the bar, they were increasingly under the cosh.
In the last 15 minutes of the match the Austrians created a series of half chances, which were blocked, snatched at or just blazed over. The Swedish visitors were able to see out the match relatively comfortably.
It was certainly a rear guard action from Rosengård. They were resolute and in particular their centre-backs were excellent. Emma Berglund dominated her box and kept a dangerous and physical Bernadett Zágor for the entire 90 minutes. Almost as important as her defending was though, it was her strike that ultimately was the difference in this match and sent Rosengård through to the next round.
St. Pölten can hold their heads high and be proud of their performances over the two legs. They came into this tie as definite underdogs, but pushed Rosengård right to the end. While they will rue their lack of clinical finishing which was so potent in the first leg, they dominated the ball for much longer periods and managed 13 shots compared to their visitor's seven. They head back to the Frauen Liga where they are already running away with the title, knowing that they are able to play and be competitive against top opposition.
For Rosengård this second leg was far more clinical than the first, but they will be concerned with how they ceded control of the match over to St. Pölten when the Swedes have the ability and fitness to dominate possession for the whole match. While they did not concede tonight and had some heroic defending, they also conceded plenty of decent chances. This side is capable of playing sparkling football, but they also look very vulnerable in the transition and will have to improve greatly before taking on any of the giants still in the tournament.