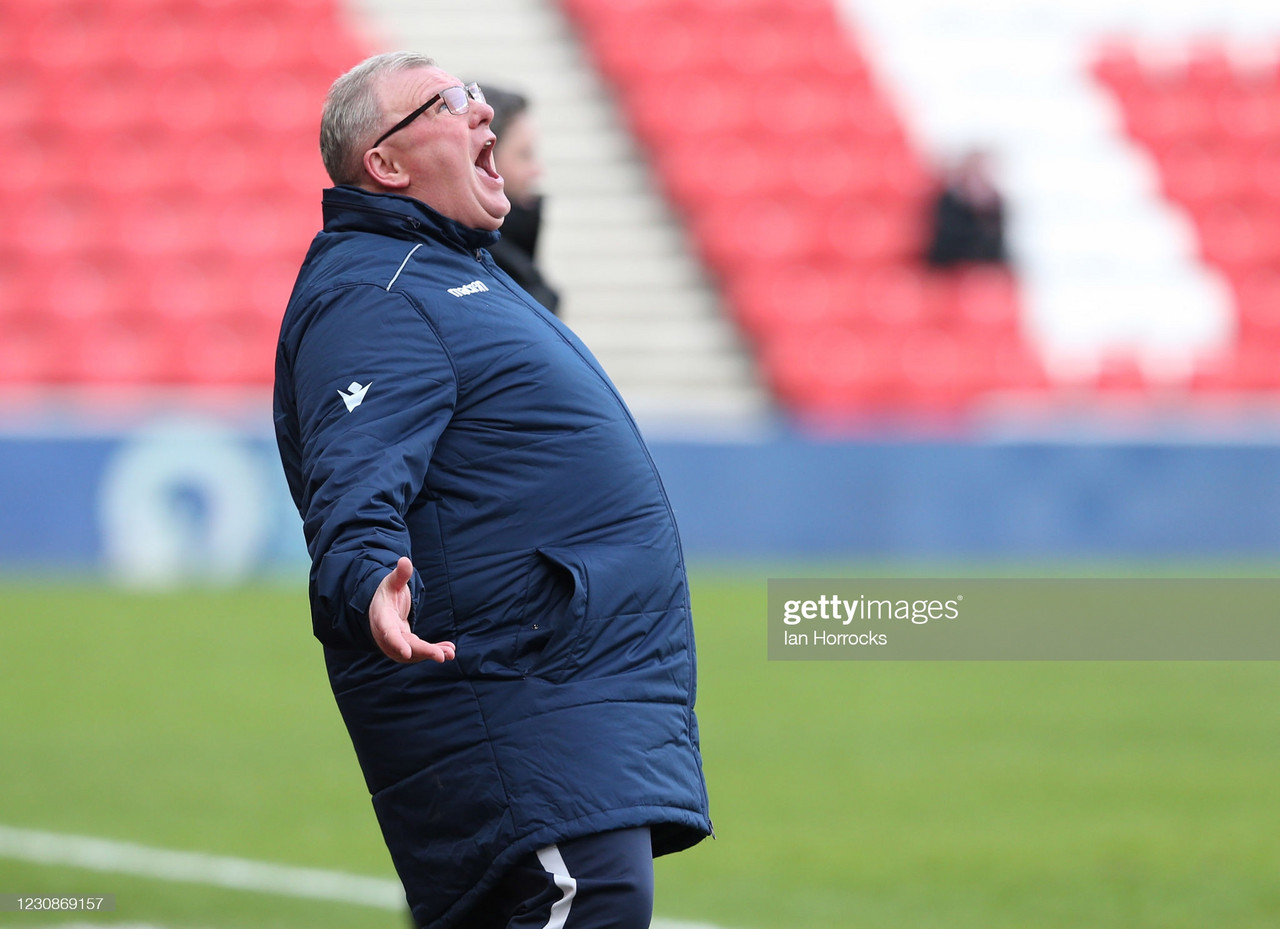 Gillingham manager Steve Evans was left seething with the referee after his side lost 1-0 against Fleetwood Town on Tuesday evening.
Kyle Vassell's second-minute penalty was the difference between the two sides, awarded by referee Marc Edwards when Connor Ogilvie was adjudged to have pushed Gerard Garner in the box.
FT: Fleetwood Town 1-0 Gillingham. #Gills pic.twitter.com/fsazKUehPK

— Gillingham FC (@TheGillsFC) March 9, 2021
Evans was less than pleased with Edwards' call and his overall showing, but also admitted his team were way off the mark in the first-half
Referee anger
Evans has been extremely critical of League One's referees this season, picking up seven yellow cards in the league for his actions towards officials. Tuesday evening was no different - after the match, he expressed his frustrations with what he deemed to be another poor showing from and EFL referee.
"I do not really know the guy but I have spoken to the head of referees who says he will look at it. It is simply not a penalty" he said on Tuesday evening. "The referee was absolutely pathetic. Really, really poor.
"It was a poor game, we played poorly, Simon Grayson's team get the win and it is about winning and points accumulation. But just watch the penalty decision. Tell me how I should be feeling with a seven-hour journey back to Kent. How should we feel?"
The situation developed further on Wednesday morning when Evans said that the EFL head of referees, Mike Jones, agreed with him.
"Last night and this morning I spoke with the EFL head of referees Mike Jones" he said. "My conversation was in connection with the very poor performance of our match referee at Fleetwood.
"We obviously focused on a few key match incidents, one of course was the penalty awarded to Fleetwood inside the opening minute of the match. At first sight of the footage and careful examination Mike confirmed the decision to award a penalty was wrong. He described the award as so soft that if that was the benchmark for a penalty there would be one every time a ball went in to every penalty area.
"He had further sympathy when our goal in added time was not given by the match referee.
"We travelled over seven hours on Monday and got home at nearly 5:00 and you do not expect that performance from a referee."
Team performance
Despite showing obvious frustration with the referee, Evans was critical of his own team, claiming his "so called big players" failed to deliver.
"We were not at it first-half," he said. "We were poor and players, for me, showed a lack of effort, lack of desire and a lack of willingness to work hard.
"I just think for some they get the shirt and it is an automatic pick and you can see the players we took off were not affecting the game."
Evans did, however, suggest his team deserved at least a point from the game.
"We dominated territorially in the second-period, missed four good chances but we were always chasing after that disgusting penalty decision inside the first minute.
"We gave a few sloppy things away near the end when we were chasing it, but in fairness we should have had a penalty ourselves. Connor Ogilvie gets dragged to the ground and I think Stuart O'Keefe is taken out just inside the box.
"Credit to Fleetwood, a good club with good people but we will keep focused on ourselves."