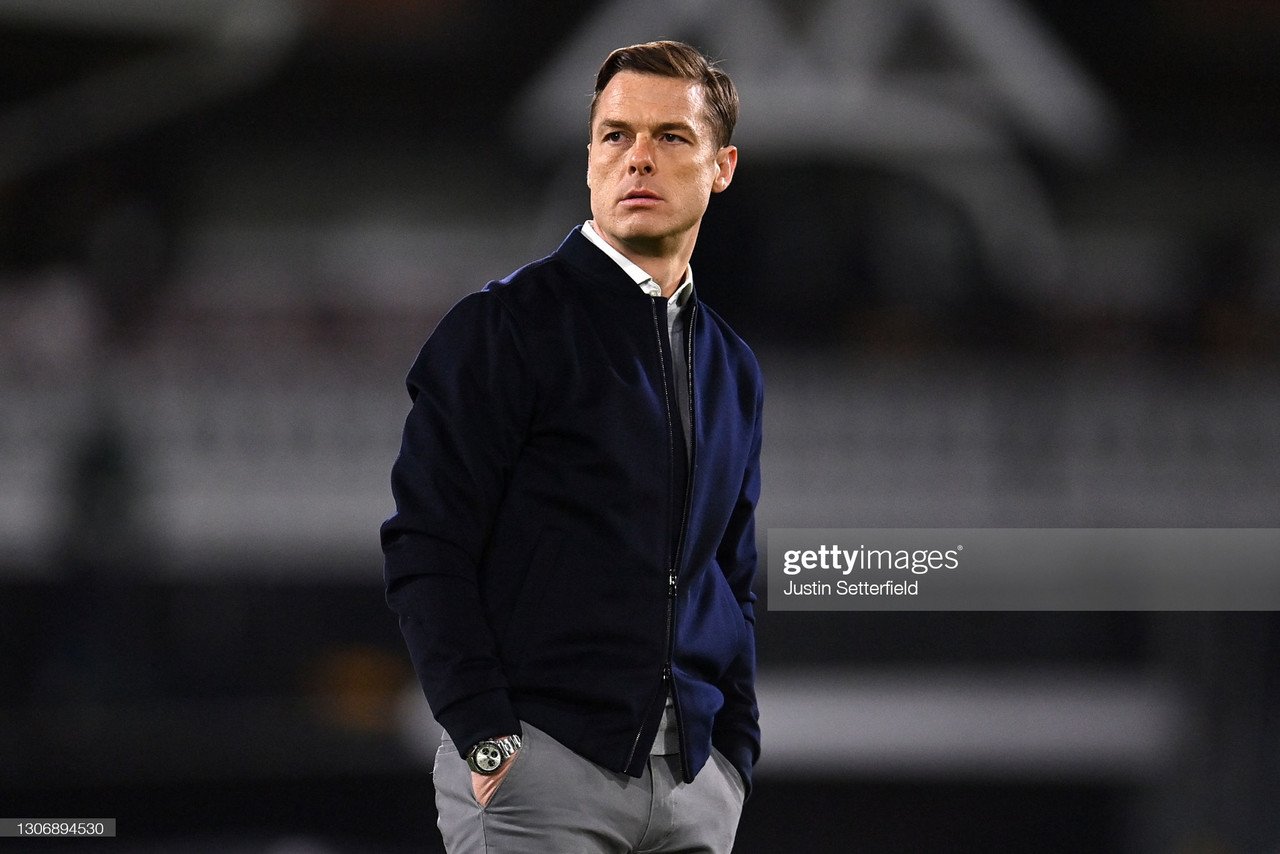 Two of the Premier League newcomers meet on Friday evening when Fulham welcome Leeds United to their Craven Cottage home, hoping to right the wrongs of their poor performance against Manchester City last time out.
Though it wasn't a shameful result by any stretch, it does mean the Cottagers still have the worst home record in the top flight, and that's a reputation they'll be hoping to shirk against Marcelo Bielsa's side; they need to start picking up points at home pronto to boost their chances of survival heading into the run-in.
Fulham manager Scott Parker addressed the media before the match — here are his most noteworthy quotes.
On mistakes against Man City
A defeat to the league-leaders would never define the season of a side threatened by relegation, and yet Fulham were disappointed with the manner in which they lost last Saturday's clash with Pep Guardiola's City.
The second and third goals in particular felt quite easily avoidable — a mix-up between Joachim Andersen and Ivan Cavaleiro first giving Gabriel Jesus a golden opportunity to double City's lead, before Tosin Adarabioyo's foul on Ferran Torres led to Sergio Aguero's assured finish from penalty spot.
Handing the opposition points on a plate was uncharacteristic of the way Fulham had played in the weeks prior, and their manager is expecting them to set the record straight here.
"I think it was very unlike us," Parker said. "They were silly errors that can happen in football. You have those days and that seemed to come against Man City. We've come a long way, and you look at that as a blip, that's exactly how I see it."
On Leeds
Friday night's visitors, Leeds, will give Fulham no easy route back into form. Bielsa's gunging-ho tactics have served the Championship title-holders well so far in their return to the Premier League and, bar an almighty collapse in their last 10 matches, they'll remain in the top flight for at least another season yet.
Parker is well aware of the threats posed by the West Yorkshire outfit, and is anticipating they will give his side a tough time by the Thames.
"They commit a lot of bodies, they've scored a lot of goals, they're right up there in the charts for chances created. You need to be able to withstand the intensity and the numbers they create and that means your structure needs to be good. In the transition there is an opportunity at times that hopefully you can try and exploit."
On the last meeting
Fulham's last encounter with Leeds was a highly entertaining spectacle for the neutral, but one to forget for Cottagers fans. They lost 4-3 at Elland Road, nearly clawing their way to a point having been 4-1 down on the hour-mark, but it was ultimately a day on which their defence let them down.
That result, in just the second game of the 2020/21 Premier League season, heightened fears that Fulham would suffer the same fate they did in 2018/19: helpless relegation, caused in the main unfixable defensive problems. But Parker's side have since come far, and he expects the nature of the match to be very different this time around.
"We're a different team, a different animal this time," asserted Parker. "We've developed over that period. Can we take things from that game and other games? Of course we can. As a team we have moved on from where we were."
On playing style
Truth be told, Leeds may present a very similar challenge City's last week — they are an aggressive, possession-hungry, prolific team who will give Fulham not a second of reprieve, even on their home turf.
This prompted questions about whether Parker felt inclined to alter his tactical approach to games such as these following last weekend's performance and result, but the manager is sticking to his guns.
"As always, we have a clear way about how we want to play, because I believe it's the best way to win football matches, that's not going to change. Decision-making, when to play, the moments of games is a constant message from me, and these are all part and parcel of it."
On pressure
Playing on Friday means that Fulham will be the weekend's pace-setters before their obvious rivals towards the foot of the standings, Brighton & Hove Albion and Newcastle United, play each other on Saturday.
It gives the Cottagers added incentive, to ensure those above them have nothing to capitalise upon, but the suggestion that said incentive comes with a pressure to succeed was played down by Parker, who all season long has insisted Fulham's results are his only focus.
"The pressure comes from within, from us," the manager said. "It's an irrelevant what they're doing. The main focus for us is Friday night agent Leeds, let's put in a performance to get the three points and if we do that it puts us in a good place, on the front foot."