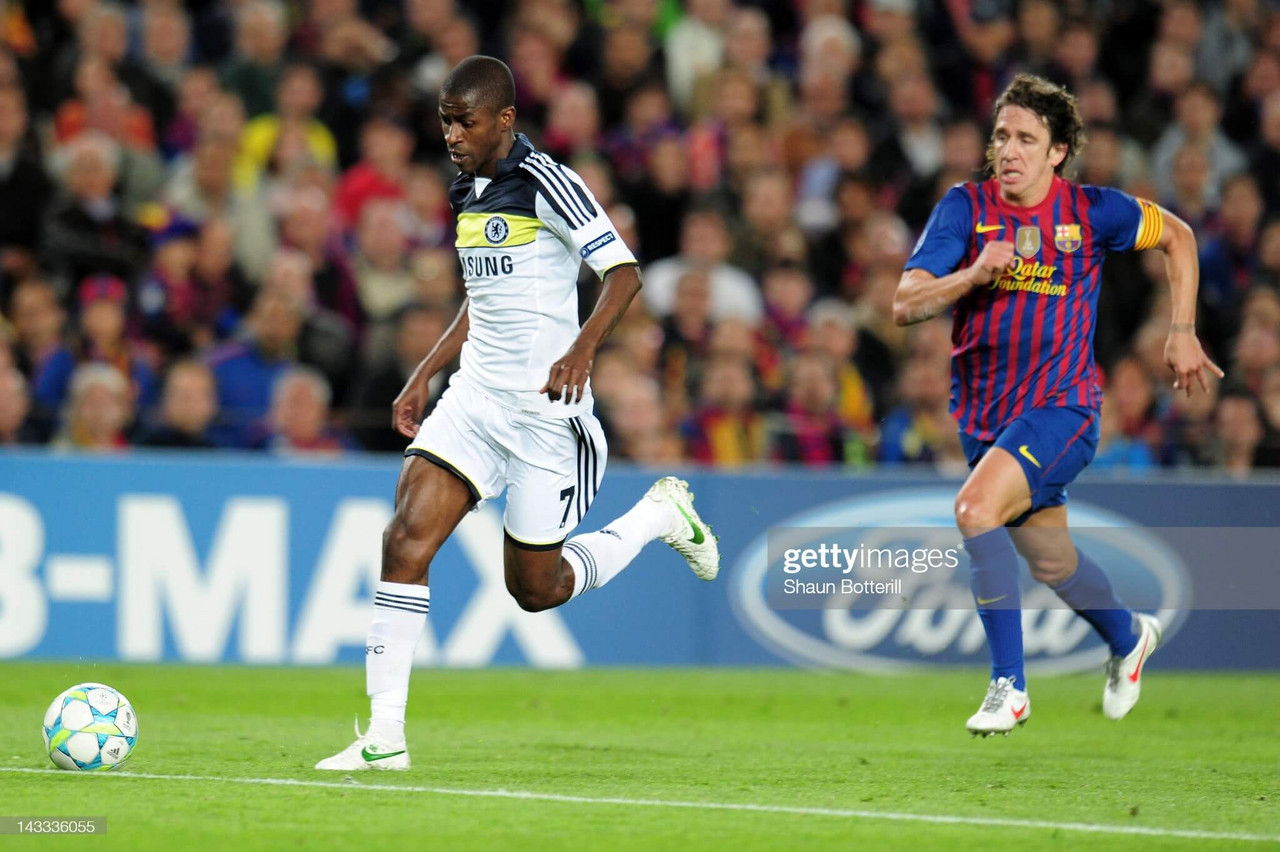 Ramires' football journey was one of much promise, exceeded expectations and an almighty fall from grace.
The year is 2012 and Barcelona are 2-0 up in the Champions League semi-final second-leg at the Camp Nou. Ramires is played in behind the Barca defence by a wonderful Frank Lampard through-ball.
There's still a lot to do. What happens next is a moment that resonates within every Chelsea fan. From the right-hand side of the penalty area, Ramires produces a wonderful chipped finish over the head of Victor Valdes to put The Blues ahead on away goals on the stroke of half-time.
Fernando Torres scored late on to send Gary Neville into some kind of hysteria, but it was Ramires' remarkable goal that gave 10-man Chelsea the belief that they could beat this team of superstars.

That season, of course, Ramires and Chelsea would go on to win the Champions League in one of the biggest underdog stories of recent times.
But, what happened to the Brazilian after that? And where is he now? I take a look at a star who's stock went down dramatically despite still being in his prime.
Ramires Santos do Nascimento, to call him by his full name, joined Chelsea in the summer of 2010 from Portuguese side Benfica, having spent his junior years as a professional in Brazil.
He was already an international when Chelsea signed him, but he was far from a household name.
At just 23 years old, he was seen as one for the future rather than the here and now. In his first season under Carlo Ancelotti, however, he sparkled and became an integral part of the team.
He was instantly a fans favourite and was nicknamed "Rambo" because of the way he destroyed his opponents one by one.
In his second season with the club, he was involved in 21 goals whilst also winning the Fa Cup and Champions League; two of the five major honours he won as a Chelsea player.
Managers came and went after that Champions League winning campaign, but Ramires remained an integral part of the team, consistently playing over 30 games every season and adding a Premier League title, the League Cup and the Europa League to his collection.
That was, however, until the 2015-16 season.
The 2015-16 season was one which either made or broke many Chelsea players' careers.
The club, playing as champions, had to deal with some poor form which saw them drop as low as 17th as well as the sacking of the club's most successful manager, Jose Mourinho.
For Ramires, it sparked the end of his Chelsea career. New interim manager Guus Hiddink didn't trust him for whatever reason and he dropped down the pecking order.
He felt like he still had a lot of football to play, at just 28 years of age, and needed a fresh start:
"If you look at the situation I was going through at Chelsea at the time of the transfer you will see that I was [Guus] Hiddink's last option in my position and this was frustrating me a lot," he told Goal.
He made the move to Jiangsu F.C. in January 2016 to play in the Chinese Super League, a move which he insists was not made for financial reasons:
"I see a lot of people saying that I came to China just for the money, but that's not true."
For Ramires, it was all about getting game time.
Nightmare start to life in China
Not long after his arrival in China, Ramires was handed a four-match ban, longer than the sentence for a straight red card in China, for a bizarre altercation after the final whistle in Jiangsu's defeat to Shadong.
He reacted badly to a scrap with the opposition and his teammates found it hard to hold him back.
He did, however, spend three years in China where he once again became an influential player for Jiangsu, despite not featuring much in his last season there.
He scored 11 league goals during his time there, which averages out about one in every five appearances.

His next move was to go back to Brazil to join Palmeiras. Into his thirties by now, his best days were long gone, but the club still offered him a four-year contract in June 2019, a contract that would keep him at the club until he was 36.
The move back to his homeland would have provided him with some joy, and he played a decent amount of games for the side, particularly in his second season there.
However, he parted ways with the Brazilian champions in November last year and is now looking for a new club.
Rumour has it he has had offers from clubs in Japan's J-League and is looking to get back into the game.
One thing is for sure however, Ramires' star has long since burnt out and not many players' careers go from such highs to such lows in such a short space of time.