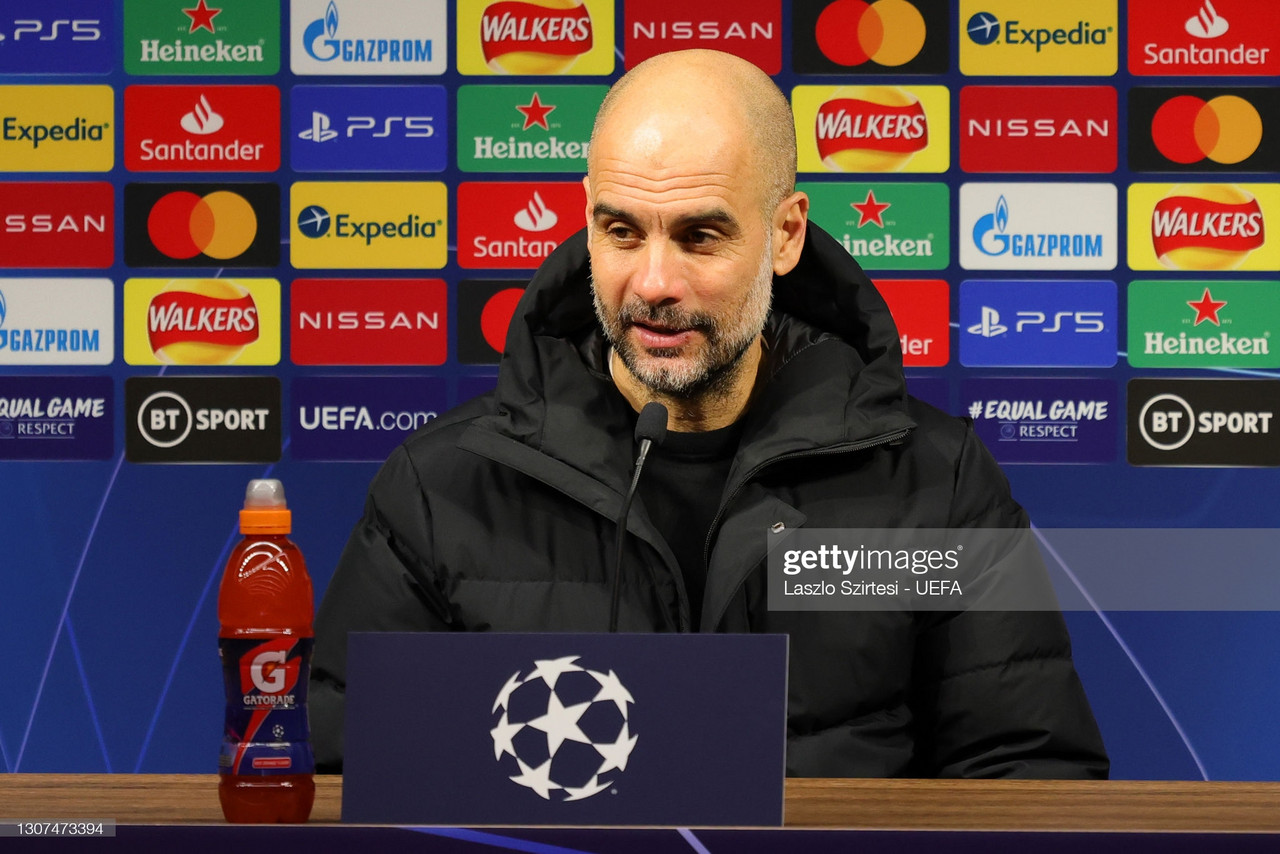 Pep Guardiola's Manchester City host Borussia Dortmund in the UEFA Champions League Quarter-Final First Leg on Tuesday evening at the Etihad.
Having never gone beyond the last eight (exiting the competition for the last three years running at this stage) hopes this year are high with the runaway Premier League leaders having won 26 of their last 27 games.
Without former City winger Jadon Sancho, Dortmund are sat 5th in the Bundesliga standings with their season depending on European success.
Following City's domestic league victory over Leicester City on the weekend, Guardiola highlighted the quality that the 2013 Champions League finalists possess.
Praise for Dortmund
Edin Terzić's side appear in the Quarter-Finals for the first time since 2017. Guardiola admitted that he watched Dortmund's home defeat by Eintracht Frankfurt before they beat the Foxes on Saturday afternoon.
Despite being unbeaten in 12 home European matches, the Spaniard was keen to acknowledge BVB's potential threat.
"I have incredible respect for what Dortmund has done," he said.
"I was in Germany three years and always they were a big opponent. I know the quality - not just Erling Haaland but Jadon Sancho, Marco Reus, Mahmoud Dahoud and Mats Hummels.
"I saw their game the morning before our game and I was really impressed with the quality. When they can run, they kill you. We will try to be aggressive.
"Maybe they have not found the consistency in the Bundesliga this season, but in one game or two games, they are able to do anything."
The game plan
City have won their last four home matches in the Champions League knockout phase, whilst Dortmund have won only three of their last 12 knockout phase matches.
Treating the match against Dortmund like any other, Guardiola emphasised the importance of staying level headed, regardless of the opponent.
"The only concern is to try and win tomorrow's game," he said.
"Only if we deserve it, will we go through. Every club in this competition wants to go as far as possible.
"I want to be honest. I prepare for this game in the same way I prepared for the Premier League games from the last few months.
"It's not about how many we are going to concede or score, it's about winning the game.
"I'm not able to tell you about the quadruple. I am only concerned on tomorrow and trying to win.
"It's a football game the same as any other in the League Cup, FA Cup or Premier League.
"The influence from Dortmund's results this season are zero. If you analyse the individual quality, every player is fantastic. They are a massive team and the better team will go through.
"They were able to beat Sevilla, who are a master team in knockout stages. When I analyse a team I never see the table. It is a football game and it starts from 0-0.
"I'm looking forward to playing against them and I am so excited to face them."
All eyes on Haaland
Haaland, 20, has enjoyed a prolific 16 months with Dortmund. Since signing from Salzburg, the Norwegian number nine is the most sought after player in world football.
With Manchester City supposedly interested in signing the forward, Guardiola gave his take on the man who Dortmund signed for only 20 million euros.
"I understand why people are talking about Haaland," Guardiola said.
"He's an exceptional striker and the numbers speak for themselves.
"To score so many goals at that age is not easy.
"He can score on his right foot, left foot, from counter attacks and in the box. A blind guy can realise that he is a fantastic striker."
City's 'big club' status
The common perception in football is that in order to become a so-called 'big club' one must first win silverware in Europe.
Addressing that theory, Guardiola discussed his desire to win the Champions League and the pain felt following last season's defeat and subsequent knock out at the hands of Lyon.
"We are already a big club," he stated.
"Of course, everyone wants to try to do better than we have done in these competitions with our history and especially since we are together.
"The Lyon loss remained in my head for weeks. It was painful.
"It was the last game of the season and we wanted to go through. We congratulated Lyon, accepted that we did not do it quite well or we didn't deserve to go through.
"It was painful, but at the end what could we do? After a few days, wake up again and prepare for next season. We are here again to try again."
Since signing from Dortmund in 2016, City midfielder Ilkay Gundogan has been one of the Premier League's best performers.
With 27 EPL goals already under his belt, the Gundogan is a fan favourite in Manchester.
Guardiola waxed lyrical on the German genius.
"He wins or he deserves this role of leadership through what he has done on the pitch," the boss said.
"I'm delighted the external recognition for people not scoring goals or assists because nice people deserve it.
"I know how he behaved when he didn't play in some periods or was not playing good. He is incredibly loved for the fact he is an incredible human.
"He thinks not just for himself but, what is best for the team. When this kind of thing happens, you have your rewards and deserve what you built.
"I said many times the year we won the second Premier League that he was incredible as a holding midfielder.
"Now he is our top scorer and that's why he gets the recognition that he deserves."