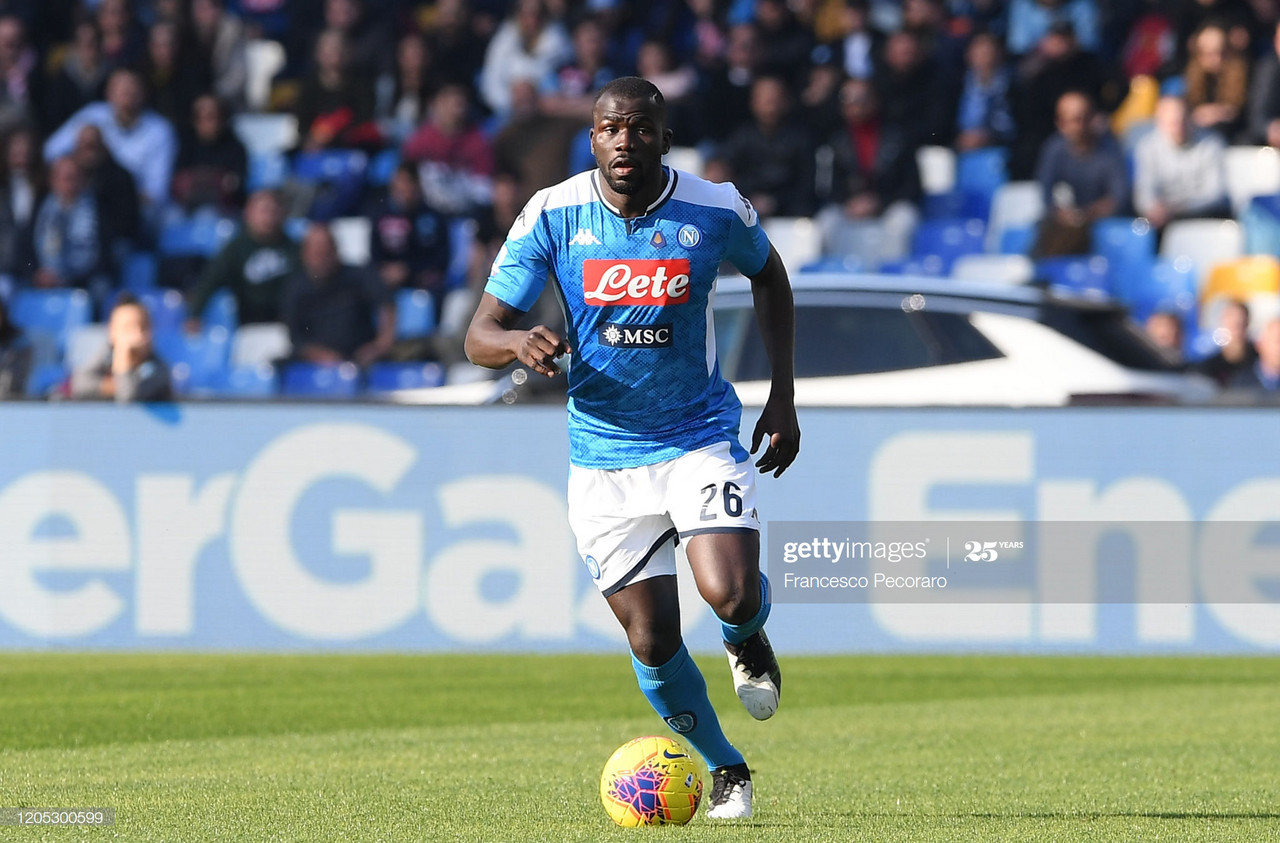 Manchester City's transfer policy since the arrival of Pep Guardiola has been tailored to younger players. That lens might be about to change.
The Manchester Evening News is linking the Citizens, and their rivals Manchester United, with a swoop for Napoli defender Kalidou Koulibaly. At 29, this would appear to go against the usual remit for City.
The club have brought in some of Europe's brightest young players with the view to seeing them develop into superstars under Guardiola. Raheem Sterling and Leroy Sane are prime examples of this business plan reaping its rewards. But perhaps there is a shift in the air.
Guardiola is not Sir Alex Ferguson. The Spaniard is more of a Napoleon figure than the legendary Scot: travelling around Europe and conquering domestic leagues. He takes a job, leaves his imprints and then departs. Now into his fourth season at the Etihad, Guardiola's City tenure is surely well into its second half. If that is the case, the club need to look at more ready-made options in order to ensure that their manager goes out with a more dominant legacy than rival Jurgen Klopp. Koulibaly would help that cause massively.
Special K
The Napoli man is one of Europe's best central defenders. He is strong, fast and confident in his technical ability. However, most importantly, Koulibaly is an experienced professional at the highest level. He is a player who is a ready-made product.
City haven't ever had a perfect partner for Aymeric Laporte. The Frenchman is the second-best central defender in the Premier League but he has lacked a consistent partner. Vincent Kompany was the best option but the Belgian's appearances were decimated with his recurring injury struggles.
The club need someone of Kompany's quality who can play every week. Koulibaly would fit the bill. But signing proven talent shouldn't stop there. The club would be wise to scour Europe for some potential recession-helped bargains.
Awesome Alaba
David Alaba is a top professional. The Austrian is a versatile performer but, for Guardiola, he could be the perfect option man to solve the left-back crisis.
Alaba's club, Bayern Munich, are backing young Alphonso Davies to become the next big star. Davies is blisteringly quick, good on the ball and has sound defensive instincts. His phenomenal rise in such a short space of time has seen Alaba shifted across into the centre of defence. Alaba's contract runs out next summer and he may want more assurances over his game-time and his position on the field.
At City, Benjamin Mendy has remained injury free since the season's restart but his performances have left a lot to be desired. The 25-year-old is a very capable player but his faults are starting to be exposed. Mendy is a little heavy footed and he is lacking in defensive awareness; the former is very noticeable in a Guardiola team that commands nailing the little intricate details. This is something that Alaba understands having previous played under the Spaniard.
The Austrian has recently spoken about how grateful he is to Guardiola for his own personal development.
"I'm still benefitting a lot from Pep's time here, there's a lot that's stayed with me," he told Bild, with reference to his performances in central defence.
Alaba is a more accomplished and well-rounded footballer as a result of the City manager's coaching and he is a player who is adept at enacting Guardiola's philosophy on the pitch.
With uncertainty over his future, as noted in the Daily Mirror, City would be wise to make a move to sign the Bayern man. He has previously flourished under Guardiola, can play in a variety of positions and, having just turned 28, his peak playing years should just be around the corner.
So, after two fairly obvious shouts, that brings us onto a slightly more left-field name: Memphis Depay.
Marvellous Memphis
Mikel Arteta has been linked with Depay as a potential option for Arsenal but that would depend on the future of Pierre-Emerick Aubameyang, as reported by Le10 Sport. The Dutchman, like Alaba, has one year left on his current deal at Lyon and City would be sensible to monitor the situation.
Depay showed flashed of brilliance during his last stint in Manchester but it wasn't enough to avoid the axe of Jose Mourinho. The 26-year-old has found more consistency at Lyon, though, registering double figure goal returns in the previous three campaigns.
He can play on the left but has also been used down the middle of a front-three. This would allow him to fill the void left by the departing Sane while also offering an option up-front. With Gabriel Jesus struggling and Sergio Aguero's current deal expiring in 2021, the club would be wise to have some contingency measures in place.
Many would question whether somebody who flopped during his last spell in England would be the right fit for one of the Premier League's best squads. But Depay has expressed a desire to play at the Etihad, as reported by Sky Sports and, for a fairy low transfer fee, he could be an excellent under-the-radar acquisition for Guardiola.
Ruthlessness
The disappointing surrender to Liverpool in this season's Premier League title race could well prompt some drastic action.
John Stones could be marketed as a very good signing for somebody if he can be kept fit. Nicolas Otamendi is an experienced professional with a lot to offer another club. Fernandinho's transition into a centre-back and Eric Garcia's rise from the academy mean that the Citizens could afford to cut their losses with a duo who are no longer quite cutting the mustard.
Elsewhere, Mendy has recently managed to shake off his injury troubles and remains one of the best options around for a team that like to play with wing-backs. He is powerful and capable of stretching opponents. That might not be enough for City but it would be enough for plenty of other teams; the big question is whether he can be kept in good condition.
City have a lot of good players but, right now, good doesn't cut it. Liverpool have reestablished the ridiculously high barometer and that means the blue side of Manchester have to go up another level. They need to be ruthless and Guardiola is probably ready to be more cut-throat than ever. Whatever happens this season, he will want his league title back.