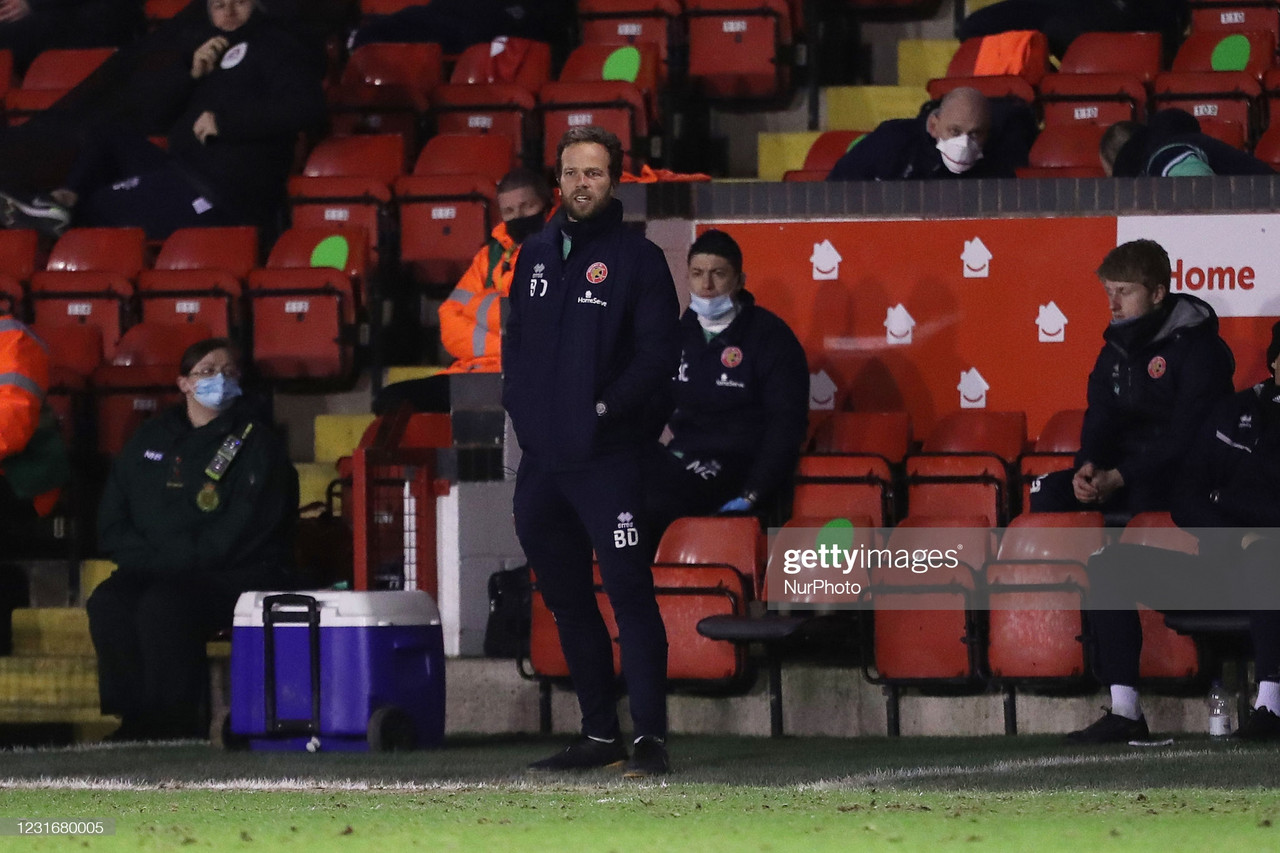 Brian Dutton believes that strong leadership will be a deciding factor in keeping Walsall in the Football League as the Saddlers prepare for their final six games of the season.
Since taking over at the Saddlers after Darrell Clarke switched to Port Vale, Dutton has failed to pick up a win with seven draws and five defeats.
His side remains seven points safe from dropping into the National League, but he believes he has to make brave decisions to ensure the safety of the club.
Speaking about making brave decisions, the 35-year-old said: "What I can't do, as leader of the group, is shirk decisions and whatever decision they are, you can't shirk them.
"If that means dropping a star player, if that means picking youth over experience. I've got to go with what I think's right and them decisions can't be shirked. They've got to be brave calls.
"I'm quite content in I haven't shirked a decision as manager of the football club. It's going to take strong leadership to ensure that Walsall Football Club, this glorious football club, is in the EFL next season.
"If we start sweeping things under rugs and burying our heads in the sand, we're going to end up in a lot of trouble. It does take strong leadership and brave decisions. I feel comfortable that I've done that thus far."
Being positive
With the club competing in a surprise relegation battle, Dutton remains upbeat about the situation and feels the squad must remain positive for the final six games.
"Obviously we're going through a tough spell at the moment and we need positivity right throughout the club. It's not going to help the situation having negative thoughts and negative vibes so it's about me setting the tone, setting that atmosphere.
"I'm genuinely positive because this is a really good group they're a fantastic group to work with. We've got a fantastic work ethic and attitude, all be it we've lacked the quality at times and I get that, but sometimes all you can ask from people is for them to give their all and they do that. So it's difficult not to be positive when they're such a great group."
Since Dutton was appointed, Walsall have only scored six times in 12 games and are the fifth-lowest goalscorers in the league. But he believes the attacking football will come in time despite one goal in the previous four games.
"I quickly understood that I wanted to play attacking, entertaining football 100%. But to do that you need confident lads, really confident lads who are willing to be brave and have courage in possession.
"I treat it as A-B-C, we've got to go from abject to confident. But to get there, we need the b, which is belief. Early on I soon realised that it was very difficult to implement that because the belief isn't there. We're on a bad run, it's something that we need to build for sure.
"To play this attacking, entertaining football we've got to get that solid base in play where we can defend and nullify teams and then go win games and get results and grow confidence.
"It's not as easy as coming in and saying we're going to do this fantastic all-conquering team, there's a process there and it's a long hard process especially when the ship is going in the wrong direction. Quickly understood we need to get that solidness about us, get that defensive strength to build upon and I feel we have done that. I feel we're turning corners we now just need that win. That's the next stop in a positive movement."
Previewing Forest Green
Dutton's Walsall welcome Forest Green Rovers to the Banks Stadium this weekend, a team that has lost four of their last five games seeing them slip out of the automatic promotion places.
Despite their poor run of form, Dutton isn't taking anything for granted against the play-off chasers, who have never beat Walsall in the previous meetings.
When asked about Saturday's opponents he said: "Forest Green are a top team. Mark Cooper has done a fantastic job, they're always fighting at the right end of the table.
"Obviously there's been a little dip in their form but they've been a little bit unfortunate watching back on their games. They've been in the games, they've had their own opportunities to win them games but you guys will get bored of managers saying this but it is about fine margins at a level.
"I don't think there's a team in the league that is sweeping everyone aside. We understood fairly early that anyone can beat anyone in this league. If you turn up with the right attitude and mentally and bring the quality to the table, you will be successful."
Rovers travel to the West Midlands without top goalscorer Jamille Matt after he suffered a finger injury in the 1-0 defeat to Bolton Wanderers. Since his absence, defeats to Bradford City and Salford have seen them fall to sixth.
"We can't be complacent. We don't know which Forest Green is going to turn up. Whether it will be a Forest Green lacking confidence and uncertainty, or it will be a wounded animal who wants to come out and stamp their authority.
"They're at the top end of the table because they've got quality right through the side and we can't take them lightly. We'll be preparing for the best possible Forest Green.
"When they lose a player of Jamille Matt's standing output, it's a positive. I liken it with our situation, you lose someone who is scoring your goals it's going to be a negative in terms of their team.
"He's been a massive player for them and they will miss him of course but it gives somebody else the opportunity and right through their squad they've got quality so we will prepare for the best possible Forest Green and that's with or without Jamille Matt."