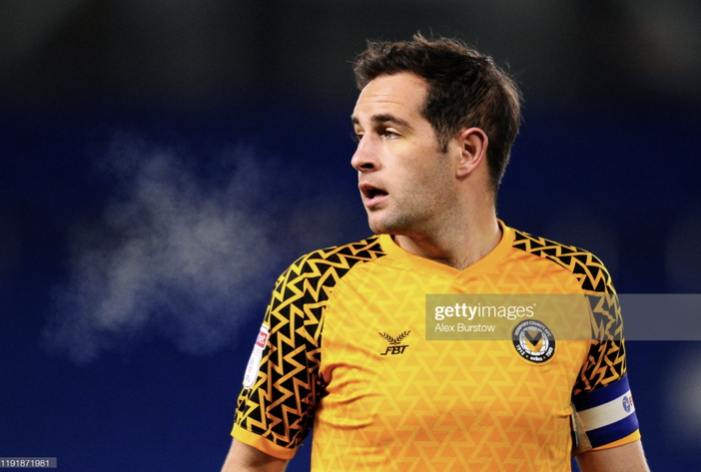 A late brace from former Bradford City player Matt Dolan cancelled out Andy Cook's earlier goal, as the Exiles stunned the Bantams.
Despite having just two shots on target from open play all game, the Welsh side stole the points in the 95th minute, confirming Newport's double over Bradford.
The Bantams came into this fixture in good form, having won five of their last six and losing just one in their last 15.
Michael Flynn's Exiles were in very inconsistent form, with just two wins in their last seven games, however they were hoping to replicate the reverse fixture, which finished in a comfortable 3-0 win.
The match was played at the Cardiff City stadium, to make up for Rodney Parade's torrid state.
Newport County: Townsend; Farquharson, Dolan, Demetriou, Shephard, Labadie, Bennett, Sheehan, Lewis, Maynard, Amond.
Bradford City: Hornby; A O'Connor, P O'Connor, Canavan, Wood, Clarke, Sutton, Watt, Crankshaw, Cook, Rowe.
Mark Trueman and Conor Sellars had surprised Newport with a change of formation, likely caused by a run of fixtures which would be difficult on legs and warranted the rest of Callum Cooke.
However, it was a slow start to the game which eventually saw its first chance 10 minutes in, as home skipper Joss Labadie cut inside of his man but scuffed his shot wide of the target.
The Bantams responded in dangerous fashion, as Billy Clarke dispossessed Josh Sheehan and played the ball into Andy Cook, but the forward's control was shaky and he missed a golden opportunity.
Both sides were looking to shake off their malaise of an uneventful first half, including Danny Rowe who mercilessly powered a free-kick from 40-yards straight into the Newport wall, causing everyone watching from home to wince.
The two sides went into half-time with just one shot on target between them, but this soon changed.
Immediately into the second half, Trueman and Sellars' Bantams took charge of the fixture. A poor back pass straight from kick off was intercepted by Cook, who burst through the middle of the Rocky Newport defence before calmly burying the ball into the far bottom corner, leaving Nick Townsend very little chance. A tremendous start to the second half.
It would take another 20 minutes before another chance was generated, but once again it fell to the away side. An audacious effort from 35 yards by Connor Wood was valiantly tipped onto the bar by Townsend, who gratefully watched Paudie O'Connor send the ball wide from close range.
However, as the game began to approach its closing stages, it was opened up in spectacular style. A fantastic free-kick from former Bantam Dolan blossomed into the top corner, as he expertly curled it around the wall to find the equaliser for the home side.
As the game approached its dying stages, a late Charles Vernam strike was mistakenly sliced over the bar.
But Bradford fans on social media erupted, as the referee called for a handball and a penalty to Newport.
And whilst last weekend a last minute goal saved Bradford, this time they were on the receiving end, as Dolan converted from the spot and prompted the referee to bring the game to a close.
A game which Bradford fans will be scratching theirs heads at, as their unbeaten run of six games comes to an abrupt end.
The Bantams were dominant but lacked that cutting edge, failing to create chances and Cook missing a few key opportunities in the first half. Not enough players showed up like they had in recent weeks, and the change of formation clearly had no effect.
Flynn and Dolan alike will both be pleased to get the three points against their former team, and to pick up back-to-back victories.
​​​​​​​To say he plays in a more defensive role, Dolan was exceptional and the reason Newport could clinch the three points, especially with an outstanding free-kick and the confidence to score a last minute penalty.