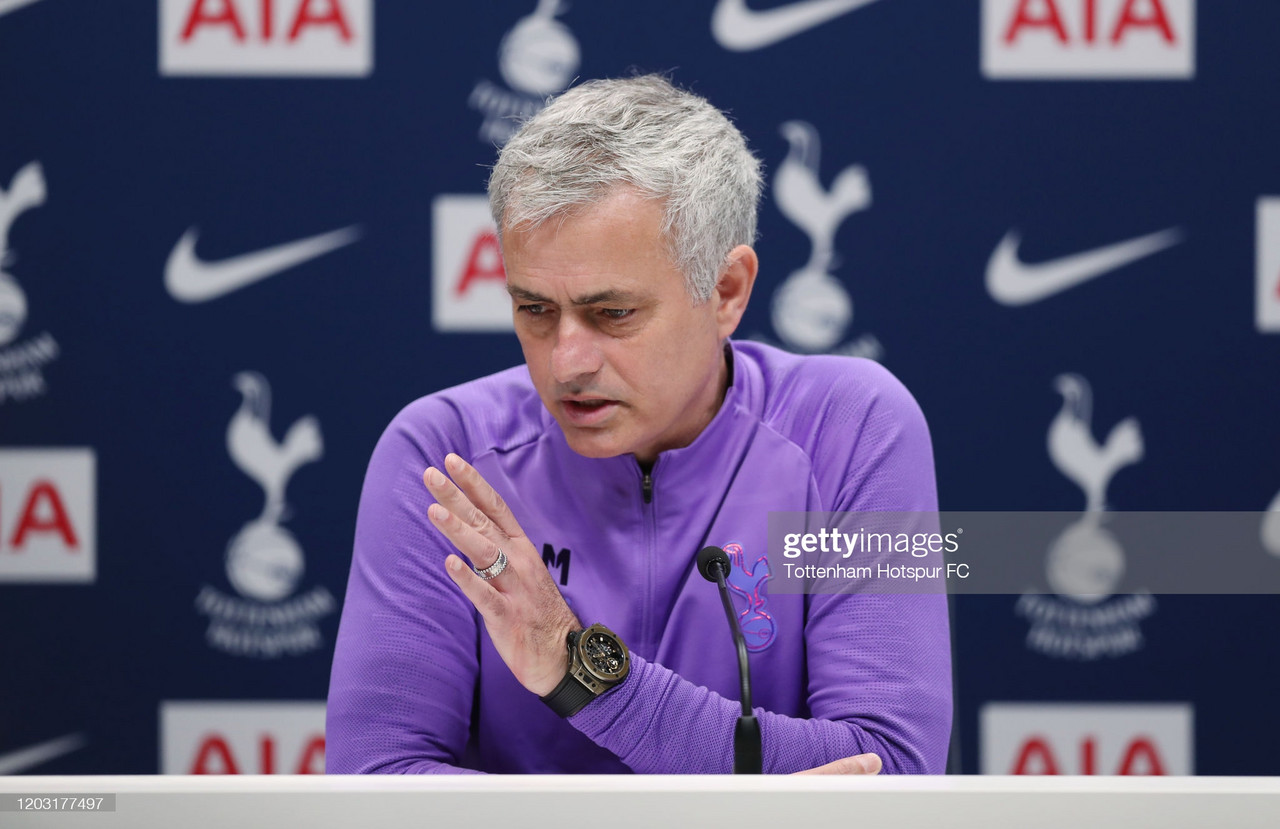 Tottenham Hotspur host Manchester United on Sunday it what promises to be a telling game for Jose Mourinho.
A win for Spurs would be massive in their push for top four but beating a Man Utd side, who albeit played in the Europa League Thursday, will still be a very hard task.
Here are the key quotes Mourinho said in the pre-match press conference:
Ben Davies and Matt Doherty were the only two players that missed the Newcastle United match and that appears to be the same for the encounter on Sunday.
"Good news, Ben Davies and Matt Doherty are the only two players not available. They are getting better. No more injury news, everybody available."
On the racist abuse towards Sanchez
Davinson Sanchez, like a ton of footballers, received sickening racist abuse after the previous game.
Swansea City announced a social media boycott from 5pm UK time on Thursday for seven days in a stand against online abuse of footballers everywhere.
Later on Thursday, fellow Championship club Birmingham City announced they would stand in solidarity with Swansea by joining them in boycotting social media for seven days.
Mourinho had his say on whether Tottenham would join the movement:
"The club is thinking, analysing every detail and the club of course wants to make an impact and the decision that the club will make will be a decision that of course we will accept and support, but it is an internal discussion about a sad situation.
Mourinho then answered on how Sanchez is coping after the online abuse:
"In relation to Davinson, of course there is nothing more to add about the sadness of the situation but I would just say that he found a lot of love internally because he's a lovely guy and everybody likes him and supported him and he's fine."
Mourinho was asked about how often Man United get penalties and if it worri him. They have had three penalties in the last three games against Spurs.
Mourinho stated it does not concern him:
"I cannot go to a football match concerned. I can't, I don't think it's the right frame of mind to go to a match concerned, so I'm not going concerned and I don't want my players to go to. We have to go with positive feelings and go with the dimension and difficulty of the game.
"Coping with pressure. That's what I want. I want to be positive and happy to play against such a giant club with such a good team and with the ambition to win the points. When the game starts, the points are going to be there on the grass."
On the 6-1 win at Old Trafford
Tottenham destroyed Man Utd 6-1 in the reverse fixture in October, but Mourinho spoke on whether that will effect this game.
"I believe that 6-1 doesn't reflect the reality. It can happen. Of course it can happen, between two great, the results they can happen in an isolated way. I go much more in the direction of the other two previous matches between us and United.
"We lost 2-1 at Old Trafford, with the penalty, and we draw 1-1 at home last season, also with a penalty. I think this is more the reality. We are not far from each other so I think it is going to be a difficult match for both.
"If Solskjaer is going to use that result [for motivation] I don't know. If it was the opposite. If it was my team losing 6-1 to them I would just say to my guys that it happened once and it's not going to happen twice. This doesn't reflect the reality. The game is going to be tight and we can win, but I don't know, maybe Solskjaer has different things.