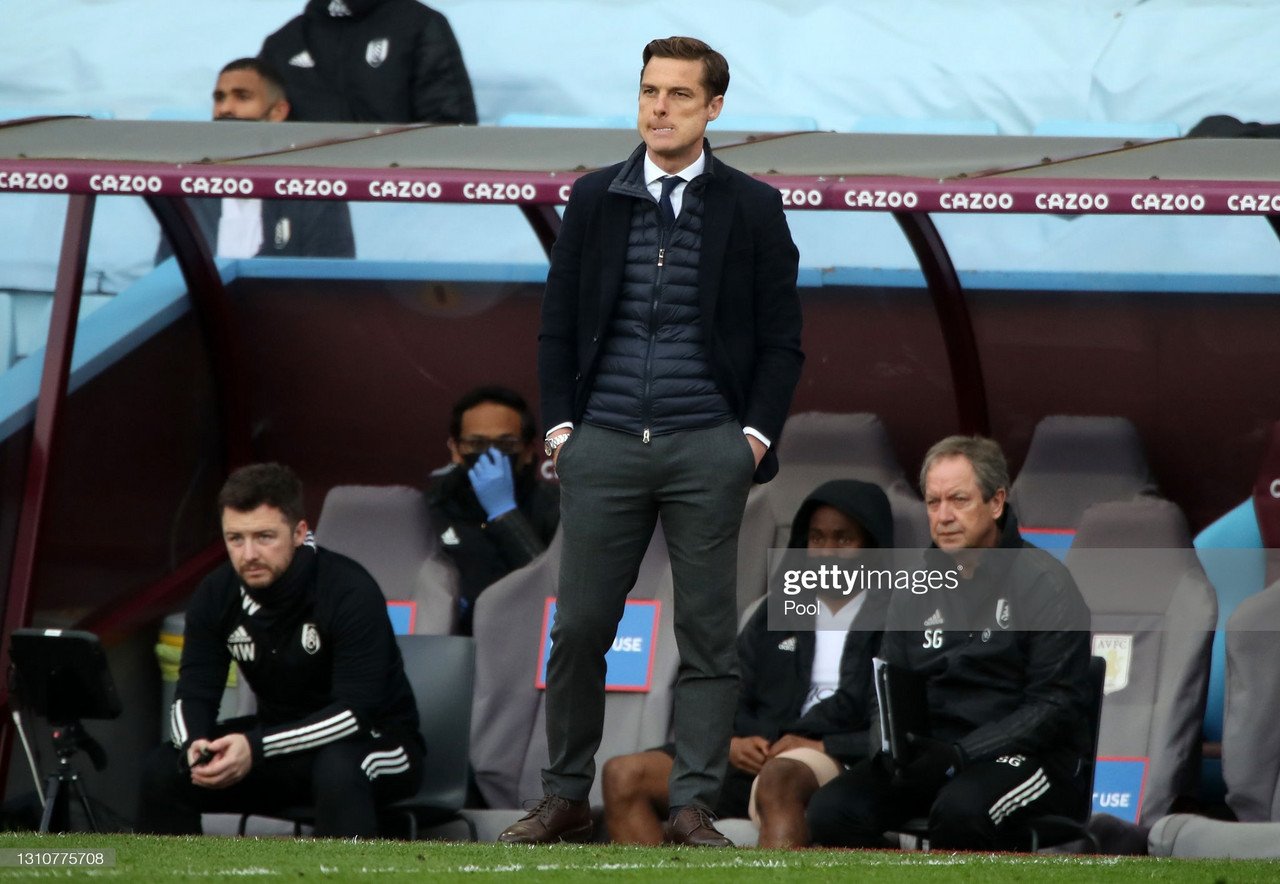 The 2020/21 Premier League season has officially reached crunch time, and when relegation-threatened Fulham host Wolverhampton Wanderers at Craven Cottage on Friday, they'll know only victory will suffice in their bid to beat the drop.
Last time out, the Cottagers squandered a lead at Aston Villa in calamitous fashion. Aleksandar Mitrovic put his side ahead on the hour mark but the visitors collapsed at Villa Park, eventually falling to a 3-1 defeat; they cannot afford to let the same thing happen here.
Fulham manager Scott Parker addressed the media before the match — here are his most noteworthy quotes, as per the official Fulham website.
On focus
The loss at Villa last weekend felt painfully significant, and Fulham will hope it's a watershed moment in their season which, having picked up around the festive period, has slowed down once again of late.
However, Parker insists the attitude of him and his team towards the task at hand remains as it has been throughout the season: each and every game is a cup final upon which their league status for next season depends.
"I understand and the team understands that we now have seven games to go and as the end of the season nears, those games become more important, or certainly the emphasis on those games is to win. But nothing's really changed in my mindset."
On the opposition
Wolves come into this game winless in five in the league and, for their part, eager to secure their mathematical safety as soon as possible despite there being no realistic chance of them getting dragged into the relegation dogfight right at the end of the campaign.
Although Nuno Espirito Santo's side have stuttered somewhat lately, Fulham's manager remains well aware of the threats they'll pose to his side, and was not prepared to concede that this was a fixture from which his side could eye three points more than they would in any other.
"They're an incredibly gifted side with players in their team who can cause many a problem," Parker asserted. "They've got that flexibility; sometime a back four, sometimes a back five. We need to understand the two ways that Wolves can turn up and play, whilst also understand that they change in-game as well. We have to be prepared for that."
On the importance of the match
At this stage of the season, each and every point gained and dropped matters. Fulham know that a handful of wins could keep them up, but with three of the top six — in Arsenal, Chelsea and Manchester United — still to play, these are the games they'll really be targeting for those precious points.
The Fulham manager in no way denied the significance of this must-win fixture, but was keen to assert that the result here would not be the be-all or end-all of his side's season. It's simply a case of trying to win each and every game as they come.
"Do I feel if we don't win that it's going to be defining? No, not at all," said Parker. "But if you're asking me if we need to win this game, yeah we do. We needed to beat Villa, and after this we're going to needed to go to the Emirates and beat Arsenal."
On future prospects
They've been in the bottom three for all but four weeks of this Premier League season yet, if — and, admittedly, it's a big if — Fulham play their cards right in these final seven games, they're chances of survival will be very good indeed.
In terms of effort, Fulham have given their all to this point; what has failed them in patches has been ability some weeks, tactics in others, but Parker insists they'll keep pushing right up until the curtain has been drawn on the campaign to retain their place in the top flight.
"We've worked tirelessly to this point, every single player, to get to a position with seven games to go where we've got a real chance. We will give absolutely everything in our power to try and stay in this division."