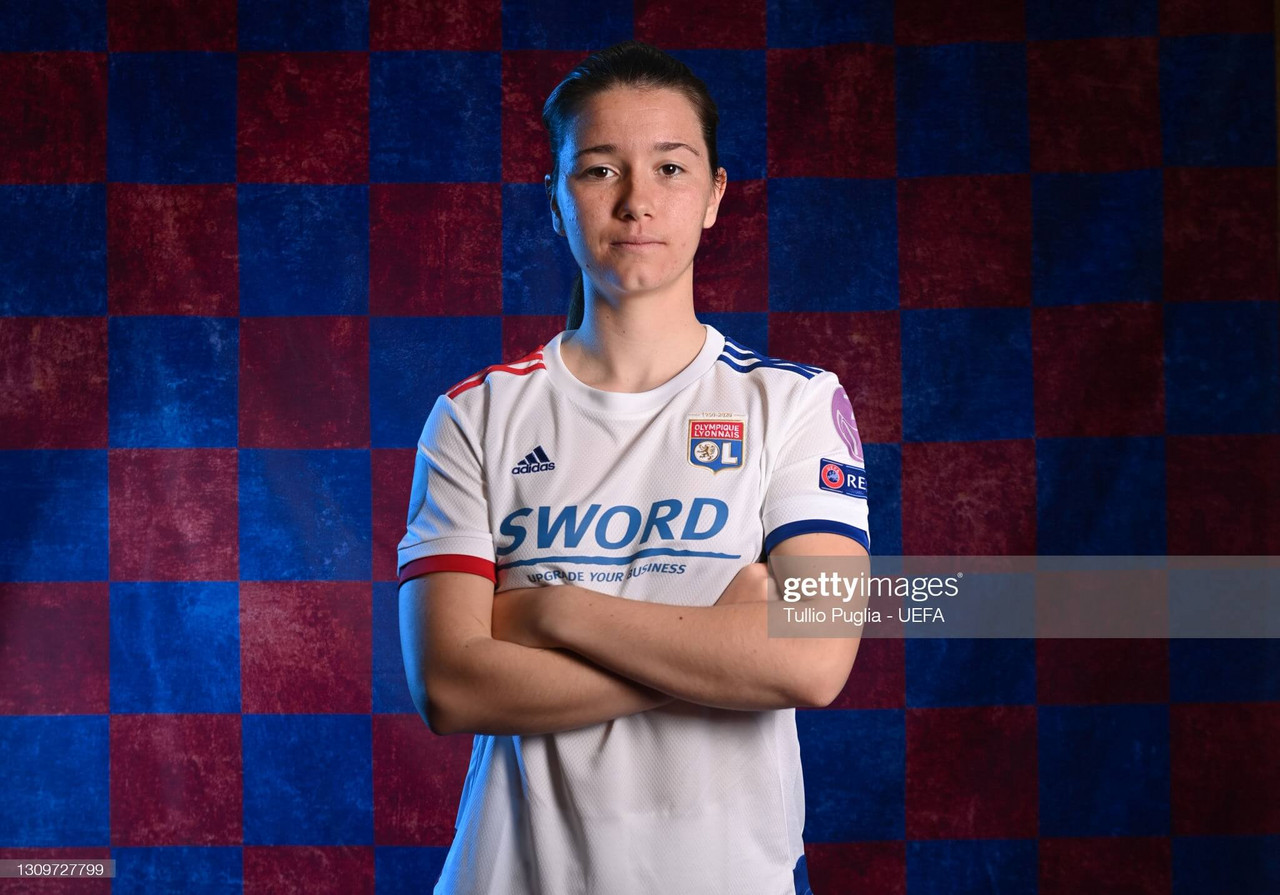 Olympique Lyon's season comes down to the next 90 minutes against Paris-Saint Germain in the second leg of the UEFA Women's Champions League quarter-final.
A 1-0 win against a rival without playing well? In many ways, this was a typical Lyon victory and it typified their season. Their campaign has been tethering on a knife's edge, threatening to be derailed at any point given their sluggish performances.
Ada Hegerberg's injury has affected them more than they would have anticipated. Not only do they miss her goals, but her overall movement and positioning allow others to flourish and play their own game.
The midfield has looked slow and dejected at times which has been a major cause for concern. One criticism that Jean-Luc Vasseur has faced has been his lack of tactical flexibility.
When they played PSG in the first leg, they once again looked sluggish and overwhelmed, but this time there was a new systematic change. Vasseur introduced a 4-3-1-2 formation to try a different approach using the strengths of his midfield depth but it initially seemed to be thwarted by PSG.
However, the introductions of Damaris Egurrola and Eugenie Le Sommer for Saki Kumagai and Dzsenifer Marozsán in the second half made an instant impact. Damaris' tempo, mobility, vision, and protection all served as a catalyst for the other midfielders to play with more freedom.
We've come to expect Lyon to dominate possession and play a very possession-based style of football over the years. But in a season that has produced several underwhelming performances, they need to be prepared to 'suffer' with PSG expected to have more dominant spells of possession.
Lyon in possession need to play a more agile, incisive passing game with quick transitions. In doing so, the French champions will need a competent defensive midfielder capable of releasing the first ball quickly to get Lyon higher up the pitch, and in Damaris, they have just the player.
One of the more pertinent differences seen was in Lyon's shape and how that made a difference in the first leg. Vasseur decided to start with an unorthodox 4-3-1-2 formation that gave his full-backs license to push on and move Delphine Cascarino alongside Nikita Parris as the two centre-forwards.
In theory, this system suits Lyon, given their attacking full-backs who would much rather push on. Both Sakina Karchaoui and Ellie Carpenter were looking to take up higher positions though PSG did well to restrict them early on by keeping the pressure on in the centre.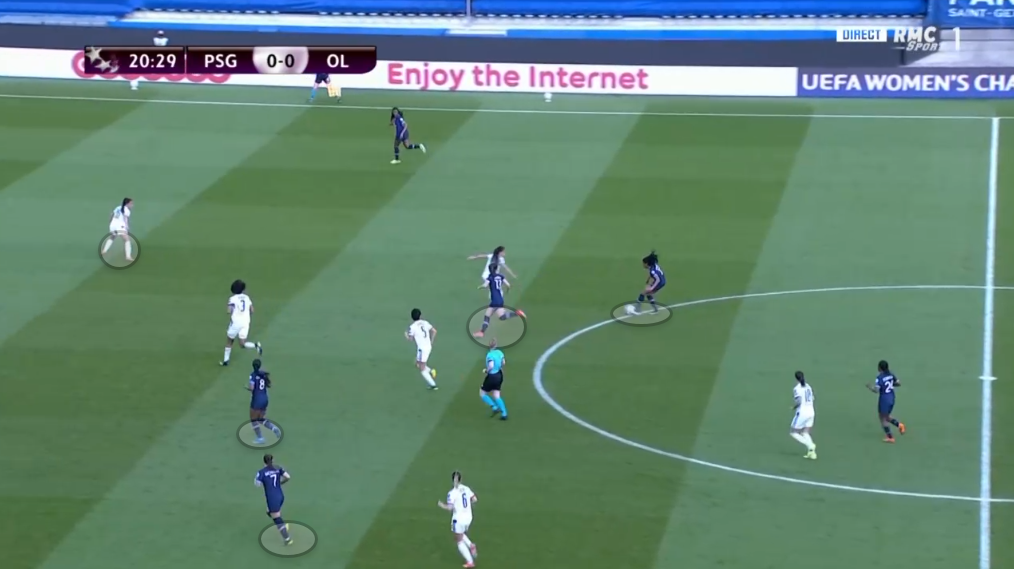 The current profile of midfielders suits this system too. The four midfielders create a numerical advantage in the central areas, which not only allows for better transitions but also counter-pressing.
Amandine Henry, Marozsán, Amel Majri, and Kumagai are comfortable playing centrally to manoeuvre into the half-spaces - especially Majri who tends to drift wide and cross. Additionally, Henry, Kumagai and Majri are proactive in their press which helps to win back possession.
They prefer to use the space to push forward and either play passes into space for the quick attackers to latch onto or play give-and-goes once it reaches the final third.
The full-backs being so high become another outlet and they add extra bodies to create overlapping runs for the strikers. The formation really favours strikers who excel in their movement and 1 v 1 positions who are usually positioned slightly wider.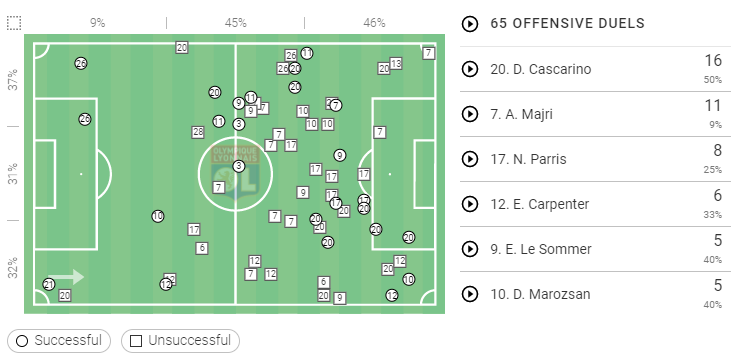 In Cascarino and Parris, Lyon have two forwards who excel in 1 v 1 duels, dribbling, and the ability to both shoot and cross. Cascarino registered the highest number of offensive duels which were mostly from the wide areas showing where she had the ball.
This two-striker system essentially replicates the same movement and positions that Hegerberg took up as a lone striker which is evident in the heat maps.

Though their effectiveness in some sense is still dependent on the number 10. Marozsán was unable to create too many meaningful combinations with 21 successful passes from a total of 32 in her 62 minutes. She only managed one dribble and suffered 10 losses. Having said that, it wasn't all down to her performance.
The first half saw PSG close down Lyon's central build-up with a compact four across the middle with an active pressing system that saw at least 2-3 players close down the ball carrier.
More importantly, they blocked most short passing lanes, forcing Lyon to play longer passes to the flanks with no time for the central players to help the full-backs as the image shows. PSG were able to defend many of these passes early enough, making it hard for Lyon to penetrate.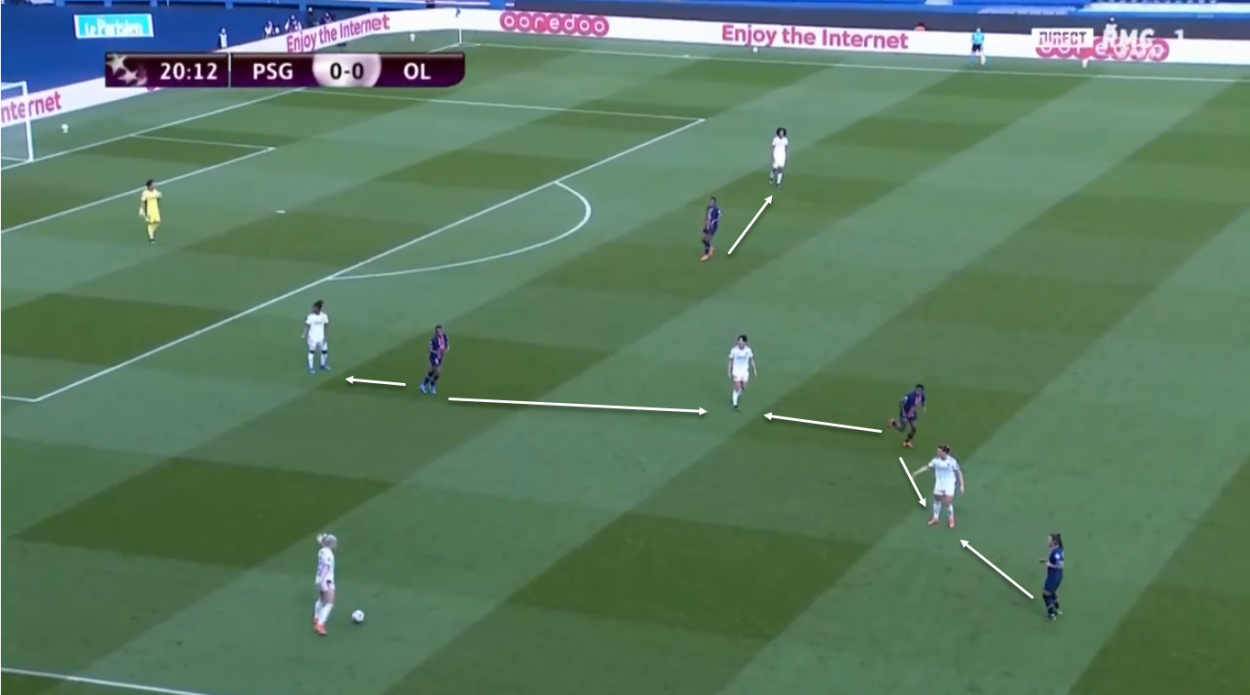 Lyon relied on pace and movement between the lines and while Marozsán did drop deep to support, Lyon's midfielders were constantly overwhelmed by PSG's press.
Henry and Majri were either dispossessed or were forced into riskier passes down the half-spaces. Kumagai too was forced to make too many lateral passes without much progression in the first half. Though she was actively seeking possession, it wasn't to much effect.
The ultimate issue came down to two fundamental problems. One was the slow tempo in build-up and midfield and the lack of quick transitions to the two strikers. This was solved by the double substitution of Damaris and Le Sommer.
When Damaris came on, it accentuated the 4-3-1-2 which saw the Spaniard play at the base. More importantly, it saw an improvement in the tempo with Henry and Majri engaging in much quicker passing exchanges.
Damaris fits the profile with her calm demeanour and comfort with the ball at her feet. She is able to break the press through calm short dribbles and incisive passes through a combination of short, recyclable passes as well as long-range ones.
The pass map showcases the defensive midfielder's ability to spray passes across the pitch to several different players. In contrast to Kumagai, Damaris had more passes to forward players than the Japanese international.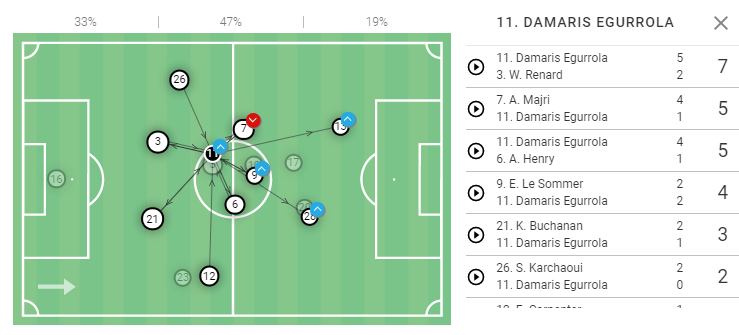 Her contribution to Lyon's creditable improvement in possession highlighted many of the attributes that first marked her out as a worthwhile development project, showing glimpses of her untouched potential.
Damaris had an effect both from an attacking and defending perspective which highlighted her game awareness. Her press resistance combined with her ability to release quick, progressive one-touch passes saw PSG unable to press as much as they did.
In her 34 minute cameo, Damaris attempted 19 passes (84% accuracy rate), of which seven were forward passes; 10 duels with a 70% success rate; and six recoveries. In comparison, Kumagai made seven forward passes, five recoveries, and nine duels.
Of course, fatigue plays a part but her presence saw a shift in the game. When a PSG move went wide, the Spaniard would slot in between the central defenders as the image shows.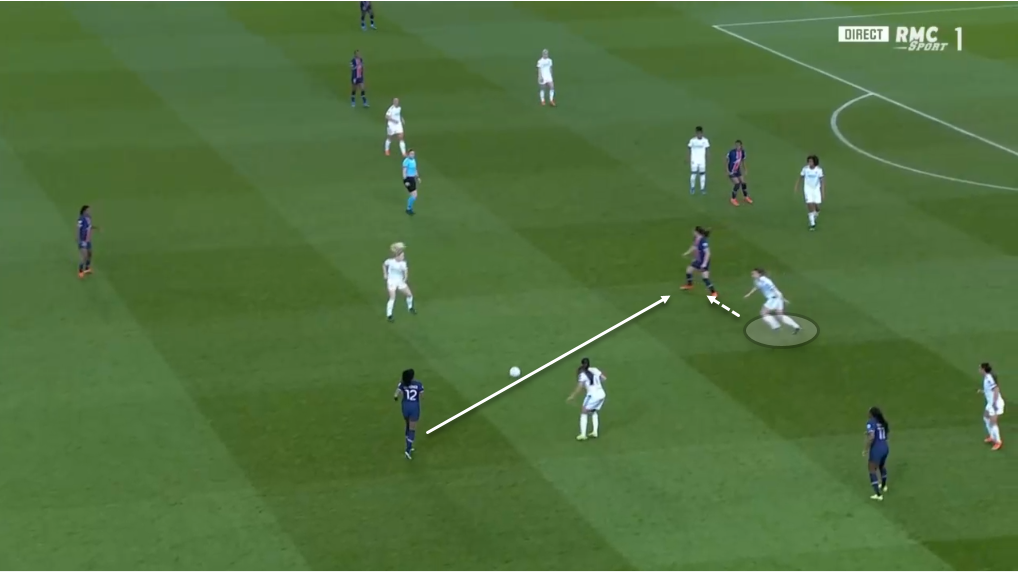 First, she identifies the danger early and wants to intercept the pass to Sara Däbritz. Once she fends off the German to pass laterally, she moves in between Wendie Renard and Kadeisha Buchanan to further protect the defence.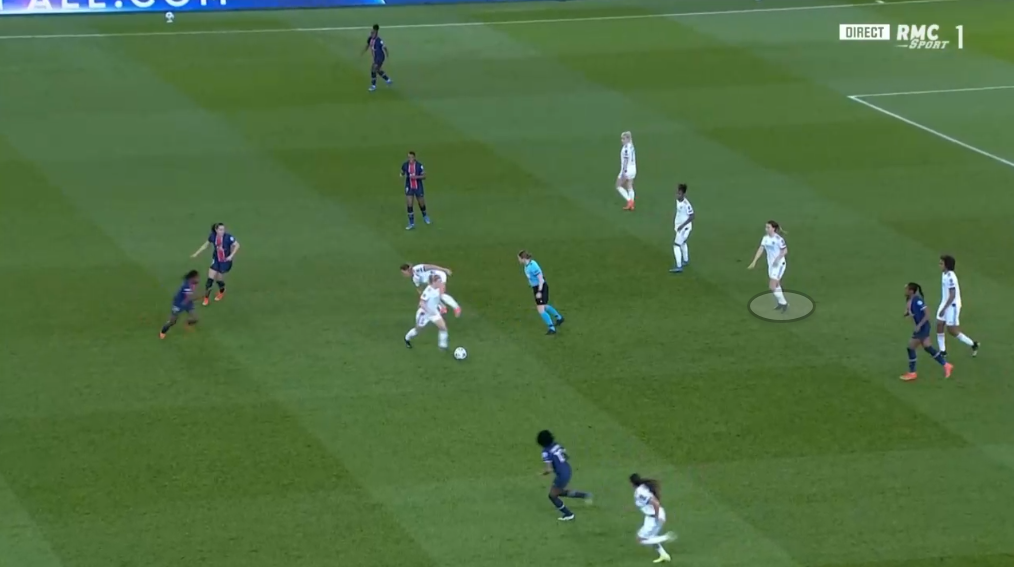 Additionally, Le Sommer was more proactive with her movement into the pockets, moving players out of position. She would ask for the ball in spaces further up and use the central midfielders for more quick passing which in turn led to giving Cascarino and Parris space to operate.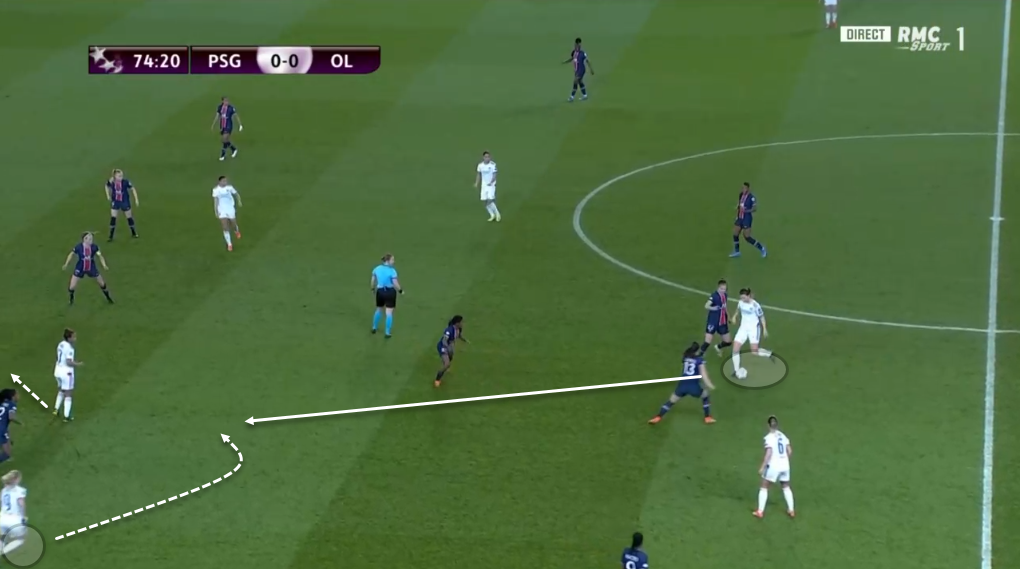 In this passage of play, Damaris moves forward with the ball and finds Le Sommer making a diagonal run off the left into the central channel. There is a one-touch pass for Parris from Le Sommer who is able to run into the vacant space in behind.
Will Damaris make the difference?
Damaris represents the key in Lyon's newfound system and will be pivotal in unshackling the attacking tendencies of the players around her. Kumagai holds the experience and can easily play next to the Spaniard, but if Lyon are to dominate possession and push for a win, then it could very likely be Damaris that Vasseur turns to, whether it be from the start or off the bench.
There is a feeling that Paris Saint-Germain are still favourites to go through but Lyon keep finding a way to rise through in the wake of imminent defeat. The outcome for their season's success could hinge on an unorthodox tactical setup, but one that suits the players at hand with Damaris at the heart of it.
A new era is underway at the Groupama Stadium and Damaris has already shown she's ready to be part of a new-look midfield.