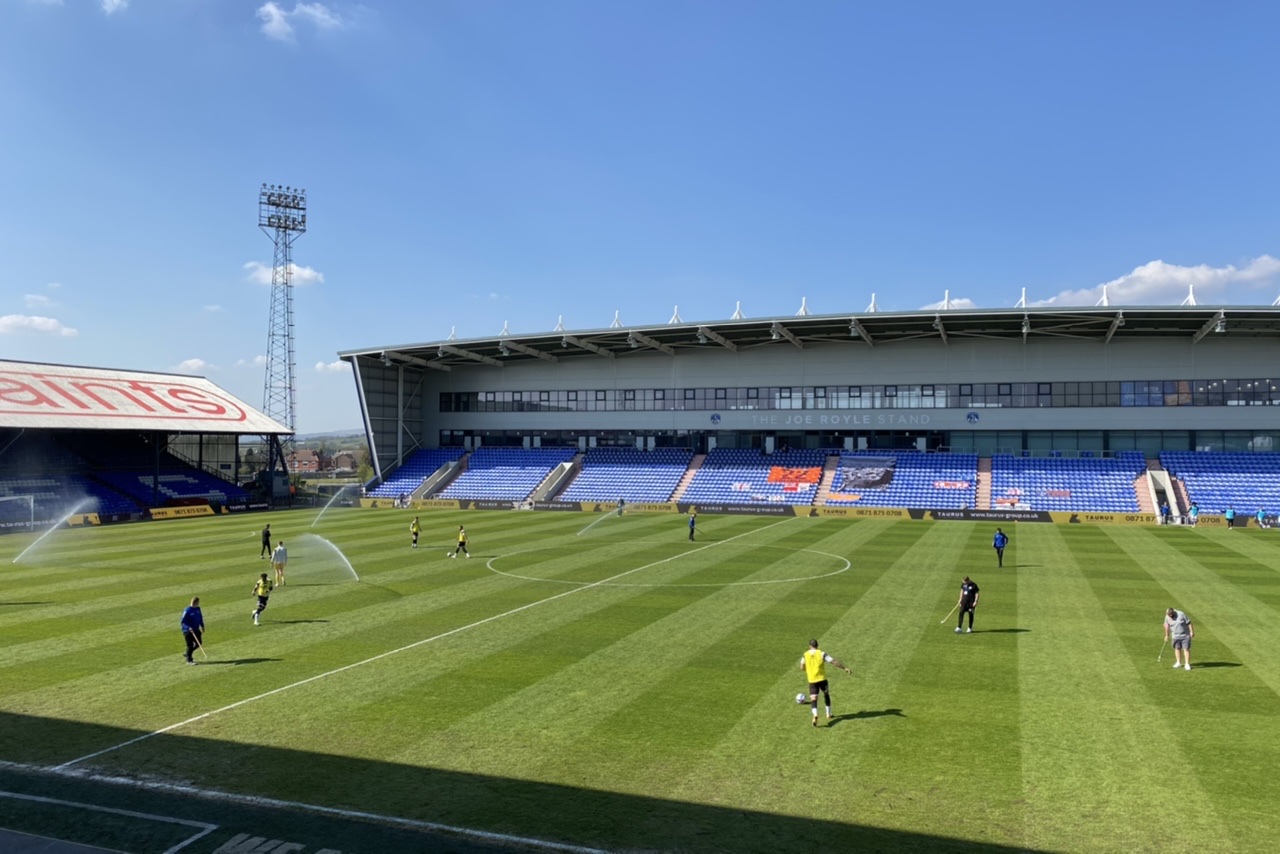 Grimsby Town gave themselves a lifeline in the battle to preserve their League Two status with a victory away to Oldham Athletic on Saturday afternoon.
Oldham have been inconsistent this season, and the difference between the performance against Harrogate on Tuesday and against Grimsby on Saturday was stark.
The match
Latics had controlled large portions of the game from the off, working especially well in the midfield and having little to worry about in defence.
Callum Whelan was good on the ball and often linked up play with Alfie McCalmont who was doing a similar role alongside him. Harry Clarke continued as a wing-back and partnered the ability to roam more freely with his pace to work well on the right flank.
It was McCalmont who was yet again instrumental for the game's opener. He robbed the ball off Jay Matete in the middle and slotted it through to Conor McAleny as hosts countered a Grimsby attack. With the Mariners left wide open, the striker was left one-on-one and slotted past James McKeown to record his 21st goal of the season.
Yet Oldham's lead would not last long. Matt Green, who had been a late addition to the side after James Hanson was injured in the warmup, snatched the ball from the feet of Clarke at the back and curled an effort into the bottom corner from around 30 yards out to level the scoring.
Few would have predicted the Mariners to have snatched anything from the tie, but they did just that. Matete split open the Latics' midfield in the 80th minute before rifling a superb shot out of the reach of Laurie Walker and into the top corner.
There was a bizarre event late on when referee Alan Young handed Matete a second yellow to send him off... but he hadn't committed the foul. After many pleas from him and his Grimsby teammates, the card was rescinded and instead handed to Evan Khori.
Teams:
Oldham Athletic: Walker, Clarke, Borthwick-Jackson, Piergianni (c), Whelan (Garrity 57'), Keillor-Dunn (Hilssner 57'), Jameson (Fage 70'), McAleny, Adams, Bahamboula (Barnes 57'), McCalmont (Vaughan 80')
Subs: Bilboe, Badan
Grimsby Town: McKeown, Waterfall, Coke, Green (Jackson 91'), Spokes, Clifton, Matete, John-Lewis (c), Hewitt, Menayese, Khori
Subs not used: Eastwood, Green, Scannell, Adlard, Lamy
Takeaways from the match:
End of the season blues
Matches at this end of the season have all been a pretty similar affair in recent seasons for Latics. The results ultimately mean very little so standards drop.
That was evident on Saturday as Curle's side seemed to be lethargic at times, with less urgency displayed than in previous games so it's difficult to read into the result.
Questionable substitutions
Keith Curle's substitutions were debatable to say the least. Albeit there is reason to rest key talent and not risk them playing a full ninety, Latics did lose their spark in the final third.
Marcus Barnes adds pace but has been far from impressive when he has played this year, while Marcel Hilssner hasn't been able to display any real consistency.
Had Curle kept on the likes of Bahamboula for a longer period of time then there is a chance that the result may have been different.