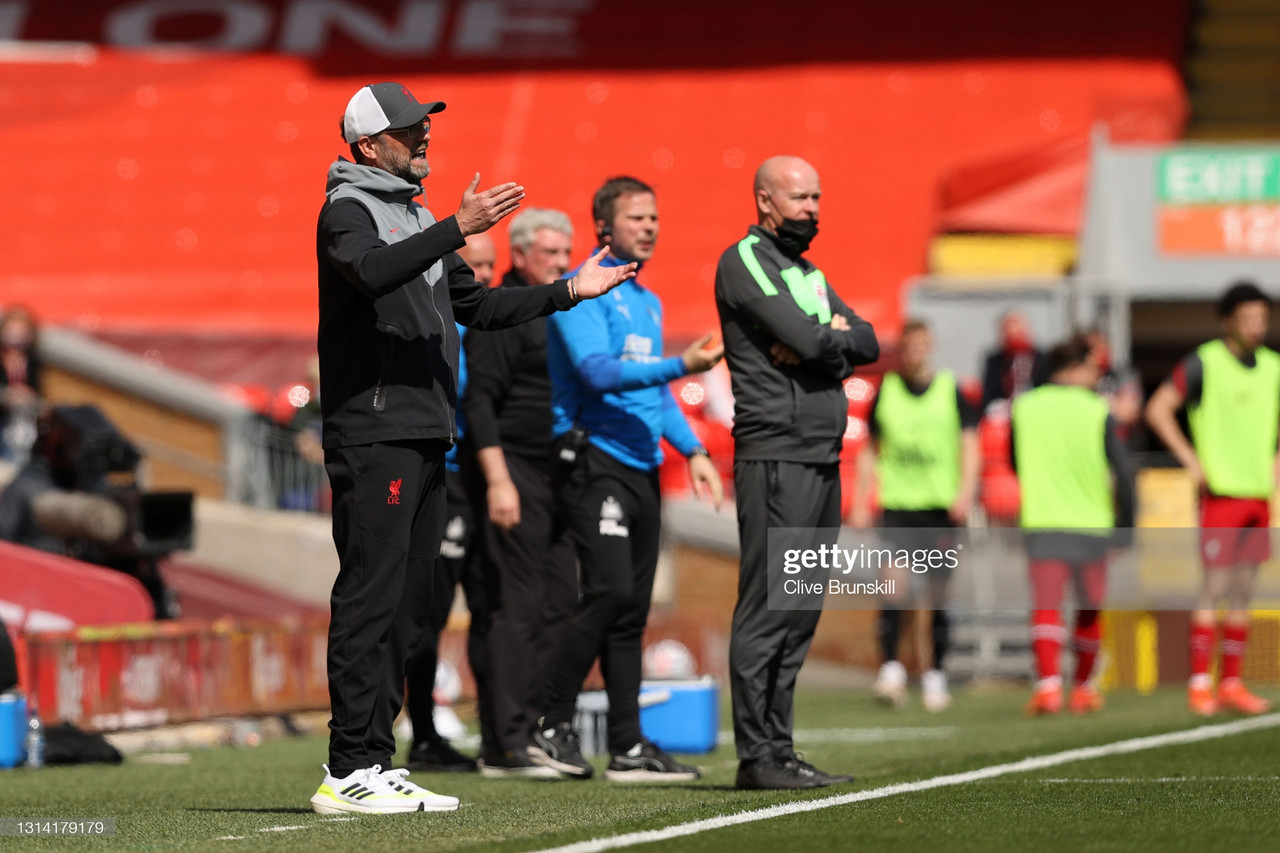 An all too familiar sight for Liverpool after they concede late on to drop more points in the race to finish in the top four.
Mohamed Salah opened up the scoring early on for The Reds but, they failed to double their lead from an enormity of chances they created to end Newcastle's afternoon early.
Jurgen Klopp's men started the second half poor and were the creators of their own misfortunes as they conceded in the 95th minute, just minutes before The Magpies had another goal ruled out by VAR.
Klopp spoke to the media after another disappointing game at Anfield, as per Liverpool.com.
Liverpool's top four chances
A win against Newcastle would have seen Liverpool move up to fourth in the table with Chelsea and West Ham playing each other later on. It would have been a real boost to Liverpool's chances of competing in the Champion League next season. However, after having to settle for a draw, Klopp spoke on how big of a blow this is to their chances.
"Yes of course [its a big blow], but actually to go to top four depends all on the results we get on the pitch - and with these kind of games you don't get that.
"People told me that against the bottom six of the table we got altogether five points, which is absolutely obviously not OK, with all respect. We had in all these games a lot of chances and we didn't use them, so we are where we are. Now, I need time to be frustrated, I need time to be angry and when that is over then we go again. But with results like this, you will not make big steps."
More and more chances wasted
Without trying to sound like a broken record, Liverpool were once again let down by their finishing. With Diogo Jota, Sadio Mane, Roberto Firmino and Salah all starting, The Reds recorded 17 shots but only managed to convert once. This recurring theme is a concern for Liverpool who have failed to finish off their chances all season. Klopp replied to everyone's worries on Liverpool finishing off their chances, he said: "There is only one way [to improve Liverpool's strike rate]: to go again, to go again, to go again. In training you can believe me that we do often enough finishing when we have time to train - and we have now time to train, obviously, so it's not about that. You can see it: in a positive face, in a really positive face, you miss chances but it is just that nobody talks about them.
"In our situation obviously still, which is tough to accept but we see it, we score with the first, don't score with the second, don't score with the third, don't score with the fourth and stuff like this and then obviously the confidence drops and you can see that. That's not OK."
What will Liverpool look like next season?
Liverpool have seen the drawbacks of no fans this season. No Kop End roaring on The Reds, no encouragement during tough games, no twelfth man. Along with the injuries Klopp's side has faced this season has not been what the league champions had been wishing for.
When asked on whether he is concerned that it is too simplistic to expect Liverpool to return to their best when their injured players are fit again and fans are allowed back inside Anfield, the boss replied:
"We have to become again a very, very tricky team to play against, an angry team in a positive football way, these kind of things. That's what we have to become again. So we have now the chance, now definitely we have nothing to lose anymore, it's definitely like this because now we are in the situation… OK, West Ham and Chelsea cannot both win [on Saturday] but one of them can win and they are four or five points away. That doesn't look likely. We play Man United away, they are in a good moment, it all doesn't look likely. But if we play like this, if we don't finish games like this off, why should you play Champions League?"