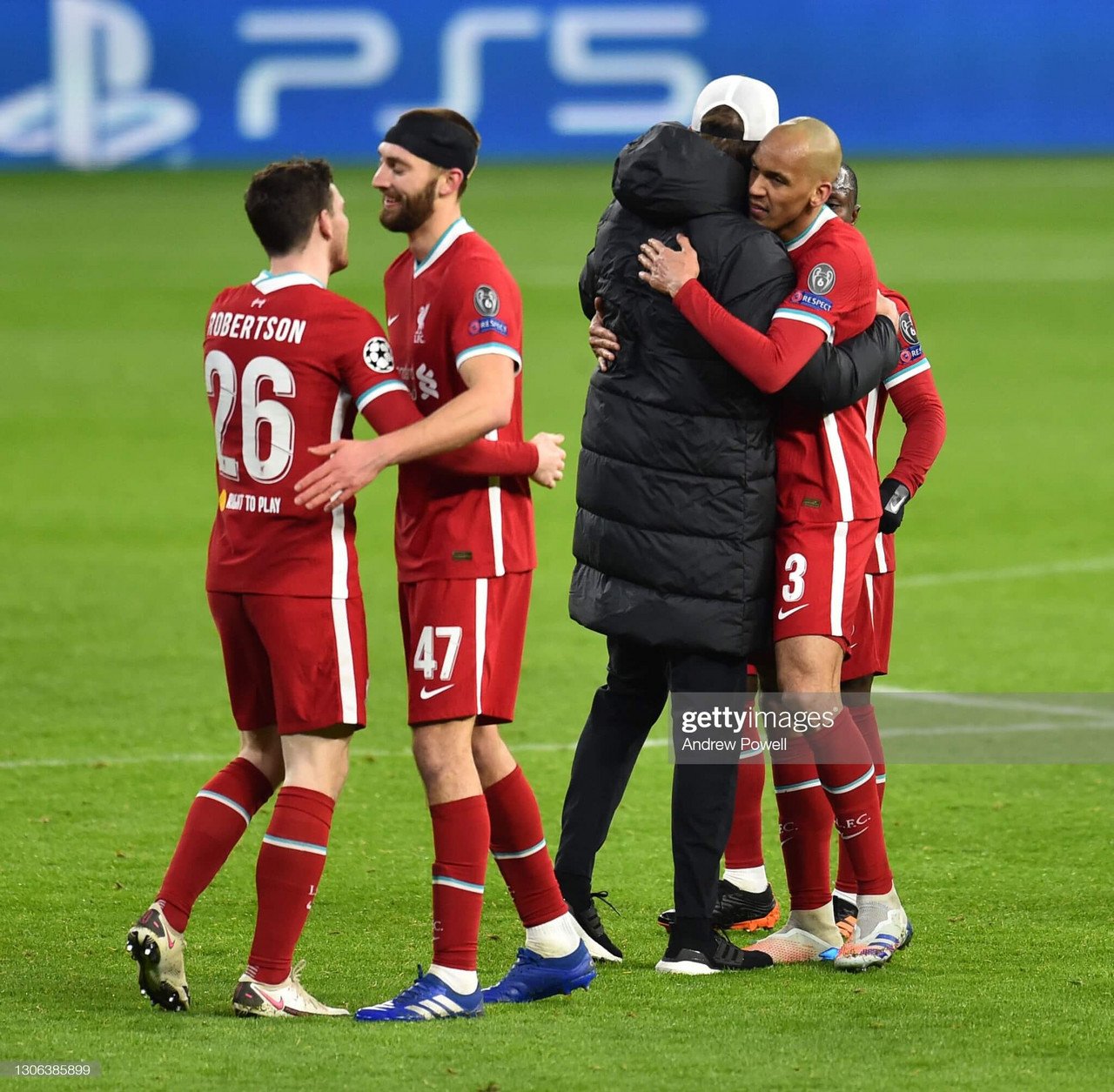 Liverpool beat RB Leipzig 2-0 on the night and 4-0 over two legs to progress to the quarter-finals of the Champions League. The performance from the Reds was fantastic and shades of the team that ran away with the Premier League title last season.
With bodies beginning to return, Jurgen Klopp was able to select a strong team which, most notably had two proper centre backs and Liverpool's best defensive midfielder playing. These two aspects were pivotal to the impressive performance.
On the whole, Liverpool were the better team and created the better opportunities. Mohamed Salah failed to score when one-on-one with the goalkeeper. This came from a counter attack and a spectacular karate kick lobbed passed from Thiago Alcantara. Salah struggled to find the right angle to score and was probably hindered by being on the left side of goal. Sadio Mane missed the follow-up shot with a header into the ground. This summed up Liverpool's first half well.
Diogo Jota also had a number of chances but failed to take them. Although it was frustrating to see Liverpool waste the good chances that they were creating, it was also pleasing to see the Reds create so many. They have really struggled to create a number of chances in games, but had no troubles in this match.
With Leipzig an already attacking team and also pushing to stay in the tie, they evaded a lot of space for Liverpool take advantage of. The Reds did a great job in using this space to create good chances.
Alisson was called into action a couple of times and forced to make a good reflex save. Other than a few scares, it was a relatively easy night for the goalkeeper.
Entering the second half, you had the feeling that if Liverpool produced the same kind of performance as the first 45 minutes, they would win the tie. They were able to do exactly that and eventually took their chances.
Salah scored the first goal in the 70th minute. It was a really well worked goal, with a number of quick passes before a calm finish from the Egyptian. It was the kind of goal that we have become accustomed to seeing from Liverpool, with the pace of movement making it hard for Leipzig to defend.
Liverpool scored their second goal of the night through Mane in the 74th minute. Again, it was created by some really nice passing on the right wing. Divock Origi's cross found Mane who was left with an easy finish. This goal will do Mane the world of good as he has been in poor form recently.
Fabinho and Thiago imperious
It has been since October that we have seen Fabinho in midfield and he showed last night why he is so important. He helped Liverpool win back the ball high up the pitch and sustain possession as well as stopping Leipzig attacks. In the first half he cut out seven through balls. There is no one that can play the defensive midfield role as well as Fabinho in the Liverpool team.
As well as a dominating performance from Fabinho, his presence in midfield also helped Thiago to play his usual game. Since his arrival, Thiago has struggled in Liverpool's midfield as he has been forced to play in an unnatural position. This has hindered him from playing his usual game, not only resulting in poor performances from himself but also making it difficult for the forward players.
Last night we saw Thiago at his best as he could focus more on attacking rather than defending. This was aided through Fabinho in midfield, where he must continue to play for the remainder of the season if Liverpool want similar results and performances.
A goal to help Mane's confidence
Whilst a number of Liverpool players have struggled this season, Mane's dip has been one of the most notable. He has found it very difficult to score a consistent level of goals and looked lethargic at times during recent games.
However, after scoring last night hopefully he can look to get his season back on track and push on from here.
Salah's goal was his 25th of the season in all competitions. For all of the Reds' misfortunes this season, Salah has been exceptional and showed why he is a Liverpool great. If it was not for his goals, Liverpool's season could be going even worse.
With the quarter-finals in the Champions League now looming for the Reds this could be a great opportunity to save what has been a very disappointing season. If Liverpool can keep the current players fit and continue to produce performances like last night, it would be hard to rule them out of winning number seven.