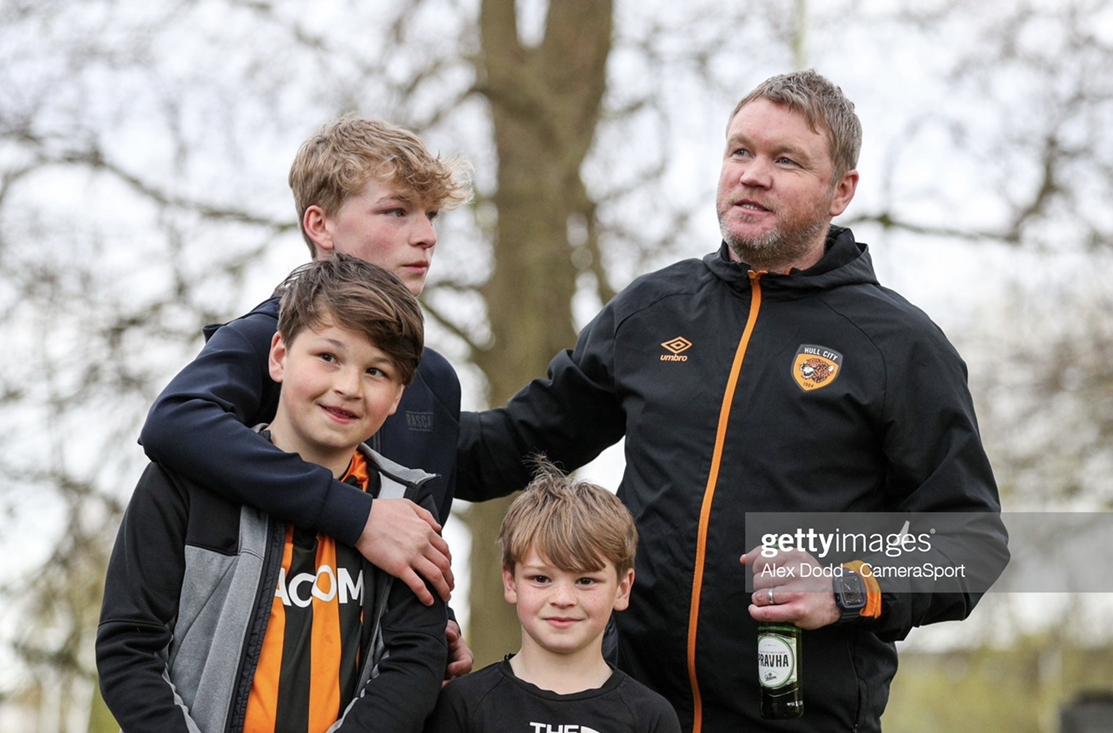 Grant McCann has come a long way since the last time Hull City played Wigan Athletic. In July 2020, the 8-0 defeat felt very much like the lowest point of his managerial career.
Fittingly, almost ten months on, the 3-1 victory that saw Hull City promoted as Champions came against the same team, and it is no doubt the highlight of his tenure at the Tigers - or indeed, any club. How did he turn things around in such a short space of time?
"We've done all this together"
"It's not about me, it's about the team," Grant McCann said after being congratulated on winning the Manager of the Season award for League One. "It's about us as a staff and a collective this season.
"Everything we have done this season is about everybody at the football club and the hard work that goes in to getting us to this point of the season.
"Individual accolades are always great, but if you ask Callum Elder and George Honeyman they'll tell you they can't do it without their teammates and I can't do it without my staff and the players, everyone having a full collaborative approach of where we want to get to. We've done all this together."
McCann has been positive all season about his squad and their chances of promotion. When asked about potential success since February, he has always responded the same.
We focus on the next game.
McCann was not popular at the end of last season with Hull City fans. A shambolic collapse in the second half of the season after key players were sold made his job more difficult, and the relationship between the club, its fans and local media especially could only be described as toxic.
What a turnaround this season has been.
"I'm learning all the time and hopefully getting better all the time"
McCann has come off social media, alluding to its dangers and pitfalls in various press conferences throughout the year. His recent revelation of being psychologically coached has shown just how much he has learnt about himself this year, and how this season's success could breed even more next year.
"As a manager you have to learn, you have to take the rough with the smooth. I'm learning all the time and hopefully getting better all the time," he told local media.
"I know I work hard to get better for myself, my staff and for my players and hopefully that continues to carry on.
"I've had a lot in my young management career so far, I've lost a job when I'm six points off a play-off place with two games in hand at Peterborough, I've been beaten in the semi-final of a play-off at Charlton, I've been relegated and I've been promoted.
"I've seen everything so far and hopefully these experiences will help me build a stronger character and a stronger backbone for the future, hopefully that can benefit myself, Hull City and the players we've got here."
One thing that is evident with McCann is he has always backed his players, even when performances haven't been to standard earlier in the season. His belief in them has been rewarded at the business end of the season; undefeated since the 0-1 loss to Ipswich Town back in late February.
"The consistency in their performances have been at a top level all season and so have four or five others," he said recently, when asked about Callum Elder and George Honeyman's inclusion in the League One Team of the Season awards.
"Those two have got the recognition which is great and it's great for the football club and everyone involved.
"It's pleasing to see, everything's a team effort.
"I couldn't be more proud of everyone connected with the football club, particularly the fans"
Recruiting the right players was a must at the start of the season, and the club got this absolutely spot on. Together with some players from last season, some young Hull-born boys who wanted to rebuild their clubs reputation and some savvy new recruits, McCann has built a title winning squad that has the potential not only to stay up in the championship next year, but also cause a few upsets along the way.
"I'm very very proud," Grant McCann said after the Wigan game. "It sounds great, I couldn't be more proud of everyone connected with the football club, particularly the fans.
"It's been a tough couple of years for them, particularly with what happened last year.
"To not see this team this season has been tough for everyone, but I couldn't be more proud.
"From the owners to the staff we work with every day to the players who have been magnificent, it's been a massive team effort not only to get promoted, to also win the league title was a really fitting moment and I'm absolutely delighted."
The formality of next week's trip to the capital to face Charlton Athletic aside, McCann will no doubt be already looking to keep important players in his squad as well as recruit some proven championship players to ensure Hull City kick on next year and give reward the fans once they are allowed back into the KCOM Stadium.