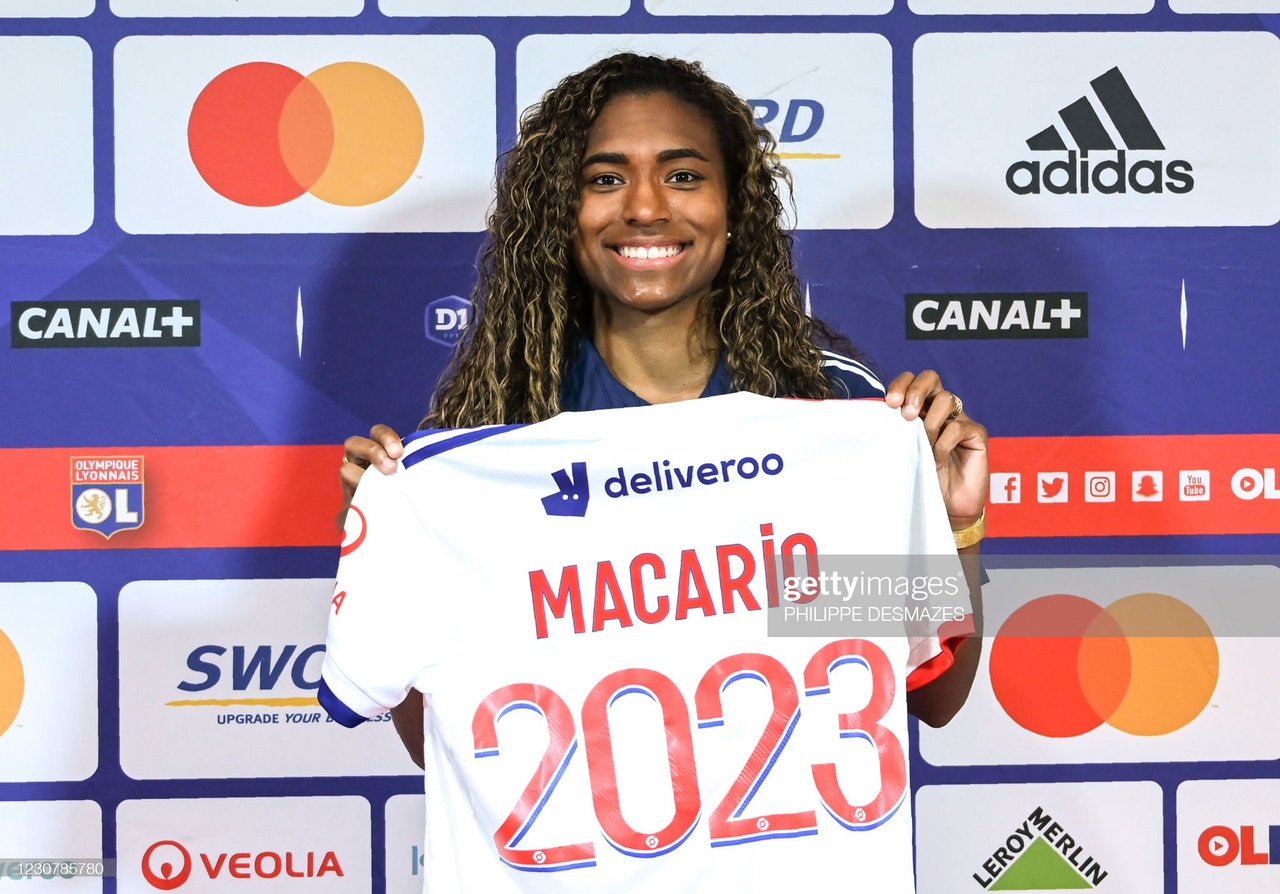 Now that the seemingly nightmarish 10 days comes to an end, a new era dawns at the Groupama Stadium in Lyon.
They recovered from their UEFA Women's Champions League disappointment with emphatic wins over Guingamp and Le Havre. But the most pertinent news comes in the wake of Jean-Luc Vasseur's departure as head coach and the appointment of his successor in Sonia Bompastor, the first female head coach at Lyon.
Jean-Michel Aulas has wasted no time in rebuilding a side that has come to the end of its cycle. This is a side where Dzsenifer Marozsán and Sarah Bouhaddi have moved on short term loans to sister club OL Reign, Damaris Egurrola and Sara Björk Gunnarsdóttir will both be out of action for the next 6-12 months, and Saki Kumagai will leave at the end of the season.
This calls for new signings and promotions of some of the younger players to now step up and fill the void left by these superstars and take Lyon forward. We've talked about the likes of Selma Bacha, Melvine Malard, and Damaris who should be at the forefront of the team and given their spirited performances, they should now be given the opportunity.
One player that will surely play a pivotal role and become a centrepiece in this new-look side is American prodigy, Catarina Macario.
Her first few months have seen opportunities few and far between but the last few matches have shown us she can become a key component. With four goals in four matches, we are now seeing the qualities Macario can bring to this side.
Vasseur was never one to tinker with his formation and continued using a hybrid 4-2-3-1 / 4-3-3 system where Macario started as the centre forward in three matches switching to a left-sided forward in between matches.
Naturally a centre-forward or attacking midfielder, she has the versatility to play across multiple attacking positions and given the system Lyon use, it is transferable when playing in a wider position.
Typically, one wide forward will look to come inside and play closer to the striker with the opposite winger staying wider to cross. Macario and Delphine Cascarino complement each other by being two varying profiles of wingers who bring a host of qualities to the table.

Bompastor has continued to use the American as a striker in her first game, which yielded yet another goal. This could be a sign of what we can expect from the young forward who is showing glimpses of her immense potential.
Macario's key strength is her attacking instincts and intelligence off the ball, robust yet effective movement in possession and aggression. Her intelligence contributes to her ability to be in the right place at the right time.
Her shot map below is indicative of where she takes her shots from with the majority coming from the 18-yard box. But, that only tells us half the story.
Macario is comfortable in playing outside the box and often comes out to link-up play. What this suggests is that she's capable of getting back into goal-scoring positions regularly regardless of her starting position.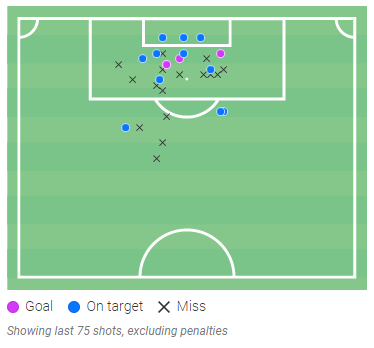 A powerful presence, she can bully players on the ball and progress into the penalty area. With a quick look at the American's statistics below, you can see where the forward excels.
It's easy to see where she's excelled, and in the last few matches that began to show her starting with her ability on the ball, Macario has displayed a propensity to show smart movement in the box where she's able to attract Le Havre defenders out of position by dropping deep to collect Janice Cayman's pass.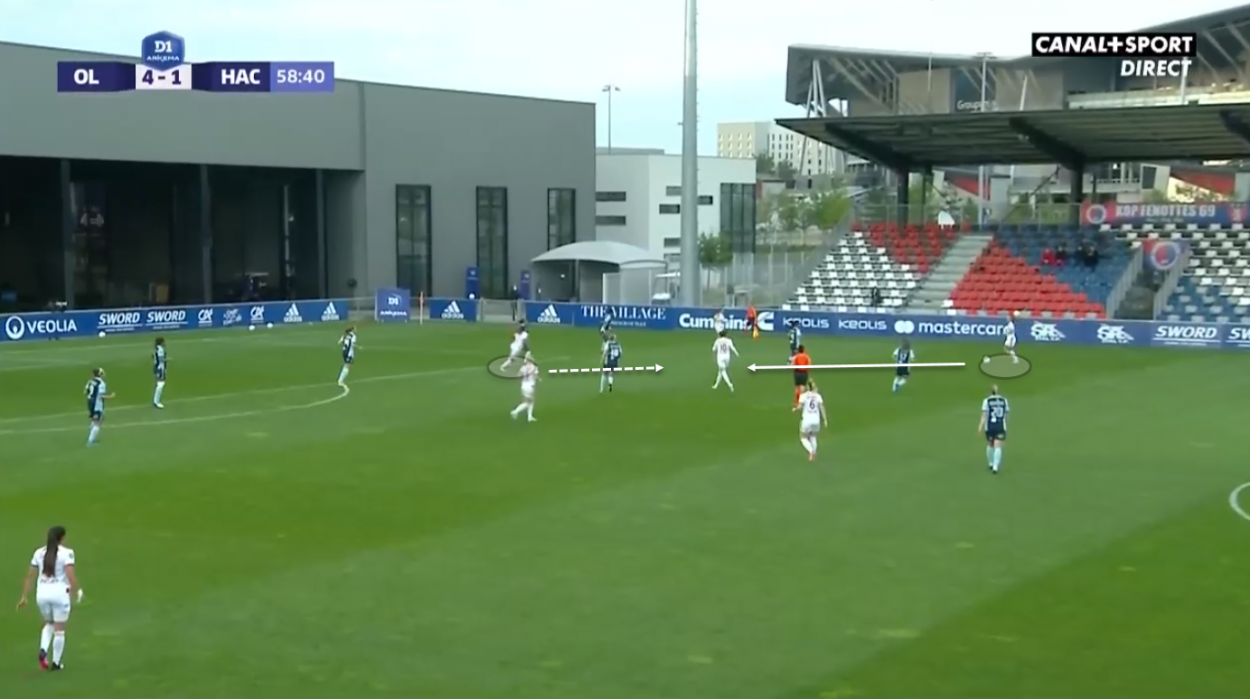 This in turn opens up space in behind Macario's position for another runner in Cascarino to drive into and receive a potential one-touch pass from the striker.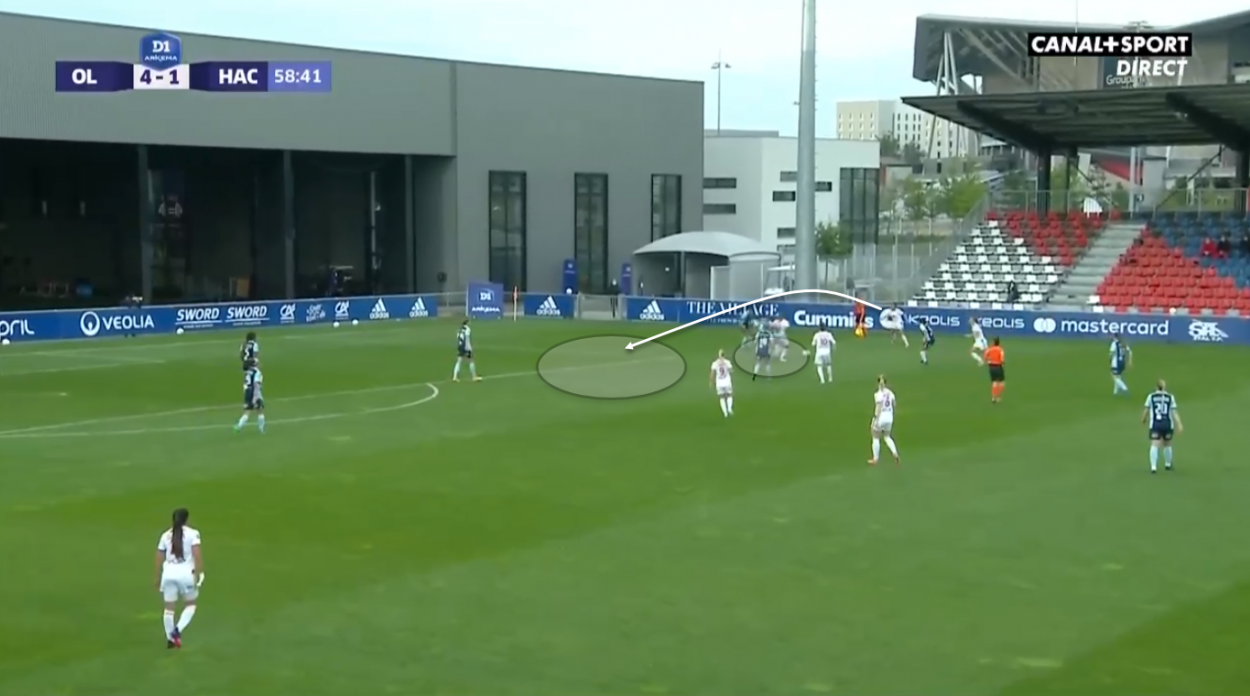 Macario's movement isn't limited to her intelligent off-the-ball running, but it's what she can do on the ball that makes her contributions telling. By now, you'd have seen her goal against Le Havre that made the world's heads turn, but it's here where she displays excellent footwork.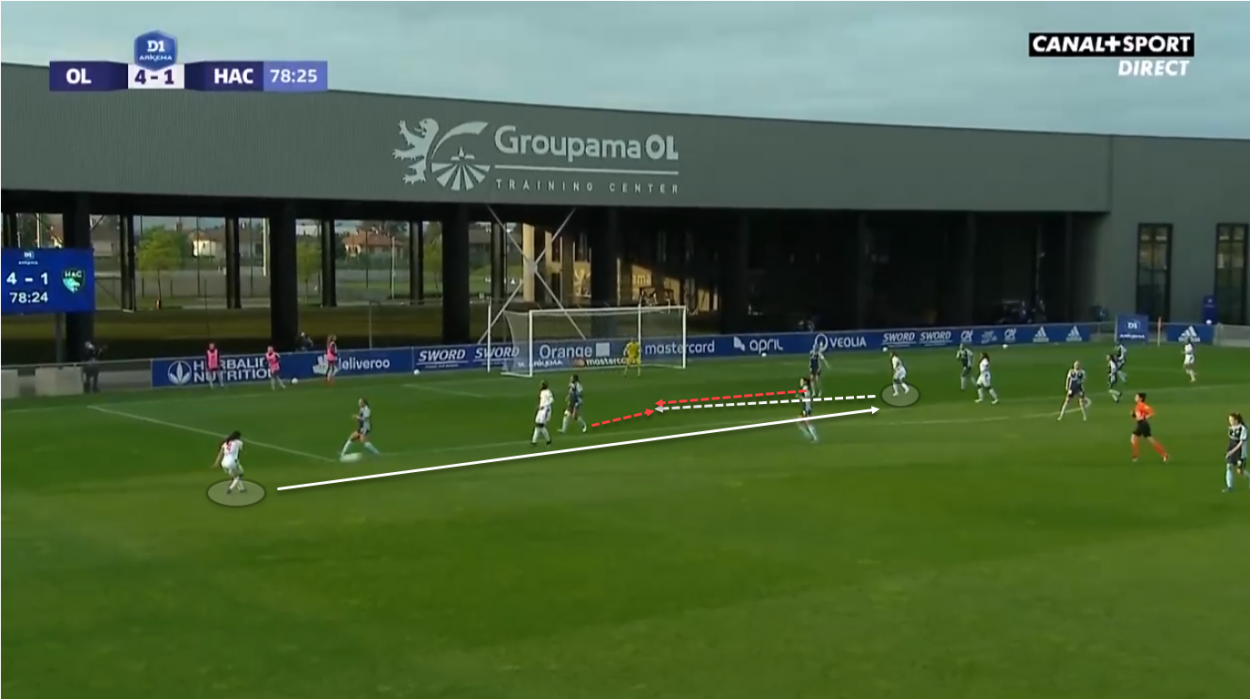 From receiving the ball, Macario can drag the defenders' focus towards her and her feints lull them into a false sense of security, making them commit to the duel. In doing so, she's able to swivel away under pressure and get a shot off. This also shows her ability to be press resistant, though that is a part of her game that needs to develop a bit more.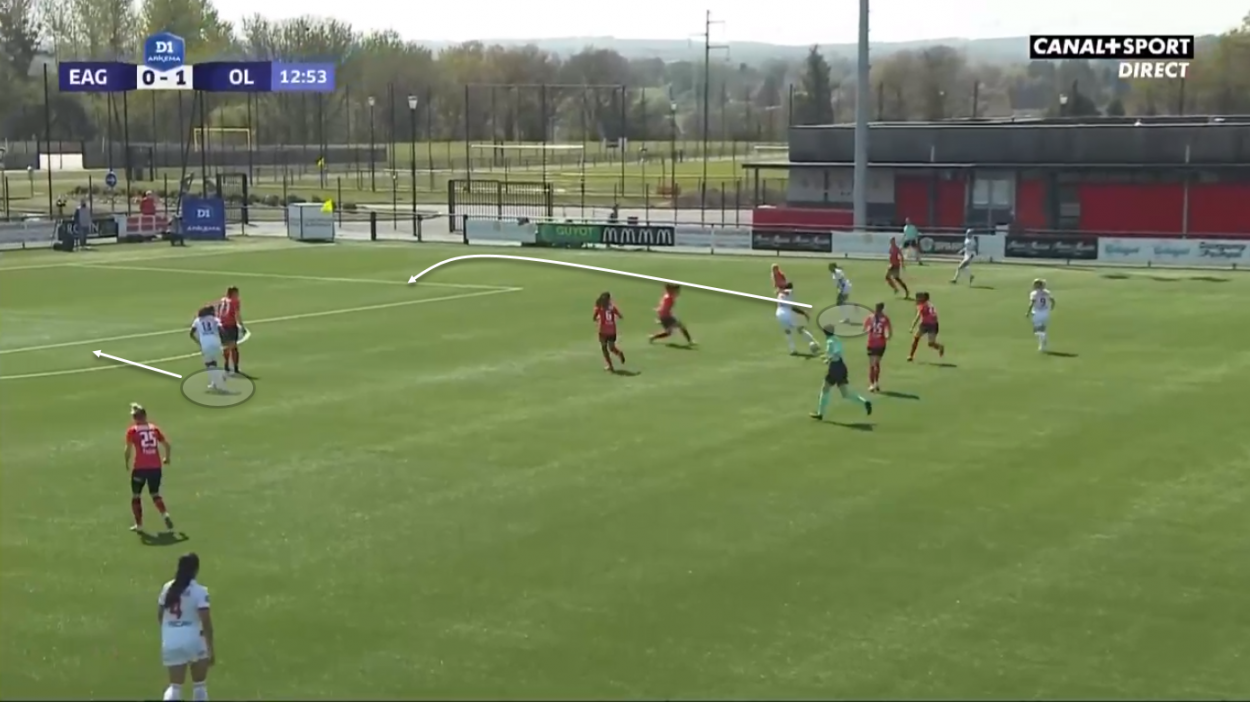 Her contribution towards her goal against Guingamp had a bit more traditional centre-forward play about it. Sitting on the shoulder of the defender, Macario waits for the ball to go out wide to Cascarino and starts to run into the box.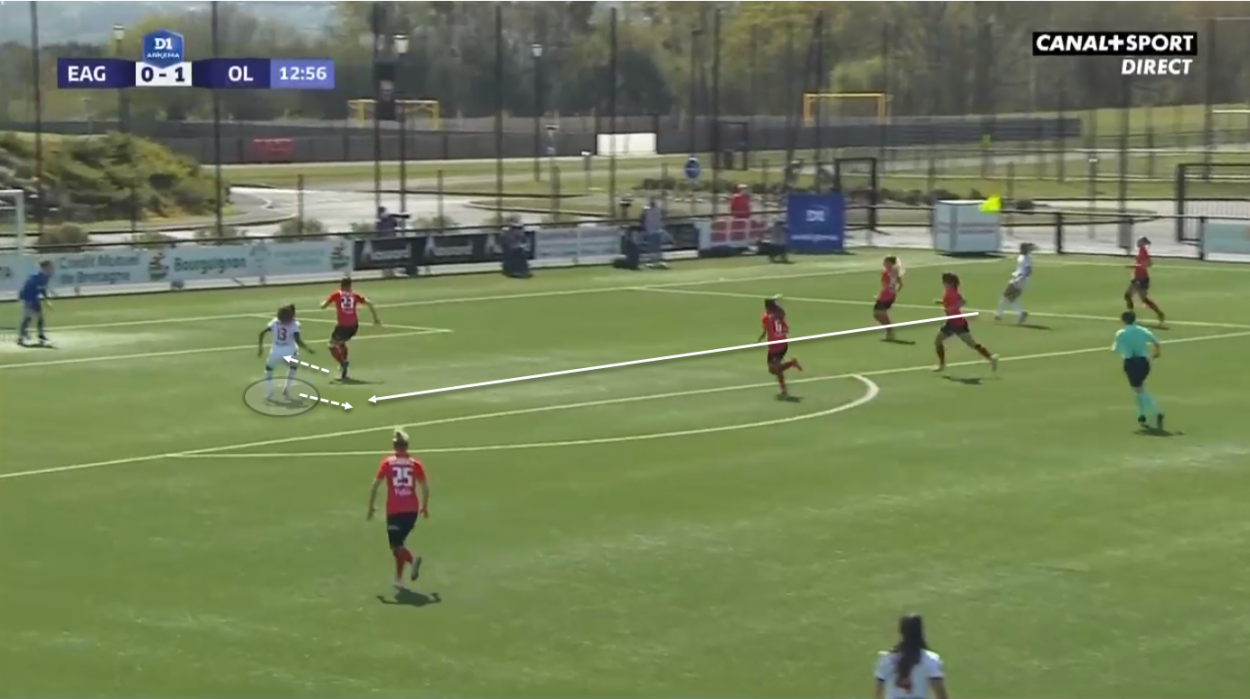 Once the cross comes in, she smartly checks her run and pulls back behind the centre-back to make more space and time for herself to shoot.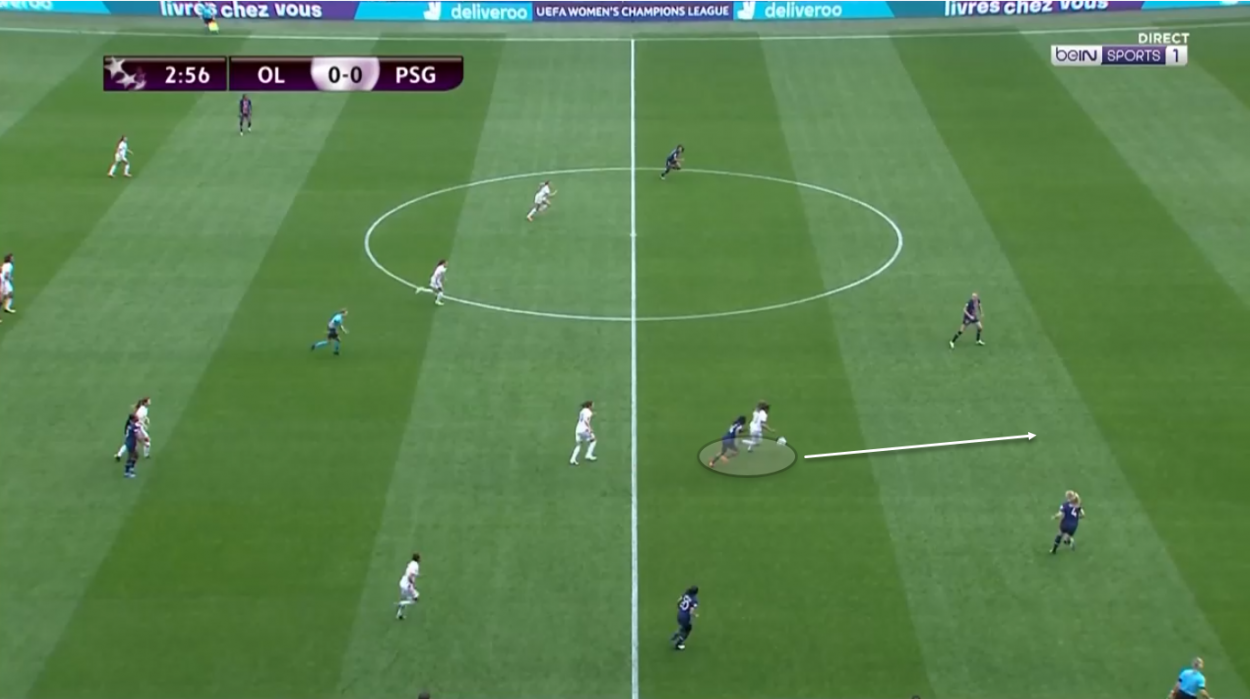 Her all-round centre-forward play is improving and the first of her goals against Paris Saint-Germain in the second leg of the Champions League displayed some more good build-up and excellent movement between the lines. Here Macario wins the possession off Formiga in an aerial duel and pushes forward…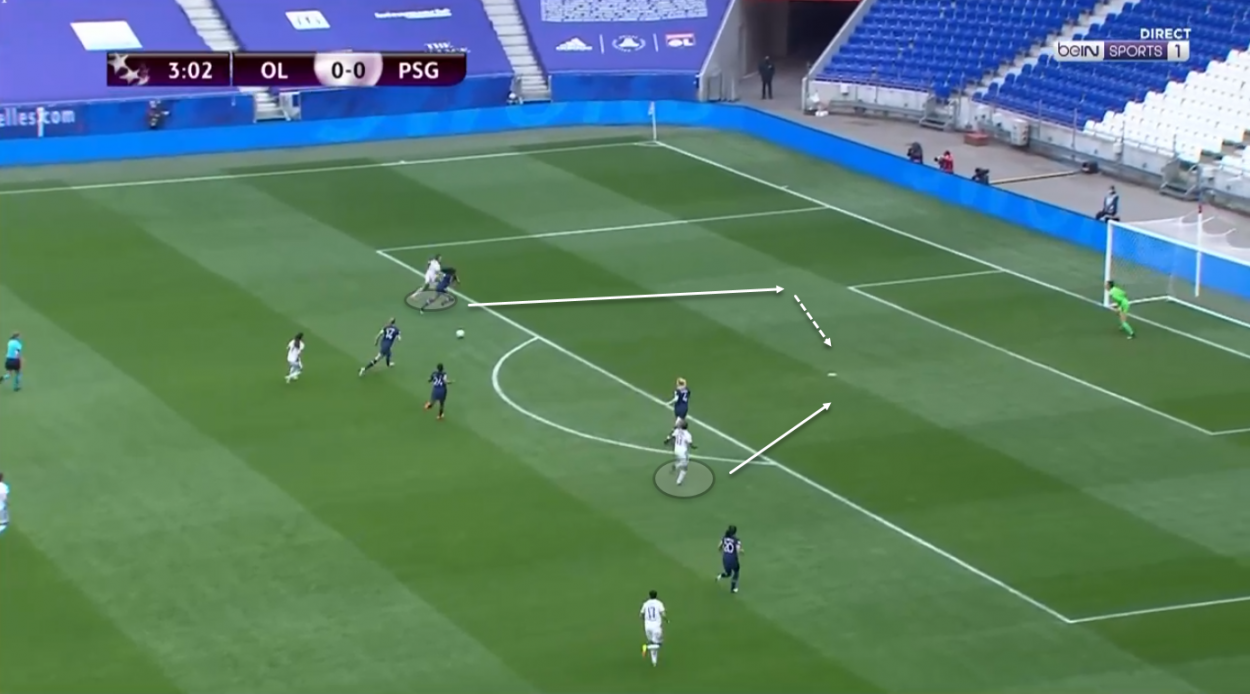 And runs into the space between the two central defenders. Knowing she can't go through on her own, she looks for options and finds Amel Majri who in turn, finds Cascarino. Now, Macario has time to pick her spot in the box.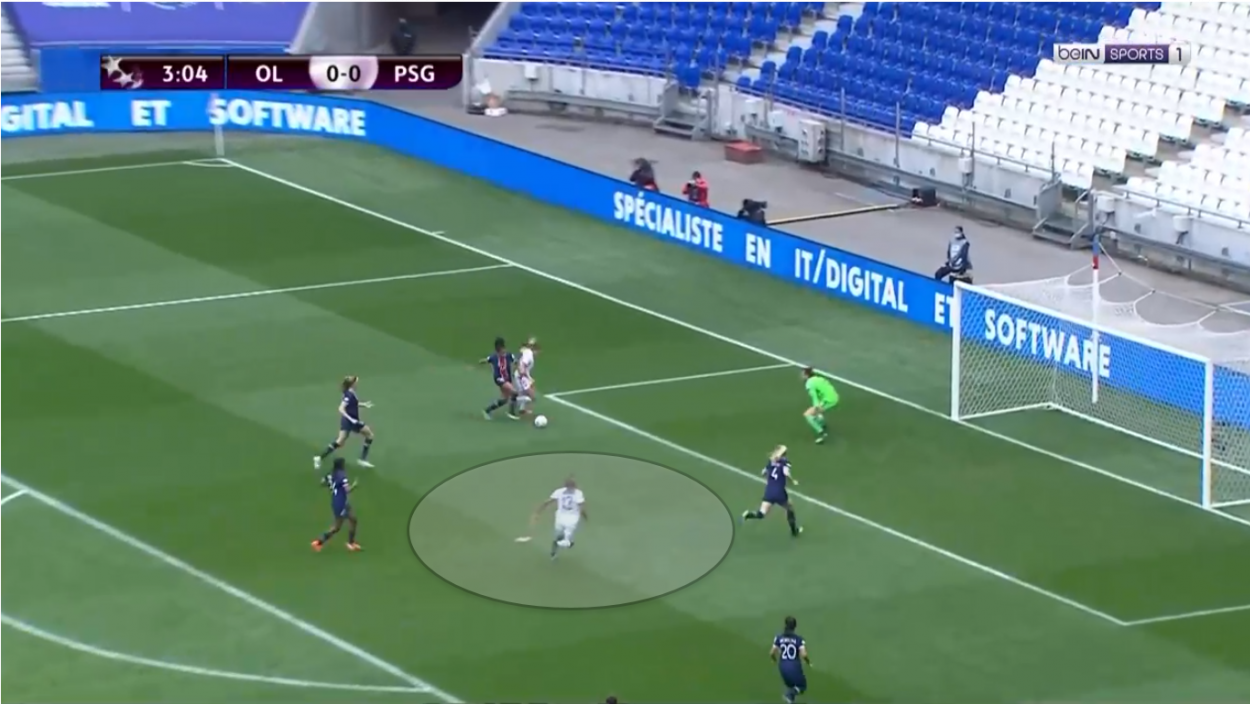 In a box full of PSG defenders, Macario expertly times her run into the middle after some excellent work by Cascarino to work her way there. The build-up to this goal not only shows smart movement and impressive positional intelligence, but it also showcased an aggressiveness to win the ball and put Lyon in the ascendancy in the first place.
It's telling that Macario has now started to play a more prominent role in this side and Bompastor will be keen on integrating the striker in sooner rather than later to develop a player capable of both backing up or play alongside Ada Hegerberg. It's safe to say Lyon have an extremely talented player in their midst.