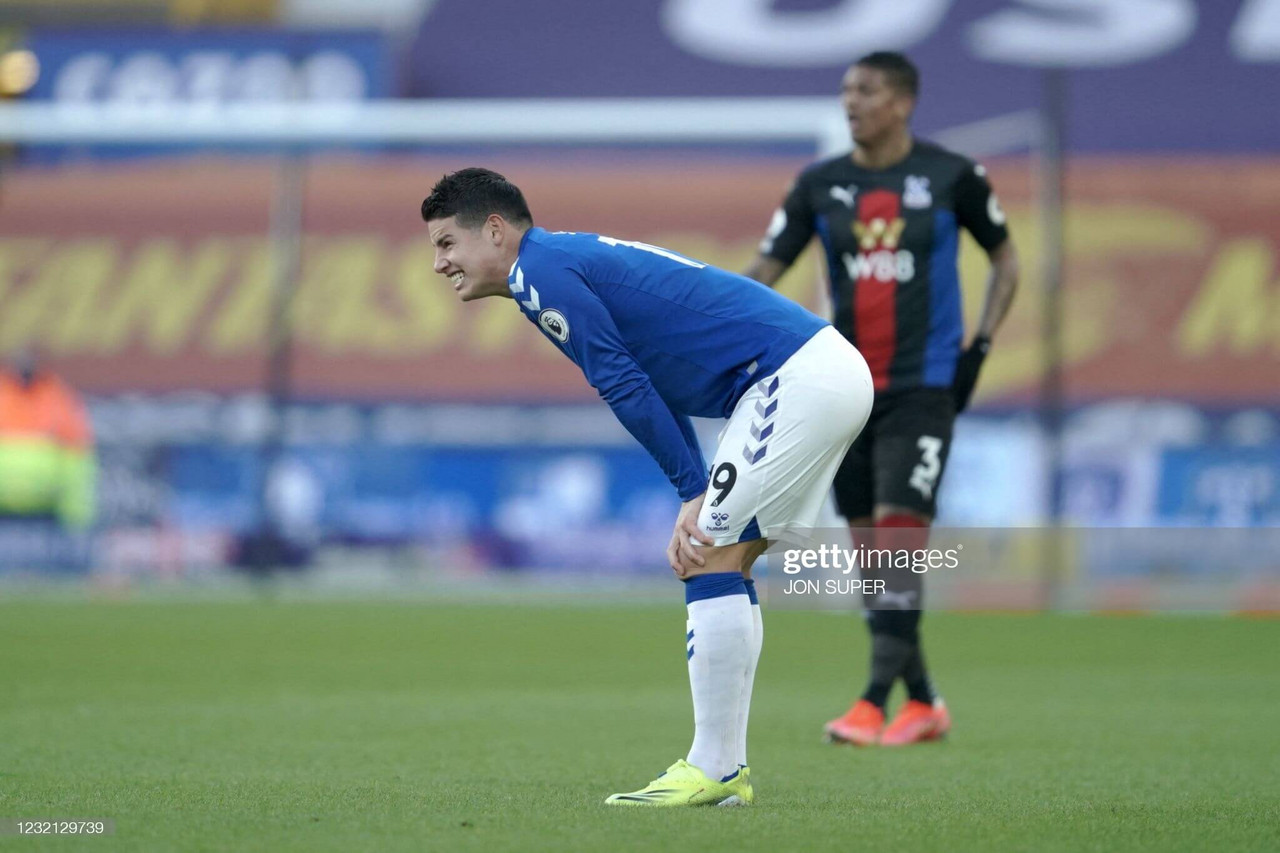 Carlo Ancelotti has backed James Rodriguez to hit the ground running next season after a disappointing end to his first season at Everton. The Colombian will be absent for the trip to Manchester City on Sunday meaning that his domestic campaign is already over.
James has only made five appearances for the club since February 20 and his indifferent form, which has been a result of niggling injuries, has been costly for Everton in their attempt to qualify for the Europa League. He missed Wednesday's game against Wolverhampton Wanderers due to "fatigue" meaning that his total appearance count for the season stands at 26.
It has also been suggested that the South American player has been distracted by this summer's Copa America which was meant to be staged in his native Colombia. Ancelotti, the Everton manager, however dismissed accusations that his player had one eye on the upcoming international tournament.
"James unfortunately is not available for the game. He didn't recover from the problem on his calf," Ancelotti said. "Unfortunately he didn't finish the season well and now he will be focused to prepare for the Copa America with the national team.
"I think the Copa America is in his mind when the season finished. To say James was focused on the Copa America before now.. no. James was really disappointed for the fact he was not able to help the team in this final part of the season and was really sad. But what can he do?
"He has to be ready when the season starts and try to avoid the problem he had this season. I hope to have him soon next season fit and at his best."
Tough trip to end campaign
Everton travel to the Etihad Stadium on Sunday to face the champions who will be presented with their Premier League trophy after the game, which will be played in front of 10,000 supporters.
Everton, who are currently in eighth place, can still qualify for the Europa League, but that would require getting a result against City and hoping Tottenham Hotspur, who also have 59 points, do not match Everton's result.
"I said we wanted to fight until the last minute of last game for Europe and we are there to fight and with all our motivation," Ancelotti added. "It will be the most difficult game against the champions but we're confident because we did really well away and against strong teams.
"Motivation is high, pressure too but that is normal for the most important game of season - we are mentally and physical ready."
Squad improvements necessary
Ancelotti will be without captain Seamus Coleman for the game after he sustained an injury in midweek. The absence of his captain is a fitting end to a season which has seen the Italian manager having to contend with a number of fitness issues across his somewhat shallow squad. Ancelotti admitted that he will look to improve the quality of the squad which has been too inconsistent for the manager's liking.
"The plan is clear and also the profile of player that we need is clear for everyone, so we have to work on it," Ancelotti said. "The profile is a winger that is able to score goals, is able to defend, that is able to sacrifice, that is able to put crosses in.
"This kind of player is not easy to find but if you look at the market and the players around the world, there are really a lot of good players around the world."