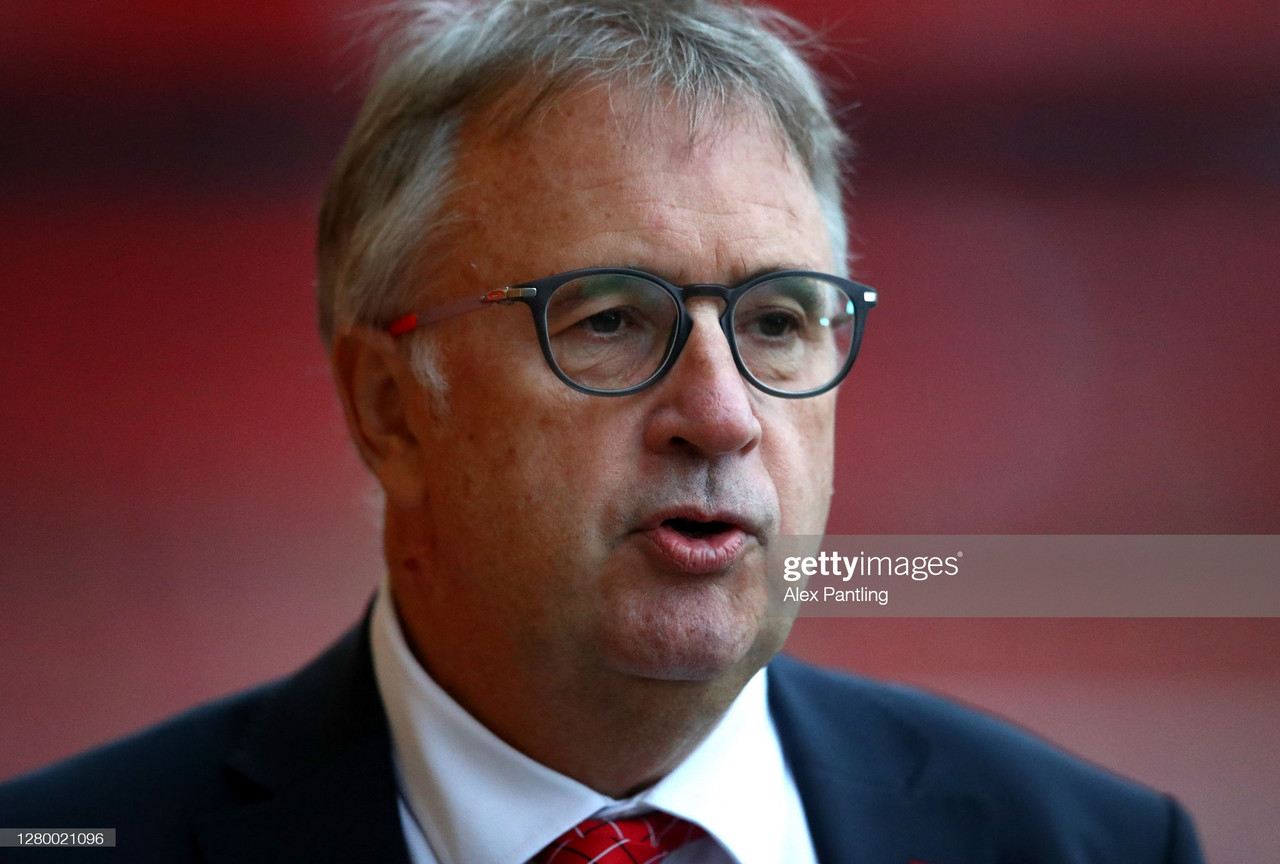 Owner of Walsall Leigh Pomlett believes this segment of the club's history is an exciting one following Matt Taylor's arrival on Tuesday.
The new boss arrives at the Bank's Stadium on the back of a successful period in the Tottenham Hotspur academy. At the Saddlers, Taylor will work alongside experience assistant head coach Neil McDonald and director of football, Jamie Fullarton.
In Taylor's introduction press conference, Pomlett, who has been at the club since 2010 spoke proudly of the upcoming part in the club's 132-year history.
When asked if he thinks this fragment within the club is one of the most exciting, Pomlet said: "I do, I really do. It is exciting to have a bright, young coach that we get from Tottenham, accompanied with the team I've mentioned with Jamie, Neil, Matt (Sadler) and Miguel (Llera).
"There is no League One or League Two club that can match that. We've hopefully got it absolutely spot-on this time round.
"Like Matt, I'm really excited for the season. If I'm honest, much more than I was last year. Because remember last year, we came out of 10 that took ages and Covid was rife. We come out of this season, ready for next and much more exciting agenda than the one we entered last season with.
"We're a long way through it (the pandemic) and I feel a lot more comfortable and excited for the season ahead than the one we finished a few weeks ago, which was difficult in all respects."
"I hated the season"
Walsall ended the 2020/21 campaign in 19th, suffering 15 defeats and drawing 20. Midway through the season saw Darrell Clarke depart for league rivals Port Vale before Brian Dutton steered the club to safety with three wins.
The three wins were not deemed good enough by Pomlett and Dutton was let go immediately after the final day draw at Carlisle United.
With the pandemic remaining and the sight of spectators within football stadiums increasing, Pomlett talked about how the lack of fans didn't help the team last season.
"I speak to the players and they didn't enjoy playing with fans there," he said. "I think some of the performances, I'm glad they weren't there.
"There's danger of using it as an excuse, it was the same for all clubs. None of us had any fans, I think that impact us more than other clubs, possibly, but you can never know.
"Personally, I hated the season. I will never forget sitting in a 5,000-seated stadium at Grimsby on my own, watching us go 1-0 down to a scrappy goal. It was really difficult.
"I don't think it affected us anymore than other clubs and if you claim that, you're making an excuse.
"The fact of the matter is, we underperformed as a squad last year, for whatever reason. It's something we need to get out of."
EFL clubs cap
With Taylor only having 10 players at his deposal currently, the head coach expressed his excitement on the clean slate and spoke positively about the recruitment.
But Pomlett addressed the new rule for this, which reads that League One and League Two sides are only allowed squads of 20 for this season.
"EFL clubs are capped in terms of how many players we can have. We are all abiding by the same rules.
"Your playing squad can only be a certain number of players and that's the same as everybody in the EFL.
"We will recruit up to that level, we can't recruit past it because we're not allowed to recruit beyond that level, so it's more strict than in previous years.
"They are free to recruit up to the limits we have agreed with the EFL clubs."