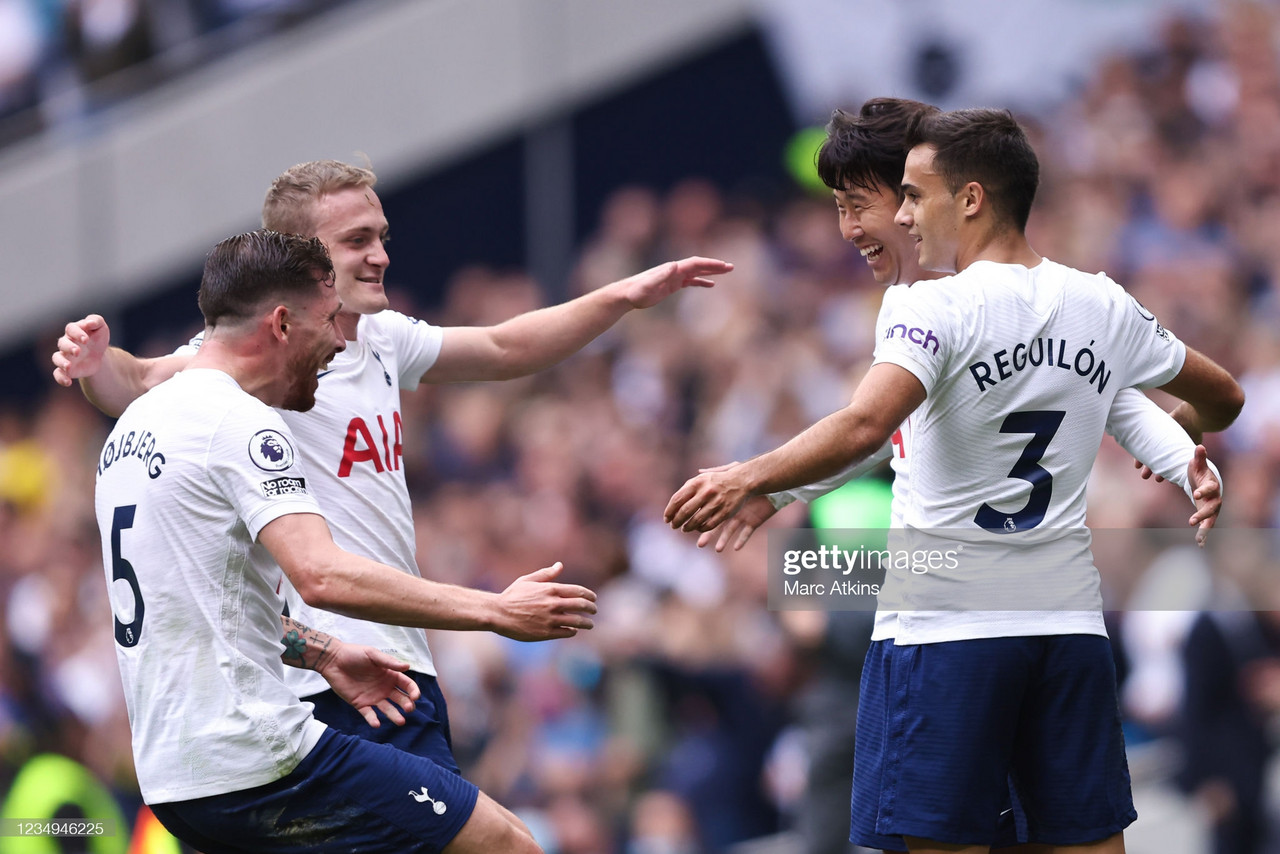 Tottenham Hotspur are top of the Premier League with nine points from a possible nine and zero goals conceded under Nuno Espirito Santo.
However, while some players have been at the forefront of this early season success, others have been on the fringes and struggling for game time.
As such, we wanted to rank the Tottenham stars from most to least influential in the games played so far, including the two Europa Conference League play-off legs.
26 - Maksim Paskotsi
This is no slight on the young central defender, Maksim Paskotsi, who seems to be a great prospect for the future, but he has only made one three-minute cameo for Spurs so far this season.
25 - J'Neil Bennett
Similar to the Estonian Paskotsi, J'Neil Bennett only managed one appearance for the Lilywhites before heading out on loan. However, he did look bright in that nine-minute cameo.
24 - Jack Clarke
The former Leeds United winger, Jack Clarke, was handed a full half to make a difference in the Conference League but really faded into the background.
23 - Cameron Carter-Vickers
Cameron Carter-Vickers was handed a start against Pacos de Ferreira in the Conference League but looked to be out of his depth. He then headed out on loan to Celtic for the season.
22 - Nile John
The bright spark of pre-season, Nile John was rewarded with a 45-minute run-out against Pacos. It wasn't his best game but he deserves some credit for his early-season work.
21 - Dane Scarlett
I felt a little sorry for Dane Scarlett against Pacos in the first-leg as he made some greats runs throughout but was rarely found by his teammates. A victim of a much-changed side and will surely get more chances.
20 - Matt Doherty
Matt Doherty was handed a couple of chances in the Conference League by his former Wolves boss but he failed to impress with any consistency. Some nice runs forward but a lack of end product.
19 - Ben Davies
A little harsh on Ben Davies as he remained solid throughout his appearances against Pacos at left-centre-back, but he did look a little rusty at times. Still a great squad option to have.
18 - Ryan Sessegnon
Ryan Sessegnon ran a little hot and cold in the two games against Pacos de Ferreira. There were a few bright sparks here and there, but those moments came in between some frustrating play.
17 - Harry Winks
The two Pacos displays really summed up Harry Winks. He was solid, creative and effective in one, then woeful on and off the ball in the next. He needs to simplify his game and find consistency.
16 - Pierluigi Gollini
Again, this is no disrespect to Pierluigi Gollini. Apart from a couple of nervous moments in the second leg against Pacos, he performed admirably. But there is only so high I can rank a keeper from two games against lesser opponents.
15 - Cristian Romero
Much like his former Atalanta teammate, Cristian Romero has looked very impressive in a Spurs shirt but online defending in a back three against a lesser side. I'm sure he will climb the rankings in the coming months.
14 - Bryan Gil
The youngster, Bryan Gil, ran the show in the second match against Pacos and I was really impressed with his work rate, dribbling and creativity. Much more to come from him.
13 - Giovani Lo Celso
Giovani Lo Celso was the creative hub in the second game against Pacos and has also proved useful off the bench in the Premier League. Unfortunately, just as he was building some form, the Argentina call-up happened.
12 - Harry Kane
There is no top ten for Harry Kane, despite his brace against Pacos. Unfortunately, the striker didn't take part in pre-season and came into the campaign lacking match fitness. He didn't play against Manchester City and only came off the bench against Wolves.
11 - Sergio Reguilon
The swashbuckling left-back, Sergio Reguilon, has started the season well. He just needs to continue adding those assists and cutting out the lapses in concentration at the back.
10 - Hugo Lloris
Thanks to the fantastic defensive performances, Hugo Lloris has not been called into action as often as he was last season. However, he has performed admirably when needed and his long-range distribution has been immense.
9 - Lucas Moura
Lucas Moura has contributed well in both the Premier League and the Conference League. He has always struggled for consistency at Spurs but one thing you are guaranteed is high effort levels and direct running.
8 - Oliver Skipp
Many Spurs fans had a feeling that Oliver Skipp would walk straight into the starting XI and they have been proved right. The midfielder looks so at home in the Premier League and seems to be developing into a mini-Hojbjerg.
7 - Pierre-Emile Hojbjerg
Now, the main man himself, Pierre-Emile Hojbjerg. He has started where he left off for Spurs last season and Denmark at Euro 2020, breaking up play and creating from deep. This midfield three really suits his style of play as he is such an all-round footballer.
6 - Dele Alli
What has impressed me so much about Dele Alli is the transition from attacking number ten to a fit and aggressive workhorse in a midfield three. His pressing and 90-minute running has been an important feature of Spurs this season. He even tucked away a penalty in Kane's absence.
5 - Steven Bergwijn
What a transformation we are seeing in Steven Bergwijn this year and I think a lot of that comes down to confidence. He is always a willing runner for 90 minutes and is now taking on his markers more, making chances and getting into scoring positions. The end product will come.
4 - Eric Dier
Eric Dier has been a rock at the back so far this season with his aerial dominance, while also throwing himself in front of shots to block the Spurs net. He seems best when his game is stripped back to the basics, with the midfield three there to cover and step up with the ball.
3 - Heung-min Son
Heung-min Son stepped up in the absence of Harry Kane and led this Tottenham team from the front. Without his moment of magic against Man City, Spurs may not have got up and running as effectively this season. Quickly becoming a game-winner rather than a side-kick.
2 - Japhet Tanganga
Japhet Tanganga is still playing in an unnatural position. He was not a first-team regular last season. He came in against Man City to play against Jack Grealish and Raheem Sterling. Yet he still came out on top. There have been some nervy moments, many against Adama Traore, but Tanganga has been a surprise and a breath of fresh air.
1 - Davinson Sanchez
Davinson Sanchez has been the surprise package of the season so far for Tottenham. Many thought he would leave over the summer, yet he is now one of the first names on the teamsheet under Nuno. Not only has he been defensively solid, but he has also been creative with the ball at his feet. Long may this consistency continue... please.