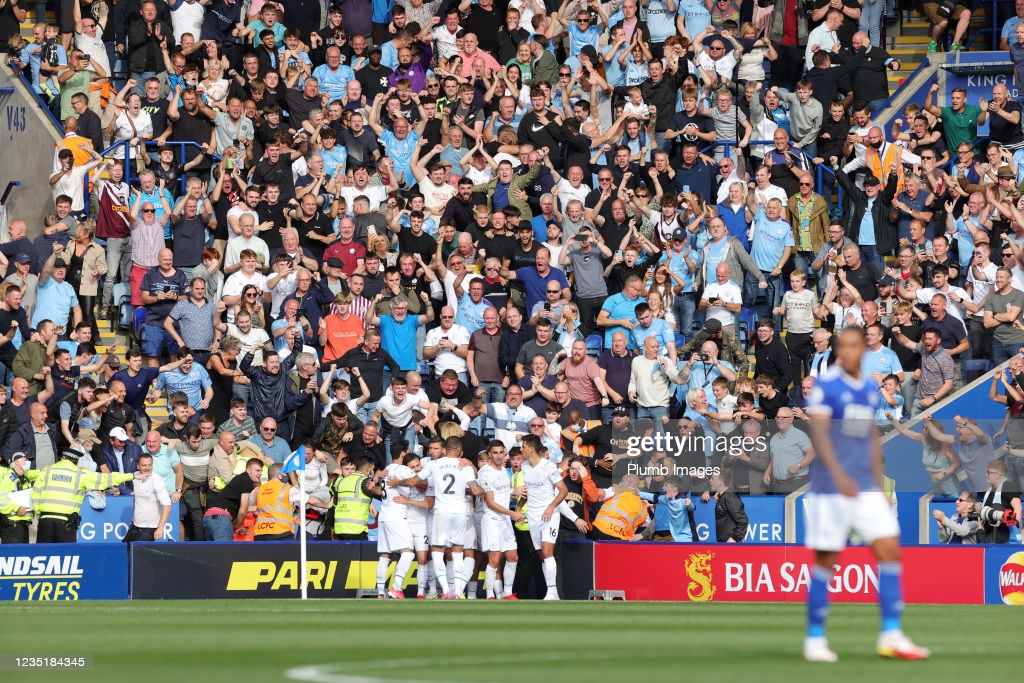 Manchester City avenged their FA Community Shield defeat earlier last month to Leicester City by recording their third successive victory of the new season. A lively atmosphere in the King Power Stadium welcomed the two teams, who clashed against each for the first time in the league this season.
Brendan Rodgers opted to counter Pep Guardiola's 4-3-3 with a solid and balanced 4-2-3-1 formation, with Jamie Vardy leading the line upfront with the support of the usual Foxes midfield consisting of Harvey Barnes, Youri Tieleman, Marc Albrighton, among other regulars. On the other hand, the Manchester giants started with usual faces except for the presence of talisman Kevin De Bruyne in the center half, who was instrumental in their 2-0 victory last time around in 2020/21 at the same venue.
It began with the visitors on the front foot, as Guardiola's possession-ball came into play in vintage manner. Kasper Schmeichel was called into action more than once as a succession of corners for the Cityzens ensued in the opening minutes. However, it was opposition goalkeeper Ederson who made the first vital save of the match from close range, preventing a Barnes tap-in.
Minutes later, new Manchester talent Jack Grealish blasted the shot over the crossbar as he received a pinpoint freekick pass. The first half climaxed on a level note, only for the second to begin in favour of the home team.
Minutes into the second half, Vardy looked like he scored the first goal of the afternoon with a trademark run and finish, but was called marginally offside in the build-up. Barnes, once again, threatened the visitor's goal with a superb unmarked header, only to see the ball rattle the crossbar and head out. It was Cityzens striker Ferran Torres who had the opportunity to draw first blood but instead shot just wide of Foxes' post.
However, Bernardo Silva managed to do what Torres could not and lashed in the only goal of the match from close range, poaching Joao Cancelo's deflected shot. Fernandinho had the chance to achieve a two-nil lead but his shot marginally grazed Schmeichel's right post. Through the rest of the match, no amount of changes managed to break the visitor's defence as they held stubbornly held on for their third straight league win.
Manchester City closed the gap on Cristiano Ronaldo-led Manchester United, who sit top of the Premier League table after four games. Leicester, however, remained stagnant in the 9th position after falling to their second defeat of the season.