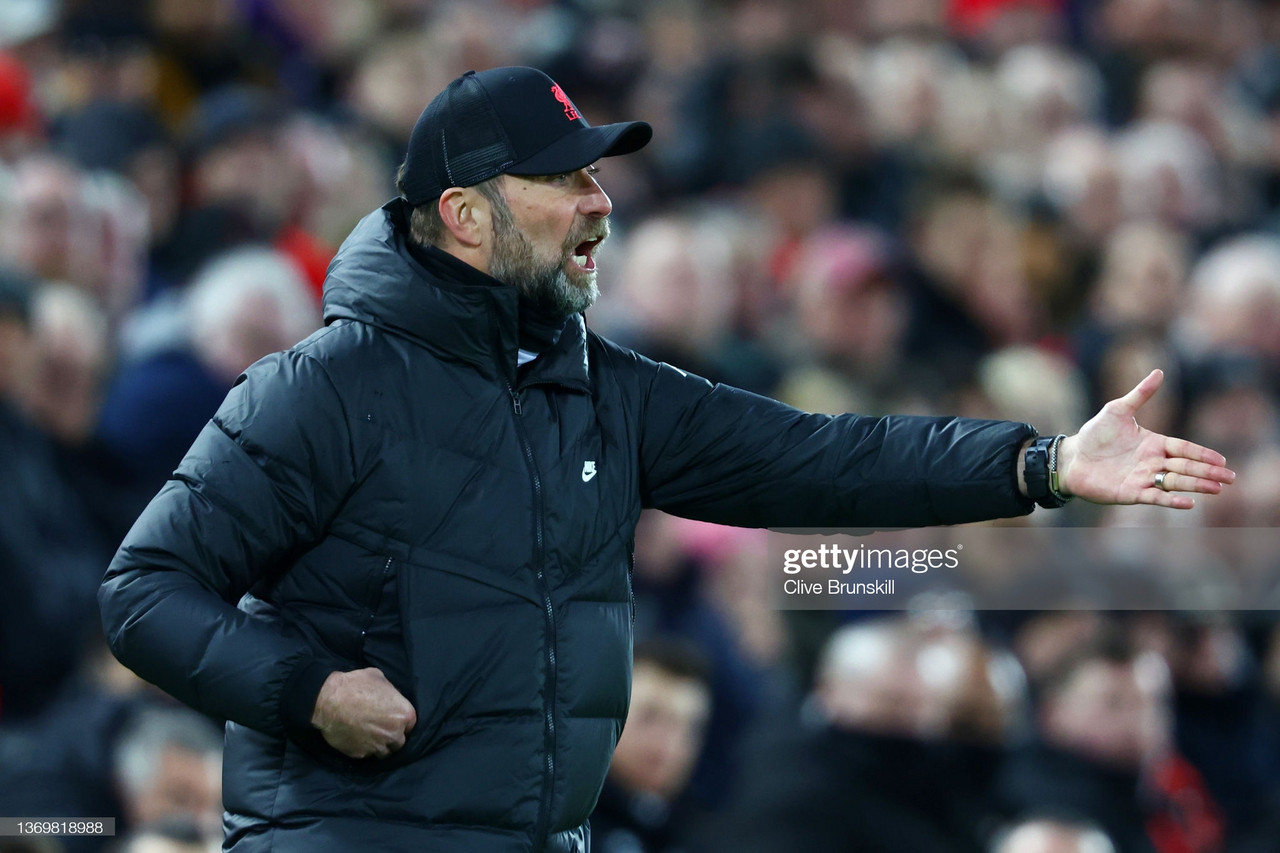 Last night Liverpool continued their impressive league form with a 2-0 win against Leicester City in front of a roaring Anfield.
The Reds were in control for the majority of the match with Thiago putting on a show in his first start since 16th December. January signing Luis Diaz made his first start for Liverpool after coming off the bench to make his first team debut in their 3-1 win against Cardiff in the FA Cup at the weekend.
Diogo Jota opened the scoring in the first half, reacting well to a brilliant save by Kasper Schmeichel. Trent Alexander- Arnold out swung a pinpoint cross to the head of Virgil van Dijk. The Dutch centre back rose and produced a bullet header hard and low towards Schmeichel. The goal keeper produced a great reaction save but the ball rebounded to the feet of Jota who smashed in from close.
The Portuguese number 20 doubled his tally Liverpool's lead just before the full time whistle. Diaz wrestled with the Leicester defence to win the ball out wide on the left. He stabbed the ball to the edge of the box where Joel Matip was poised. The centre back turned creative number ten slid Jota through in the area, nutmegging Wilfred Ndidi in the process. Jota without hesitation uses his body to set himself and rifles a first time effort to Schmeichel's right finishing off the Foxes.
After the match, Klopp spoke to the media about the 2-0 win, as per liverpoolfc.com.
Klopp's delight
In their previous league meeting, Liverpool travelled to Leicester on 28th December where they were beaten 1-0. The Foxes were robust and second half substitute Ademola Lookman bagged the home sides only goal. Liverpool looked to break them down but to no prevail as they had to return from their travels with nothing to show for it.
Klopp was delighted with his side's performance last night and a much improved match for the Reds, he said: "I am [pleased] because winning 2-0, I will never – and it's not allowed to – take something like that for granted.
"I saw a lot of good football tonight but there were moments when I wished we would have controlled the game a little bit more, when we gave Leicester at least a bit too much possession. It didn't lead to anything properly, that they had massive chances or things like that, but it costs you kind of energy and we could have invested that in the other direction.
"But anyhow, it was two wonderful goals, could have scored more and we are the deserved winner. So, I'm really happy about that."
Dazzling Diaz
Liverpool's only signing of the winter transfer window came in the form of 25-year-old Colombian forward Luis Diaz.
The (initial) £37m player made is debut last weekend in Liverpool's 3-1 against Championship side Cardiff City in the FA Cup where he came off the bench. Last night he made his first start playing 90 minutes at Anfield.
Diaz had an impressive game having the joint most shots in the game, most dribbles and second most duels won. He linked up excellently down the left with Andy Robertson despite the language barrier and looked incredibly comfortable in the Liverpool side. Klopp was elated with how quickly he has fit into the side already.
"That's exactly the impression he made in training [looking at home] and that's why we thought, 'Come on, let's give it a try.'
"There were a lot of things when we saw him playing for Porto where we thought, 'Yes, that's exactly what we want him to do as well.' On top of that, he seems to be a really smart football boy, has obviously watched Liverpool quite a lot.
"We didn't overload new players with information in the first week and tell them everything we want them to do, we just have a look. And when we looked at it, it looked like a Liverpool player, that's true. The last few minutes when he came on against Cardiff already, and now the situation was just made for it because Sadio came home only last night and is probably still in bed. And Mo after four times 120 minutes, it was clear he will not start as well. So, just the situation was there and he obviously enjoyed the game."
Catching City
This win puts Klopp's team nine points behind league leaders Manchester City however, the Reds have a game in hand against the Citizens and are still to meet them on 9th April.
Klopp was asked about trying to chase down City, he replied: "I'm not sure we are in a position to get them on their toes, to be honest. But it's not important in the moment, to be honest.
"Actually, if we had no chance to catch them, would that mean we shall not try to play the best possible season for us? I can't see that. First and foremost we have to win our football games. This football club is massive and since I'm here I can't remember a game we lost and everybody said, 'Yeah, you can lose that game.' It's always the same situation: there's a game, we put on the shirts and then we have to win it. It doesn't work out all the time but thank God, it happened a couple of times.
"That's the situation we are in. It was really important for us tonight to win, because there's not only Man City to catch or whatever, there are a lot of teams in behind us who want to get closer – and that's a very important task as well."