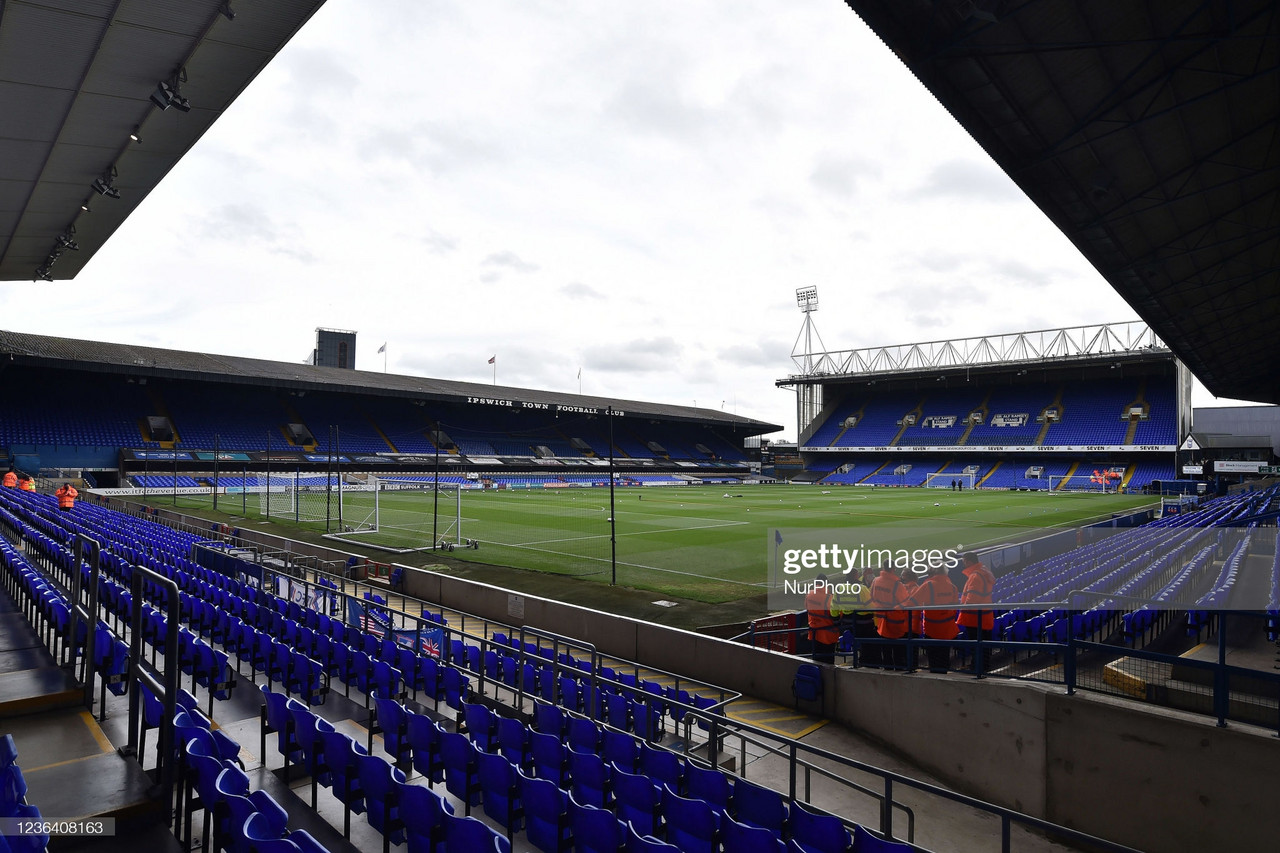 Kieran McKenna believes his Ipswich Town side should have taken all three points from Saturday's entertaining goalless draw at MK Dons.
Kayden Jackson had the best chance of the first half for the Tractor Boys while Scott Twine came closest to snatching a winner in the final minute with a curling free-kick on the edge of the box.
Ipswich did enjoy much more possession throughout the game, with the home side keen to sit in and attack on the break.
"I thought the first half was even-stevens and I thought they started the game probably better than us," former Manchester United assistant manager McKenna said.
"There were a few tactical issues in the first 15 minutes that we need to solve on the pitch, but I thought after that we got on top of that pretty well."
The first half was an even affair with both teams having half-chances, including Jackson's stinging drive that Dons 'keeper Jamie Cumming pushed wide.
"It was two good teams trying to impose their style," he added.
"Then in the second half I thought we went through the gears with our performance level and I thought we took control of the second half.
"We built some good pressure, and had a lot of possession in their half and again had some decent opportunities.
"It isn't a point we can cry about but I thought we probably shaded it with the better chances throughout the game and we probably would have just deserved to nick that one."
Pitch didn't help either 'technically good team'
The Stadium:MK pitch wasn't looking it's typical best as a few weeks of bad weather has taken it's toll.
And this did hinder two passing teams and neither could really play their preferred style of football.
"The pitch doesn't really suit either team," admitted McKenna.
"It definitely made it a challenge to make it as quite as free flowing with some of the one touch we would be able to put on on a better surface.
"But that is the same for both teams, both teams tried their best."
McKenna was complimentary of his side's organisation, as his side restricted the hosts to few chances over the 90 minutes.
"When you have seen some games out, it gives you that extra bit of confidence," he said.
"A few of the little things we are doing with the back-line at the minute helps that, I think we have a very good goalkeeper from crosses when teams are trying to load up the box.
"We want the games to be decided before the last five minutes but if it comes to that then I think we have the confidence to do the right things and stay organised."
'Not too interested in draws'
Explaining his decision to throw Sone Aluko in the final minutes, McKenna was adamant Ipswich came to win.
"We wanted to win," McKenna bluntly said.
"We are not too interested in draws.
"With the position we are in, we want to win every game and if we lose some along the way then so be it.
"We through everything we could at it really, but we weren't able to capitalise."
He did say he wasn't too impressed with the performance from the final ten minutes, with too much coming from the centre of the park when much of their joy had come from spreading the play out wide.
"The players will learn from that."
Jackson aided transition threat
MacAuley Bonne on the bench would have raised a few eyebrows but Jackson did put in a stellar performance while he was on the pitch.
He made good runs in behind and had a pair of first half chances which he could have taken on another day.
He pressed hard throughout the game, putting the Dons centre backs under pressure and was a nuisance in the air.
"He has different attributes to our other forwards," McKenna said.
"His ability to press from the front without the ball is really unique, he gave us a good foothold.
"We knew it was going to be important to have a threat in behind, to stretch their line for Bersant Celina and Conor Chaplin and he got through on goal a couple of times himself.
"I thought he put in a really good performance."
Good to have skipper Morsy back in the side
Egypt international Sam Morsy made his return to the side after his ban for violent conduct was served.
And McKenna was happy to have his captain back amongst the ranks.
"It was a high level game and we needed him, he makes a difference for us," McKenna said.
"He gives us the extra dimension with what he is capable of, with driving through the pitch and taking the ball from deep areas.
"He showed his competitive leadership on the pitch."
But, his manager was not too impressed with the yellow card he picked up late on in the game, suggesting he is somewhat of a marked man by officials.
"We were disappointed with the yellow card at the end, I don't think he made a tackle until then so it seems to me as soon as he makes a tackle he gets a yellow card.
"I don't quite understand that, there were worse challenges in the game so a bit disappointed with that.
"I have not seen enough but I know he has a high yellow card count, I know he is very competitive and everything I have seen from his he plays fair.
"From my very brief experience, yeah it seems he is very quick to get punished for things that aren't such a big issue," McKenna said.
Ipswich stayed ninth in Sky Bet League One with the draw, MK Dons stayed third.