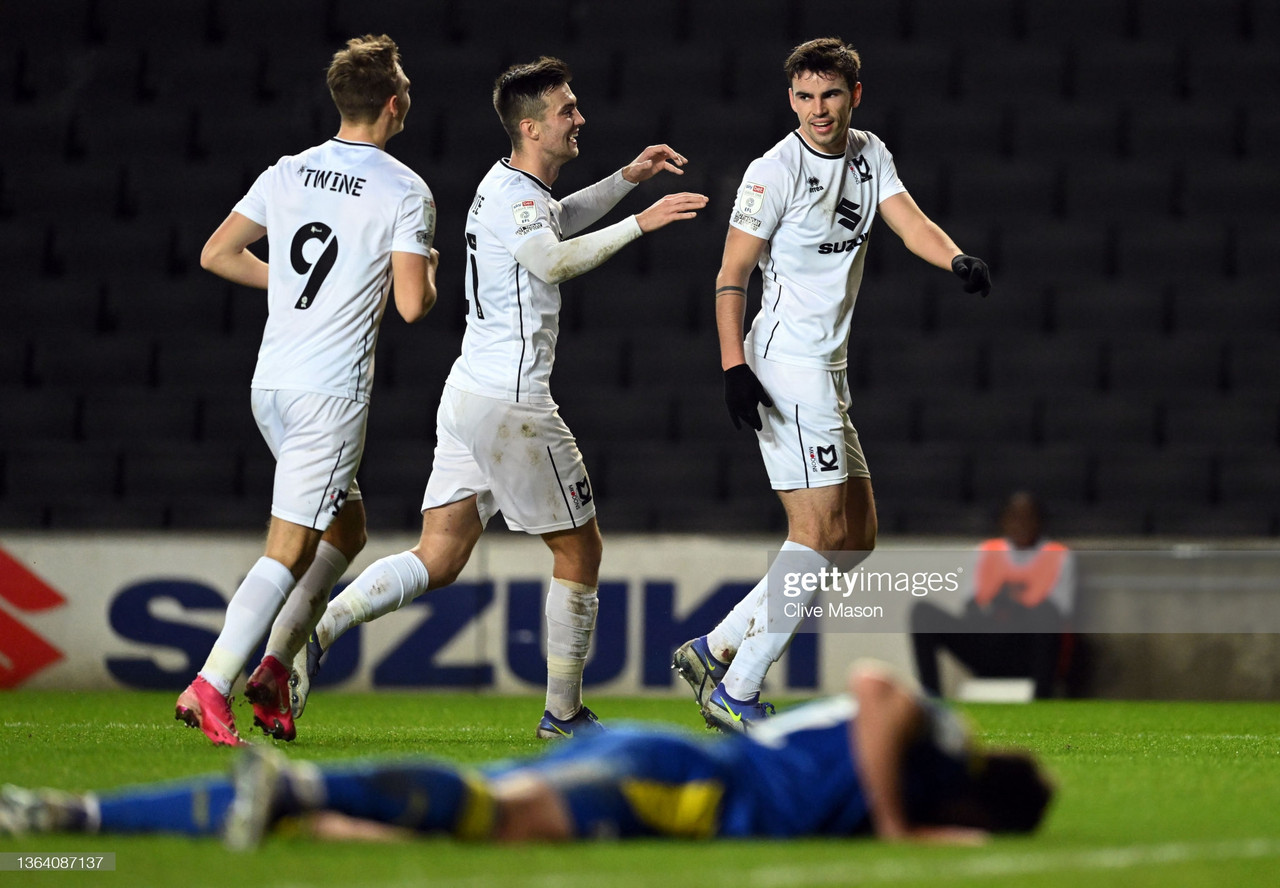 MK Dons prevailed against a dogged AFC Wimbledon on Tuesday night. In a close game fuelled by history and rivalry, a Matt O'Riley strike was the only difference between the two sides.
Liam Manning's side brushed off their winless home run of three matches and now go fifth in the League One table - with promotion very much on the agenda.
Mark Robinson's Wombles on the other hand drift down to 20th, just two points keeping them from the relegation zone.
Before the game, the news of the day was regarding the hosts' goalkeeping situation. Regular shot stopper Andrew Fisher was completing a move to Russell Martin's Swansea City, so Argentinian back up Franco Ravizzoli was between the sticks. This absence meant 17-year-old academy keeper Ronnie Sandford was called up to the bench.
In the midfield, David Kasumu was out with injury following the Accrington Stanley game. Ethan Robson came in to replace him and Tennai Watson replaced Luton Town loanee Peter Kioso. In attack Troy Parrott lost out to the new on loan arrival from Wolverhampton Wanderers Theo Corbeanu.
MK Dons: Ravizzioli; O'Hora, Darling, Lewington (C), Watson, O'Riley, Robson, Harvie, Twine, Eisa, Corbeanu.
The visitors made two changes from their 2-0 FA Cup defeat to Boreham Wood. Henry Lawrence and Paul Osew were replaced by Will Nightingale and Cheye Alexander. In what would be Wimbledon's fourth consecutive away game, they lined up like this:
AFC Wimbledon: Tzanev; Alexander, Heneghan, Nightingale, Guinness-Walker, Hartigan, Assal, Woodyard, Rudoni, McCormick, Palmer.
In the light drizzle, despite AFC Wimbledon starting brightest in possession, it was MK Dons who seemed the most dangerous in the early exchanges.
First, Scott Twine drove on toward the edge of the box but his effort scuffed wide right through the bodies on six minutes. After that, Harry Darling connected with a corner well but yet again it was wide.
For Wimbledon, they seemed comfortable in possession and worked especially well down the left hand side with some teasing balls - most notably on 20 minutes. That said, MK reacted well and found their feet moving forward. Wolves loanee Theo Corbeanu was very present on the right side and the Canadian winger's shot was blocked well as Wimbledon defended resolutely.
On 26 minutes, Twine and Corbeanu were causing more trouble for the Wombles as the ball just wouldn't go in following a corner. MK Dons just couldn't seem to grasp the bouncing ball in the box but it was promising.
Just three minutes later, MK would take the lead through Matt O'Riley. The 21-year-old midfielder was there to convert after some expert pressing from Scott Twine. Twine had goalkeeper Nikola Tzanev caught out and forced a poor pass which Twine could square to Watson on the right. The wingback found O'Riley on the edge who's touch set him brilliantly before slotting coolly home for his seventh goal of the season.
After this, the Dons continued in the ascendency and Corbeanu's work down the right forced a mistake. Nesta Guinness-Walker, already on a yellow, made a reckless challenge and gave the referee no choice. Bringing the Canadian down lazily, the 22-year-old had to walk on 35 minutes.
The stand in goalkeeper Ravizzoli began to show the Cowshed faithful he was up to the League One challenge. Routine catches on 39 and 43 minutes respectively reflected a cool head. However, that wouldn't be final action though, that would take place at the other end of the pitch. There was a bit of a scramble as Tennai Watson's volley on the right hit his own player before bobbling about in the area before an eventual clearance.
There was even more after this, inside the four additional minutes, as Watson again cut in from the right and found Twine whose effort was blocked heroically by Will Nightingale. The last real action of the half was a stray volley by Daniel Harvie.
Second half
In the second period, the host's pressure continued. On 55 minutes, smart link up play between O'Riley and Twine set up the prior who kept his drive low but was straight at Tzanev.
Three minutes later, Wimbledon looked to return the favour with a chance of their own but Anthony Hartigan could only blast over from range - not quite the headlines he had perhaps imagined.
Back with MK, yet again the attacking build up was good and Theo Corbeanu was well in the mix. Now switching wings in this second half, the ex-Sheffield Wednesday man just couldn't find the connection at the back post on 63 minutes after more electric work from Scott Twine.
The wingers were prevalent for the home side and after this Daniel Harvie had a half chance, advancing on the left - his low drive was an easy diving claim for the keeper.
72 minutes saw changes for both sides. Joshua McEachran came on for goal scorer Matt O'Riley. For Wimbledon, Egli Kaja emerged for Ayoub Assal.
After these changes, Scott Twine nearly scored a superb solo effort. Dancing past two Wimbledon defenders, the shot was somewhat stuck under his feet but still forced a good stop from the travelling 'keeper on 78'.
In what would be his last real contribution of the match before withdrawal, Theo Corbeanu missed a great effort from the left wing. Cutting in on 81 minutes, his right footed effort curled wide. It would've been some way to endear himself to the home fans. When he eventually came off for Troy Parrott he was met with a standing ovation.
In the final knockings, the action didn't cease. MK still needed to see out their opponents as despite having controlled much of the game, there was still the odd counter attack. Wimbledon may have felt hard done by as two penalty shouts were waved away. First, on 86 minutes Warren O'Hora grappled with Jack Rudoni and then it was that man Rudoni who got on the wrong side of his defender and was brought down on 92'.
It seemed like and escape for Liam Manning's side and they held out until the end. The last real challenge was a long free kick but the Dons dealt with it - the most Ravazzoli could do was an athletic dive as Cheye Alexander's speculative soared wide of the top right.
MK Dons go fifth with this valuable three points toward their promotion push. AFC Wimbledon however sit 20th currently, just two points between them and the drop zone. MK's next match is away at Portsmouth on Saturday, whereas Wimbledon face fellow strugglers Morecambe at home.