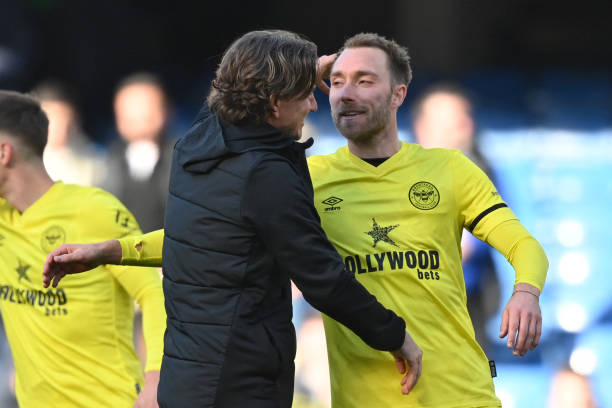 Brentford had not beaten their neighbours, Chelsea since 1939 but created history today with victory, also becoming the first promoted side to beat reigning European champions.
In an electric ten-minute spell, Brentford came from behind to score three goals and put the cherry on top of the victory with a fourth in the final minutes, creating a carnival atmosphere in the away end.
After watching his Brentford side humiliate the European and world champions, Chelsea at Stamford Bridge in the west London derby, Thomas Frank was in a joyous mood speaking to the press:
Biggest result of the season
"I said in the press conference, if we could win here it would be the biggest result of the season and it definitely is.
Before the game, I said to the players I think we have a chance.
Of course, Chelsea were massive favourites, they are a top club with a top manager and top players. Top everything.
And coming in at half-time I think we played well, were aggressive, pressed high, and there was something there for us.
But when Rudiger puts it in the top corner you think 'oh no not again' — it's like the Leicester game all over again.
But the character and mentality in these players are very impressive."
Aggressive
"I'm pleased, you could see throughout the game we tried to push high. From their goal kicks, when Mendy had the ball we were aggressive and it paid off.
We produced a great goal, the 1-1 goal.
We want to push as high as possible, we're just very pleased and proud. We will enjoy these 24 hours.
Today I am just very proud being part of Brentford, coming to Stamford Bridge and winning 1-4 so that's a big moment for me personally."
Everything came together
"I felt that when we play the top four, the top six teams we can get an unbelievable result and finally today, everything came together.
Top two games of the season, with Arsenal at the start of the season.
To compare, i don't know how many times a promoted club have gone to an away ground, the top three or four and won so it's about enjoying this moment, appreciating it then of course moving on after that."
Move on they shall with another London derby next week as West Ham United visit the "bus stop in Hounslow" – as the away fans gleefully sang today.
Now 11 points clear of the relegation zone and with just 7 games of the Premier League season remaining, Brentford and Thomas Frank can breathe a sigh of relief and enjoy the run-in. On today's performance, they will have many more match days and victories to enjoy.
Today is just the start.