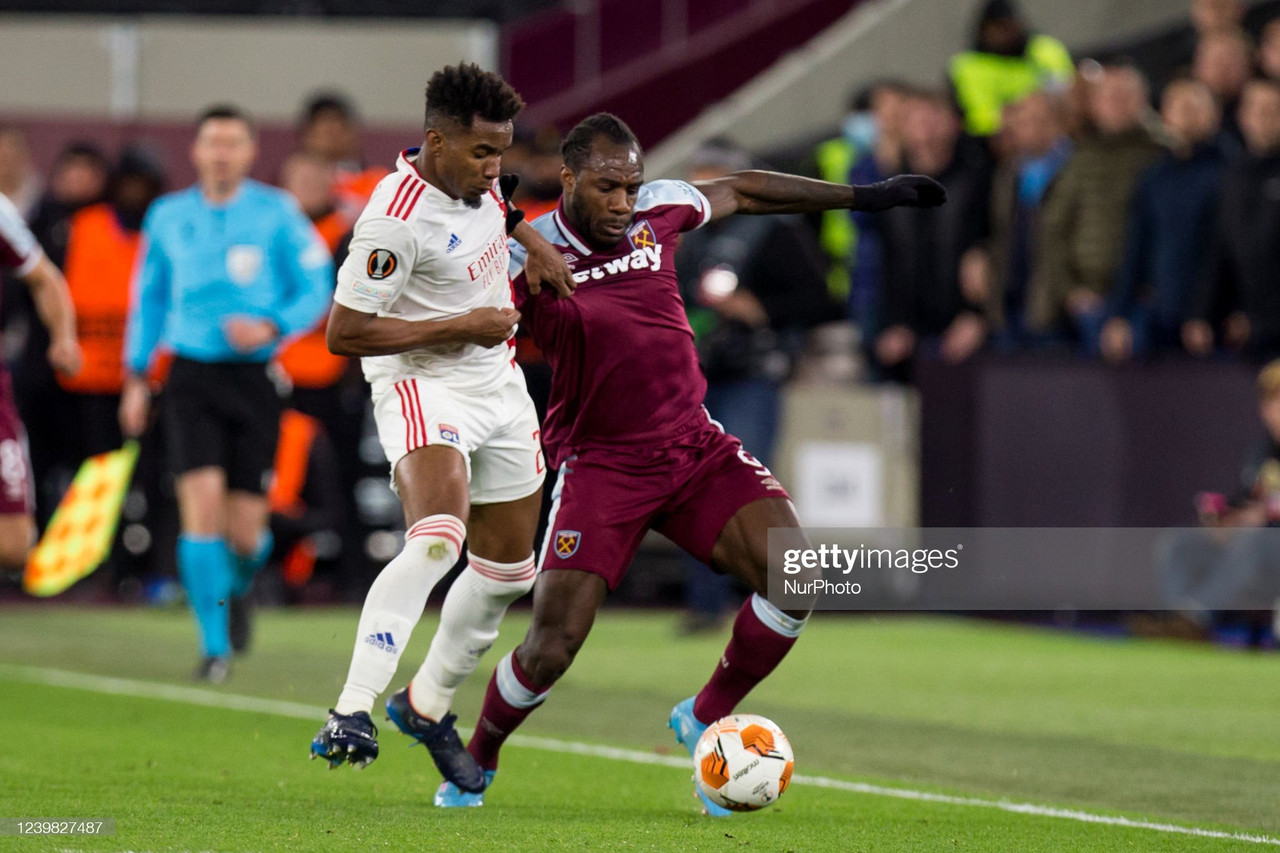 On a huge European night at the London Stadium, West Ham United held out for a 1-1 draw in the UEFA Europa League Quarter Final first leg against Lyon, after playing with ten men for the entirety of the second half.
Having progressed past serial winners of this competition in the form of Sevilla in the previous round of this competition, hopes were high heading into this one that the fairytale journey under David Moyes could continue on.
Of course, whatever happened there was still the matter of the second leg to be played, limiting the significance of the full time result, but what followed will have provided huge confidence to Hammers' players for the return leg.
Two goals in the two games since his return from injury 🔥🔥 pic.twitter.com/j1O4PROjII

— West Ham United (@WestHam) April 7, 2022
Having been through a hectic, end-to-end first half with chances created by both sides, it seemed as though the players would go into their respective dressing rooms level and with plenty to do after the half time interval.
That was until just seconds before the half time whistle came, when Moussa Dembele was set running through on goal, only to be seemingly taken down by Aaron Cresswell by the slightest of touches who was then given a straight red card.
Many might have expected that decision to completely alter the shape of the game and allow the visitors to begin to pile on the pressure throughout the second 45 minutes before finding the back of the net and putting themselves in a very strong position in the tie.
Goodnight, Hammers. Keep believing 👊 pic.twitter.com/fhu9zRgwf6

— West Ham United (@WestHam) April 7, 2022
However, it was West Ham who found the opening goal, when Jarrod Bowen took advantage of a defensive mishap by Jerome Boateng, smashing the ball into the back of the net after a deflection from the aforementioned centre back, to send the home fans around the stadium absolutely wild.
Michail Antonio had an opportunity to double his side's lead after Bowen put in an inviting cross, but the striker failed to make contact with the ball as the opposition goalkeeper did enough to put the 32-year-old off.
Eventually, Lyon did benefit from their extra man advantage, as Tanguy Ndombele forced the ball home to make it 1-1, but West Ham continued to get bodies behind the ball, seeing out the game for a draw which, given the circumstances, was an impressive result.
A strong team performance
During his post-match press conference, David Moyes bemoaned his side's performance in possession, commenting that he 'just didn't like the way we played with the ball in the first half,' showing his discontent in comparison to Lyon who were 'technically very good'.
Still, that criticism cannot also be said with regards to the display in the second half, when West Ham were, by necessity due to the situation they found themselves in, pegged back behind the ball and forced to do some dogged defending.
In particular, there were impressive displays from the two centre backs in the form of Kurt Zouma and Craig Dawson, both of whom were found time and time again making crucial interceptions and big tackles to turn over possession in dangerous moments.
Your Man of the Match last night...

Big Daws. 👏 pic.twitter.com/0G7cJLnayy

— West Ham United (@WestHam) April 8, 2022
Credit must also go to the home fans for how they got behind their team in the second half too, with various moments of defensive resilience being cheered as if they were goals themselves, which must surely have spurred on the team in tough moments.
While the defensive display was evidently the most obvious aspect to the performance on Thursday night, credit too must go to the ever-present Declan Rice, who once more ran the show in midfield, racing from box to box to keep up with play.
Combining him with the goalscoring machine that is Jarrod Bowen produces an excellent English attacking contingent, and while Michail Antonio will be a little disappointed with a couple of chances he failed to put away, he too remains an integral part of the team.
Fundamentally, it was a game which, while not West Ham's greatest in terms of pure performance, showed the mental fortitude which has been fostered within the squad - something that will be crucial should the Hammers progress any further in this competition.
As mentioned before, there is still a very difficult second leg to come in France in a little under a week's time, but if the team can play with similar levels of gusto and resolve, Lyon will, at the very least, have a tough time getting past their defence.
Questionable refereeing decisions
While the players themselves will feel that they put in a solid enough performance throughout the course of the evening, they will feel that they perhaps deserved a little more out of the game than just a 1-1 draw that they got in the end.
The tough thing to take for some Hammers' fans is that they may well have been able to take a win to Lyon, not only if they had tucked away another chance or two, but also if they had remained with all eleven men on the pitch.
Up until half time, it hadn't been the smoothest West Ham display, but nobody would have said they were playing terribly either, so a team talk from the manager could well have been the catalyst to a more potent attacking threat in the second half.
Aaron Cresswell is shown a red card deep into first-half added time!

He was judged to have pulled down Moussa Dembele...

The wink from the Lyon striker says it all 👀 pic.twitter.com/0PefUWytIr

— Football on BT Sport (@btsportfootball) April 7, 2022
As it was however, David Moyes' half time message, while likely containing similar levels of anger and expletives, was probably focused almost entirely on a refereeing decision which saw them have a men sent off in injury time at the end of the first 45 minutes.
It happened as Moussa Dembele was running towards goal and, while there can't be too much debate as to whether Aaron Cresswell, racing towards him from behind, would be denying a clear goalscoring opportunity if he fouled him, there were question marks over the foul itself.
There have long been debates about how much contact is necessary to bring a player down, with various viewpoints being expressed over the years when such controversial incidents have occurred, and some have more merits than others.
A few argue that it requires legs to be taken out to fall over, while at the opposite end of the spectrum are those who suggest that, when travelling at high speeds, only a minor touch is needed for someone to be forced off balance.
In the end, the red card probably kicked West Ham into action, forcing them to concentrate the whole way through, but if they fail to progress into the semi finals next week there may yet be further conversations to be had about that potentially pivotal decision.