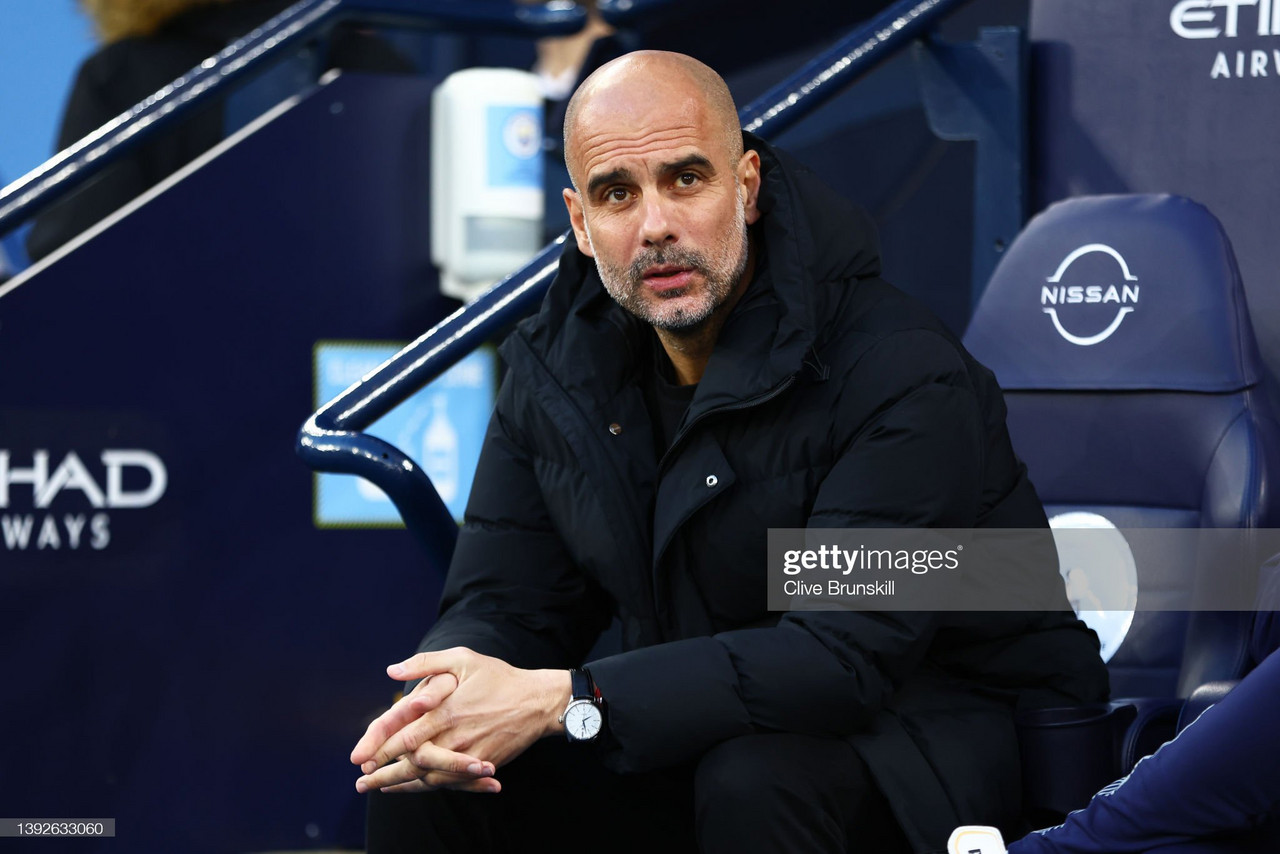 Manchester City reclaimed their one-point advantage at the top of the Premier League on Wednesday evening, as Kevin De Bruyne inspired the Citizens to a 3-0 victory over Brighton & Hove Albion.
Pep Guardiola addressed the press following the result. Here is what the Spaniard had to say.
On An Important Win
"It happened years ago when we won 14 in a row to be champions. That feeling is for a long time. If we drop points they [Liverpool] will be champions, if we win all our games we will be champions. It depends on fatigue, it depends on injuries, it depends on how we cover the bad moments, especially in the Champions League.

"But what an honour, it has happened every season since I was hear but it is one of the happiest days today because mathematically next season we will be in the Champions League. The people take it for granted because it's City but you have to be in the Champions League.

"Look at the contenders and look how many good teams there are and what happened mathematically is because we play well. But if you ask all the teams in the Premier League what is their main targets for the club, CEOs, chairman, owners, it is to quality for the Champions League for the next season."
On Watford & Liverpool
"They [Liverpool] are going to win all their games, we have to feel it. We are going to do everything in our body our mind and in our lives to do every single game the best."

"We have Watford with Roy Hodgson who always create us problems with Crystal Palace when he was there and after we have three really difficult away games with Leeds, Wolves and West Ham.

Embed from Getty Images

"It is just six games, nothing. I am pretty sure we are going to do our best but what happens after who knows."
On John Stones Injury
"He felt something tight, he felt something in his muscles. Hopefully it's nothing because we have problems in that position with Kyle [Walker] and John had to play against [Atletico] Madrid.

"But you know when people talk about my magnificent selection in the FA Cup against Liverpool that is many times for that reason [injuries]. In the FA Cup against Liverpool Kevin [De Bruyne] could not play. Sometimes the decisions is like this.

"I said yesterday in the press conference sometimes the only time to go through is when you have players fit and I didn't want to take a risk because the Premier League is so important to us.

"It [John Stones' leg] felt a little bit tight. I do not know I am not a doctor, I didn't speak with the doctor. I was drinking wine before I came to visit you and I didn't speak.

"Tomorrow in the morning the doctors will tell me."
On The Fans
"I would say today that the fans were incredibly close to us, sometimes they are more quiet than today. Today they saw how hungry we were. The defence will help us play for the title.

"The defence will help us play good and today we were so dynamic we were so aggressive without the ball. We could not do it for many reasons, especially mental fatigue and tiredness but if you want to make that step you have to come back.

"The defence is going to help us do it and today they [the fans] were amazing and they helped us to do it. The people there in the stands they see when the team is alive and they go and they press."