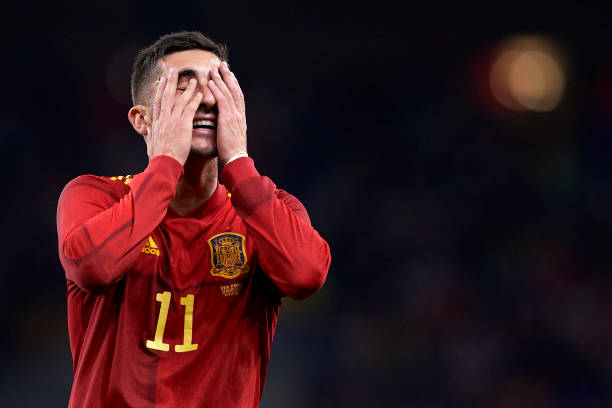 On 4 August 2020, Manchester City confirmed the signing of an exciting, new, Spanish prospect named Ferran Torres.
The player had worked his way through the Valencia youth system before being promoted to their first team in Spain at the tender age of 17.
With only six goals in 71 appearances, the Spaniard's abilities were somewhat unknown. However, it's the importance and stature of the goals that were the most impressive.
One of those goals was his first time netting in the Champions League, scoring in a 4-1 romping of Lille, becoming Valencia's youngest goalscorer in the competition in the process.
Torres was also an ever-present player in La Liga for Valencia, breaking a club record that stood for 38 years - the youngest Los Ches player to play 50 league games, at the age of 19 years and 254 days.
It was clear to see why Pep Guardiola wanted to snap the winger up and bring him to Man City.
And after a year and a half at the club, there was a fairytale-like feeling around Torres and the club.
The player spoke about wanting to replicate the kind of career David Silva, a City legend, had at the club, with the number 21 on his shirt.
That is one of the things that City fans used against the player when he forced his move to the Spanish giants, FC Barcelona.
But can you blame him? Well, this article will take a look at some of the reasons Torres may have chosen the change of environment instead of staying to develop under Guardiola.
The Barcelona effect
26 La Liga trophies. 31 Copa del Reys. 5 UEFA Champions League titles. Barcelona is one of the most prestigious clubs in the world of football.
Johan Cruyff, Andres Iniesta, Ronaldinho, Gary Lineker, Lionel Messi. The list of reputable former players is absolutely endless.
Any footballer has the dream of one day playing for Barcelona, or their rivals Real Madrid.
Plus, another Barca legend is coaching the side through a new era.
Everyone knows that the club has been struggling. In millions of pounds of debt, losing Messi to PSG, no Champions League football.
It has not been a fun time to be a Barca fan.
Xavi is leading the side back to where they should be, though. When the manager took over, Barcelona were in ninth place, closer to the relegation zone than first place.
Barcelona are now in third, and advancing in the Europa League, with victories over Napoli pushing them into the last 16 of the competition.
They may still be 12 points behind league leaders Real Madrid, but Xavi's Barca are on a 12-game unbeaten streak in all competitions and hammered Real Madrid 4-0 in the most recent El Clasico - something no fan expected after their dreadful start to the campaign.
Torres is part of a new era at Barcelona and is making a big name for himself, with six goals and five assists in 14 appearances.
With goal contributions against Real Madrid, Atletic Bilbao and Napoli, it is clear that Torres is thriving.
A stalling City career
In his time at City, he was a special talent, a rising star. One for the future, many thought.
He was also versatile, adapting to play anywhere across the frontline. Despite primarily playing on the wing, Guardiola placed Torres in the centre-forward role on 18 occasions.
In those 18 games, Torres stepped up to the plate, with City lacking a presence up front, bagging nine goals and one assist.
The thought of how far he could develop was unthinkable - and it still is - which is why his move to Spain hurt all the more.
For a young man just at the beginning of an exciting career, 14 goals and six assists was quite impressive.
This is the main reason Citizens questioned the manager's decision when Torres continued to appear on the bench in the 2020/21 season.
In his two years at the club, Torres was part of the squad but did not make it onto the pitch 26 times, frustratingly. Of those 26 games, City drew four and lost three. Who knows how many more points Torres could have won for the club?
When the opportunity to move to a club like Barcelona, and work under someone like Xavi, it was no surprise to see Torres jump at it.
The main question is, however, could more have been done to keep the now 22-year-old at the club for longer?
Do you think we should have tried harder to persuade Torres to stay?
Could we regret letting him go?
So many questions that will go unanswered, some that we may discover in the future.
Either way, Torres will be missed by many. But some are still upset with him, understandably.
Goalscorer. Hard worker. Adaptive. A fan-favourite.