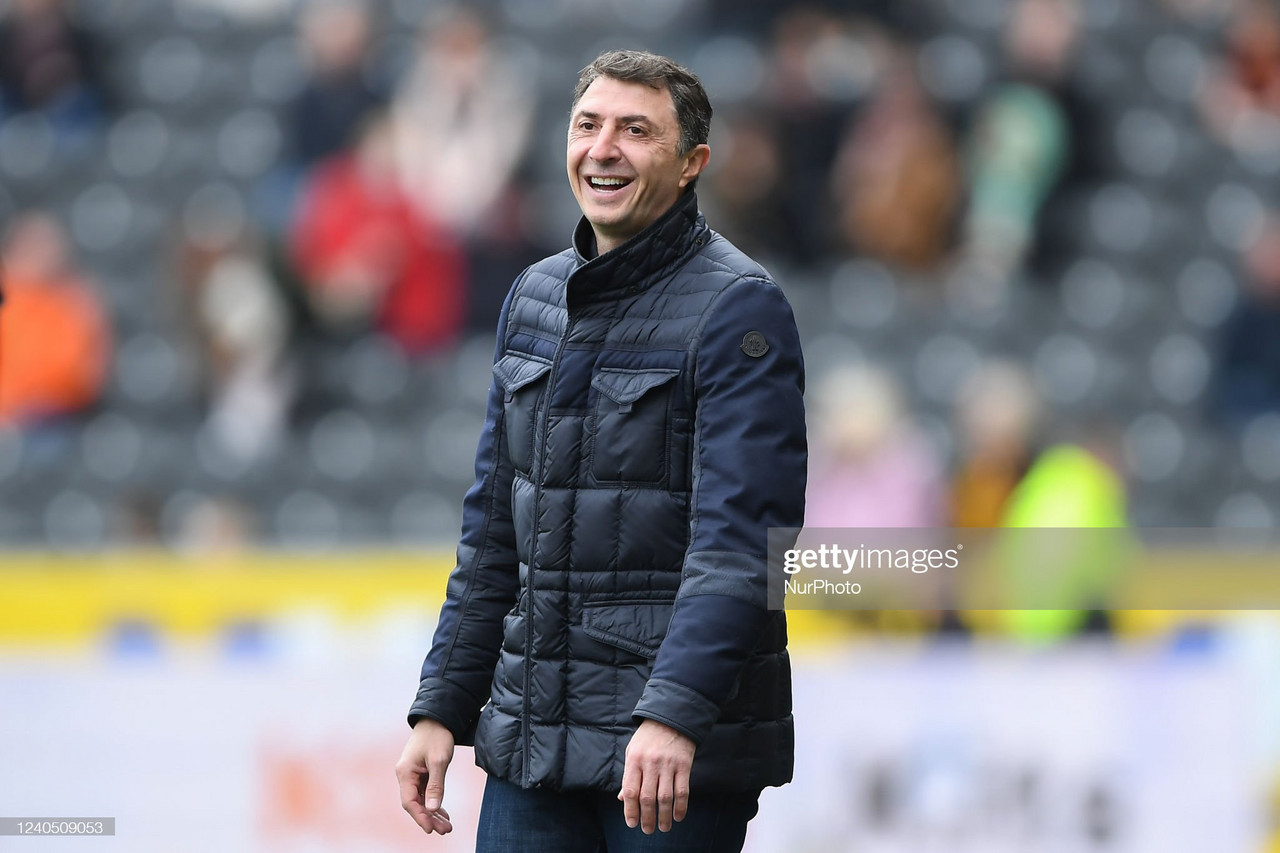 Shota Arveladze was pleased with his debut season in English football as his Hull City side played out a 1-1 draw with Nottingham Forest at the MKM Stadium.
His side had numerous chances to win the game, but were almost sucker punched by Forest after a soft penalty was given to the visitors. After Brennan Johnson slotted home, Hull went up the other end and Lewie Coyle swung in the equaliser to send the home supporters into raptures.
Here is what he had to say after the game.
"Crazy, yes," he said when asked what he thought of the ending to the game. "I think for the whole 90 minutes was a good game – chances both sides. Good team, controlled the game. We tried to defend more organized and get our chances which we did.
We didn't give much away – two or three shots to face. Good game for the supporters and the last goal was great for them."
On the contentious penalty
"If it was for me I would have wanted it, against me I would not – maybe a bit cheeky," admitted the Georgian. "I still believe that he held his foot because he felt the touch and went down. Linesman could have helped sometimes but maybe it was for entertainment!"
On the positive impact of the crowd
"It's the last game of the season for three months – it was amazing what we did with two seconds difference. The way the supporters gave this energy. If people and supporters do this it is the only thing that can move the players – the energy is better than the manager or the contracts or whatever.
We have to have a way to get them back. We didn't have a great run at home but they always show up and we tried to give something back. It felt like a win with the late goal. Keano and Greaves have played ninety minute pretty much the whole season – it is unbelievable for someone so long."
On the departing playing and coaching staff members
"We gave Tom (Huddlestone) a chance to say goodbye – it's not easy to decide to starts and who comes on. I tried my best to keep Tony Pennock but he said no and I respect that – I want to thank all my staff who welcomed me to this club. They have let me show my skills."
"The Chairman wants him. The Coach wants him. Some things in football you cannot say no or yes as it's about him. We will try to offer him the best we can for his future. It's both financial and for progress.
Every club considers where they can better. We will do that as much as we can."