Liverpool are close to striking a deal with Burnley to play their second fixture of the 2016-17 Premier League season at Turf Moor, having originally been scheduled to take place at Anfield.
The Reds wrote to the newly-promoted Clarets to request that their fixtures be swapped due to ongoing construction work on the Main Stand to bump their capacity up to around 54,000.
Although the club are confident that the work will be completed in time, they have asked to swap the two clashes in order to allow extra time for any potential issues of the renovations to be ironed out.
As a gesture of goodwill, fellow North West outfit Burnley have reportedly agreed to the switch - meaning Jürgen Klopp's men play their first three games of the season away from home, visiting East Lancashire on August 20.
They had already written to the Premier League to request their first game be played away from home and they were granted their wish. Starting off at Arsenal on the opening day, the Reds then visit Burnley before travelling back to the capital to take on Tottenham Hotspur the following weekend.
Reds request set to be accepted by Burnley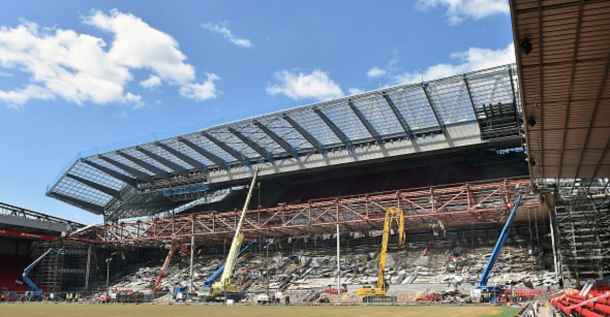 Liverpool's first Anfield fixture doesn't come until September 10, when they host reigning champions Leicester City immediately after the first international break of the campaign.
Consequently for Burnley, Sean Dyche's side will instead travel to Anfield on March 11 as they face four consecutive away games between February and March, potentially a crucial part of the season as they look to avoid an immediate return to the Championship.
The Clarets, who won the second division title in May on a dramatic final day, could quite easily have rejected the appeal - forcing the game to go ahead at Anfield, but have shown commendable generosity to agree to change it.
They do, however, have five of their first seven league games on home soil. The Liverpool game falls on the same day as Blackburn Rovers' Championship clash with Burton Albion, but it is understood that there are no concerns over policing because of the different category statuses of each game.