Liverpool striker Danny Ings has revealed that he's enjoying the intense nature of pre-season training under Jürgen Klopp, as he looks to make up for lost time after misisng the majority of last season through a knee injury.
Having only returned to competitive action on the final day of last season, Ings is yet to start a competitive game under Klopp, having injured himself a few days after the German's arrival.
Intense, tactical training as Ings catches up with his teammates
Speaking to the club website, Ings admitted that "the training is very intense, very tactical", but that he's enjoying himself whilst "playing catchup", having been forced to watch Klopp's methods from the sidelines last season.
"What I did was watch from the sidelines and try to pick up as much as I could. I'm just trying to put that into games now," said Ings. He also said that his biggest aim was to "get fit and get to how I was before I was injured", with Ings Liverpool's top scorer for the season at the time of injury.
The striker is returning to form in pre-season
He seems to be doing well on the comeback trail, having scored two goals in Liverpool's first three pre-season games, including the opener in Sunday's 2-0 triumph away at Wigan Athletic.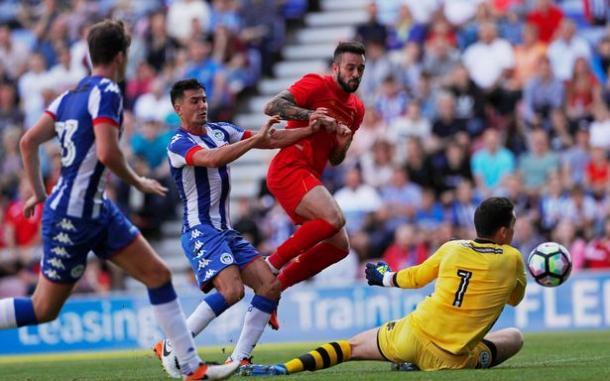 "It's all about getting minutes under my belt", said Ings, who has played 45 minutes in each game so far. He spoke of how he felt he should have scored more in each game, but conceded that overall he he's "happy to be out there and feeling sharp".
The striker will get his next chance to impress Klopp and edge closer to match fitness on Wednesday, with the Reds set to visit Huddersfield Town in their final local game of pre-season.