This game was set to be the precedent of Newcastle's survival bid. A rejuvenated Newcastle United side, who, under the guidance of Managerial legend Rafa Benitez, had gone four games unbeaten, facing an already relegated and demoralised Aston Villa side.
The points were there for the taking with Villa having lost their past 12 matches home and away and Newcastle resurgence looking promising with key players such as Andros Townsend and Jamaal Lascelles. So, how did Newcastle blow their Premier League hopes and dreams?
Poor effort
With Newcastle knowing that nothing other than three points would be a dismal failure, the expected level of performance would be high intensity, high performance and high determination. What the 3000 travelling fans witnessed however was a team that looked as if they were safe from relegation.
Relaxed, passive and mediocre. Three words that had seemed to evaporate with Benitez's arrival just three months earlier have sadly returned upon one of the most important fixtures in the clubs history.
Newcastle United looked like a side that knew they were safe from relegation. How ironic then that this mentality and performance is the very one that condemns them to the Championship. Easily the most distinct thing that this match encapsulated about Newcastle is their damning complacency. Football pundit Ian Wright best summed up Newcastle today as a team that was "everything Sunderland wasn't".
Perhaps this is the most heart wrenching fact for Newcastle fans. Sunderland are better! Their game against Chelsea epitomises what a relegation fight looks like, one diametrically opposed to the passivity of Newcastle against an already doomed villa.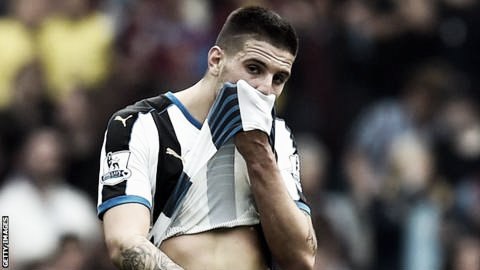 Finishing was poor
Though the match fought by Newcastle was a passive one, there is no denying that they were still dominant over Villa and this is the most infuriating part of their likely relegation.
Players such as Jack Colback, Alexander Mitrovic and Andros Townsend all had stellar chances to take the lead and keep Newcastle's fight alive, however like the finishing of Newcastle has been all season, they just couldn't put the ball in the net.
In the match, Newcastle only managed nine shots on Aston Villa's goal with keeper John Ruddy hardly ever having to make a dynamic save. In contrast with this, Sunderland managed to achieve 15 shots on target which clearly illustrates that the spirit, determination and fight are with Sunderland.
A repeat of 2008/2009
It seems another ironic twist in Newcastle's relegation tale that the very stadium which condemned them to the Championship during the 2008/2009 Season has more or less done it again. Villa Park must be the Babylon of Newcastle's Premier League hopes as it seems that once again Villa have sent the Toon Army back to the Championship.
Though Newcastle are not officially relegated yet, it seems the most plausible outcome of the final stages of the 2015/2016 Season. With Newcastle's fate decided at Goodison Park in the upcoming week when Sunderland face Roberto Martinez's struggling Everton side, a Sunderland win will see Newcastle relegated, but a draw or a loss will see a dramatic conclusion in the last match of the Season.
Can Newcastle survive? Realistically, no. But crazier things have happened it football.