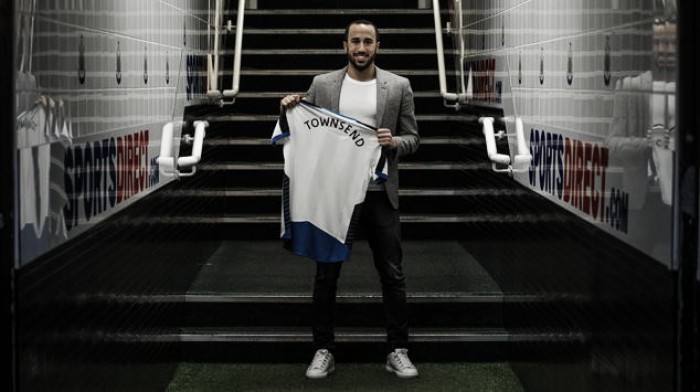 Tottenham Hotspur midfielder Andros Townsend has today completed a switch to Tyneside, joining Newcastle United for approximately £12million pounds on a five-and-a-half contract deal.
Speculation had been strong for all of the January transfer window that the England midfielder would complete a move to St James' Park, but negotiations appeared to have stalled earlier in the month as other clubs showed their interest.
Nevertheless, Townsend leaves the London club after a 16-year stint, which included various loan moves - QPR, Birmingham City and Leeds United to name a few - and arrives into a competitive squad at St James' Park.
Tottenham nightmare comes to an end
Townsend didn't have the greatest of 2015's, so he will be hoping that he can put behind him what has been a nightmare three months for the English winger.
The midfielder was originally dropped from Spurs' first-team squad at the start of November. This was after a reported bust-up with the team's fitness coach Nathan Gardiner, shortly after the home win against Aston Villa on November 2.
Having made a total of 91 appearances for his now former club - rewarding him with 10 International caps - Townsend felt the time for a move away was right. With Euro 2016 just around the corner, the midfielder will be hoping he can impress Roy Hodgson in his new black and white colours.
Townsend looking forward to Newcastle challenge
After being shy of first-team football for a lengthy period of time this season, Townsend will be looking forward to hopefully a successful 2016 at Newcastle. Earlier this week, Townsend made his feelings pretty clear about the move to Tyneside, and what could potentially be ahead for him.
When speaking to Sky Sports, the midfielder said: "As soon as I knew of Newcastle's interest they were the only club I wanted to join."
Townsend also seems to be looking foward to playing in an attacking role for the North-East side, saying that centre-forward and winger are "two of the biggest positions you can play" so he "couldn't turn an offer like that down."
Townsend also expressed how he was "excited" to join Newcastle and that he "couldn't wait" to make his first appearance at St James' Park.