Olympique Lyonnais picked up their 10th Division 1 Feminine title win on the spin on Sunday after a 5-1 win at Soyaux.
Ada Hegerberg's 31st league goal of the season got them on their way after just eight minutes, but they did suffer something of a scare when they were level at 1-1 until the 77th minute, thanks to Justine Deschamps.
However, Hegerberg pulled through with a second 13 minutes from time, which opened the floodgates as Pauline Bremer and Amandine Henry made it 4-1.
In the final minute of the 90, Hegerberg then bagged a fitting hat-trick as Lyon sealed the deal to lift the title.
Paris Saint-Germain did all they could with a 3-2 win over ASPTT Albi - another dramatic one with them trailing 2-1 until 70 minutes - but with Lyon doing the business, the girls from the capital saw their title chase come to an end.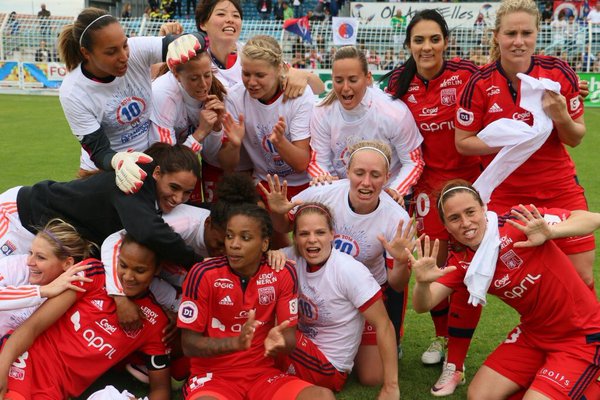 La Roche's fate sealed
Elsewhere, La Roche-sur-Yon were finally relegated after letting a 2-0 lead slip at home to AS Saint-Étienne.
Charlotte Lemarchand and Clara Mateo scored either side of half time - in the last and first minutes of the two periods - to put them ahead, giving them hope of survival once more.
However, Léonie Fleury pulled one back for the visitors with eight minutes to play and then Sara Palacin condemned La Roche to a place in the second division in the cruelest fashion - equalising in the 90th minute.
Finally, we know that it will be them joining VGA Saint-Maur and Nîmes Metropole Gard in the Division 2 Feminine then, both of whom suffered big defeats in their final away games of the season.
The latter actually took the lead against Rodez after just 12 minutes, Laurie Saulnier on the scoresheet, but goals from Marine De Sousa and Stéphanie De Revière before half time turned the game on its head, and the former then put things to bed after the break.
Meanwhile, Montpellier were the side that downed Saint-Maur, beating them 5-0 at home.
Goals from Linda Sembrant, Andressa Alves and a double from Valérie Gauvin had them four up at the interval, while Laëtitia Tonazzi capped off a dominant display with a fifth just past the hour.
Juvisy are still pushing Montpellier for that top three finish though, with them downing Guingamp by the same 5-0 scoreline today to maintain the one-point gap.
Gaëtane Thiney broke the deadlock inside 60 seconds, and that ruthlessness set the tone for an enjoyable afternoon for the home side.
Kadidiatou Diani and Tatiana Coleman scored before the break, while Janice Cayman completed a second half brace as Juvisy wrapped up their home season in style.
The last week may not have a great deal of drama to come with it then - the title is decided; the relegation battle is decided; the Champions League places are decided - but, with Lyon hosting Montpellier and Juvisy visiting PSG, it's going to be an incredible weekend to sign off with.