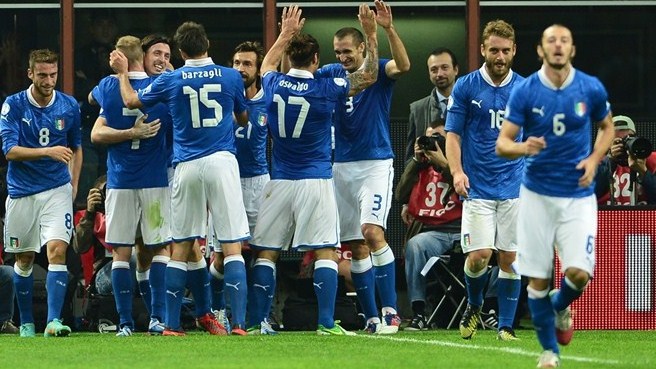 Coach
Cesare Prandelli
W 19 - D 11 - L 8
Since taking over as manager of the Azzurri after the 2010 World Cup, Cesare Prandelli has put his mark on the team.  While generally using his more trusted 4-3-1-2 Diamond shape that he used at Fiorentina, he has shown a willingness to use a 3-5-2 when needed.  He brings an attacking, possession style game on the pitch, which is a surprise to casual observers, but all too familiar to fans of the Italian game.  Prandelli will look to make the best of this tournament, while trying to experiment with what formations and player combinations work best, as he continues his preparations for next year's World Cup.
Goalkeepers
1) Gianluigi Buffon (captain)
Club Team: Juventus
Caps: 128
There isn't much about Gianluigi Buffon that has not already been said.  He is a World Cup winner (2006), a European Cup Finalist (2012), a six time scudetto winner, a runner up for the Ballon d'Or, and multiple individual awards for top keeper, domestically, within UEFA, and FIFA.  He is considered one of the greatest keepers of all time, and has the hardware to prove it.
He has great command of the penalty area, and his reaction saves are a thing of beauty, likely one of the reasons he is considered one of the best penalty shot stoppers around, having saved over 27% of the shots from the 12 yard spot.  
Buffon has been the captain of the Azzurri since 2011, after the retirement of Fabio Cannavaro, and sits only 8 caps behind the former captain for the most caps by an Italian player.  At 35 years of age, Buffon has shown very few signs of slowing down, and continues to play top level football.  The starting position is his until he decides to hang up the gloves, and there is no reason to think he could not play until the age of 40, as did former Azzurri captain and World Cup winner Dino Zoff.
12) Salvatore Sirigu
Club Team: Paris Saint-Germain
Caps: 5
Considered one of the top keepers in Europe, Salvatore Sirigu is the only player on the azzurri that plays outside of Italy.  He transferred to French giants PSG, and has become a fan favourite.  Earlier this year, he broke Bernard Lama's team record of 697 minutes without conceding a goal, and has been one of the reasons why PSG won their third Ligue 1 title.  Should Buffon not be able to play, the Italians know they have a top keeper waiting in the wings.
13) Federico Marchetti
Club Team: Lazio
Caps: 8
During the 2010 World Cup, Federico Marchetti was called on to replace Buffon during the opening game against Paraguay; however he is no longer considered the second choice on the Italian side.  He had a very good season for Coppa Italia winners Lazio, and while it is unlikely Marchetti will see the pitch, if called upon, he can perform at a high level.
Defenders
2) Christian Maggio
Club Team: Napoli
Caps: 24
A versatile player, Maggio plays on the right side, generally as a right-back, or right-wing back, however can also play in the midfield.  He has a eye for the net, scoring 20 goals for Napoli in the last 5 seasons.  While the 31 year old is unlikely to start, he can come off the bench to provide a spark when needed.
3) Giorgio Chiellini
Club Team: Juventus
Caps: 58 
A hardnosed defender, Chiellini is one of the top defenders on the peninsula, and will likely play on the left side of Coach Prandelli's 4-3-1-2 system, but has the ability to play in the central area of defense.  The 28 year old Juventus player, known for his industrious play on the defensive line, also has a bit of a "nose" for goal, scoring 23 goals for Juventus in 275 matches.  
4) Davide Astori
Club Team: Cagliari
Caps: 3
The 26 year old centre back, Astori started his early career in the Milan system, twice being loaned out before being sold on a co-ownership deal and then eventually bought entirely by Cagliari.  He is solid defensively, and with his height, poses a threat on set pieces and corners in the offensive end.  The Lombardia native will likely start from the bench, and come on to provide fresh legs late in matches.
5) Mattia De Sciglio
Club Team: Milan
Caps: 3
The youngest member of the team, by only a few days, De Sciglio has made a name for himself at Milan, starting 25 games for the northern giants in Serie A this past season.   De Sciglio, while still eligible to be playing with the azzurrini side currently in the middle of the UEFA U21 European Championship, he has shown he deserves a spot on the senior squad.  Not only has De Sciglio shown great defensive ability, he has great confidence going into attack, his speed allowing him to beat defenders and get crosses into the box.  Milan skipper Massimiliano Allegri has shown great assurance in his defender, playing him in every position on the defensive line, as well as an offensive wing back position.  He made his debut for the azzurri in March, a friendly versus Brazil, and played the full 90 minutes in the World Cup Qualifier versus Malta.  Prandelli will know that he has an wonderful, versatile talent, who will star for the national team for years to come.
15) Andrea Barzagli
Club Team: Juventus
Caps: 42
The 32 year old Barzagli is considered one of the best defenders in Italy, being a player of great positional strength and a skilled tackler.  He is also no stranger to winning on the international stage, as he was a member of the 2004 Euro U21 Championship winning side, earned a bronze medal in Athens at the 2004 Summer Olympics, and won the World Cup in 2006. Alongside Chiellini and Leonardo Bonucci, they formed the best defensive core in Serie A the past three seasons, and translate that to Prandelli's squad in a 3 man defense.  Plus, FIFA 13 ranks him an 84, so he must be good, right?
19) Leonardo Bonucci
Club Team: Juventus
Caps: 27
Leonardo Bonucci has gone from being almost run out of Turin, to being one of the fundamental players on the national team defense.  Far from a "traditional" Italian centre back, Bonucci is more a modern hybrid defender; he has the passing ability of a playmaking midfielder, being able to initiate an attack from the back line with precision, but still good defensively, especially in the air.  He has the endurance of a machine; for Juventus this season, he started every game he was eligible to play, except one, and played the full 90 minutes (or more in Coppa games) of 46 of 48 games.  This season was his first season as a professional not to score a goal in the domestic league, however he made up for it by scoring the tying goal in a game versus Shakhtar Donetsk in the UEFA Champions League.  Bonucci will be relied upon heavily if Italy is to have any success at the Confederation Cup. 
20) Ignazio Abate
Club Team: Milan
Caps: 11
Ignazio Abate is a speedy right back, who likes to make attacking runs down the right flank.  Prandelli has shown great trust in the 26 year old with only 11 caps, as Abate now mans the right side of a four man defense.  Although he was brought through the Milan youth system as a midfielder, he worked with Milan legend Maruo Tassotti to convert his skills in to defending, and he is now considered one of the best young defenders in Italy.
Midfielders
6) Antonio Candreva
Club Team: Lazio
Caps: 7
Antonio Candreva is a play making, attacking midfielder, but can also play as a winger where required. He has represented Italy at various levels of its youth teams, and made his senior team debut in 2009.  His quick feet give him the ability to create space for himself, take long range shots, which give keepers trouble.  This last season, Candreva managed 6 goals and set up an additional 7 for his home town team.
7) Alberto Aquilani
Club Team: Fiorentina
Caps: 25
Alberto Aquilani has been a bit of a journeyman the last few seasons, playing with four different teams in four years.  He left Roma for Liverpool after the 2009 season, playing only a single season for The Reds, before being loaned to Juventus for the 2010/11 season and Milan for the 2011/12, before being transferred to Fiorentina at the start of this season.  Aquilani is a playmaking attacking midfielder, having assisted on 6 goals in each of the last 4 seasons and also has an eye for goal, netting 7 goals for the Viola.  While playing in the 2003 UEFA European Under 19 Championship, Aquilani was awarded with the prestigious Golden Player Award.  Prandelli has used Aquilani both alongside Andrea Pirlo and as a late game substitution for him. 
8) Claudio Marchisio
Club Team: Juventus
Caps: 34
To call Claudio Marchisio a work horse is an understatement.  He plays in neither a traditional defensive midfielder role, nor as regista, however he is almost able to switch between both roles as required.  He has the ability to win balls, mark the opposition's top players, make passes to release forwards, and score important goals, and has become an extremely vital player for both the azzurri and his hometown club.  At only 27 years of age, he will feature for the azzurri for quite some time.  
16) Daniele De Rossi
Club Team: Roma
Caps: 86
 One of the most versatile and complete midfielders in Italy, De Rossi has played for the national team at many levels.  He is able to play in a defensive midfield position, a containing central midfield role, can enter into the attack with ease, and during Euro 2012 showed that versatility by playing as a central defender.  Internationally, he has played for the U-19, U-20, and U-21 azzurrini, winning the Euro U21 Championship, and was an important part of the 2006 World Cup winning squad (red card versus the US not withstanding).  He brings a never quit attitude on to the field every game, and plays with a similar pugnacity and grit that Genarro Gattuso used to bring to the field.
18) Riccardo Montolivo
Club Team: Milan
Caps: 45
Montolivo remains one of those mystery players that has all the talents to be a "top player", but frustrates onlookers by not utilizing those talents to their full potential.  The Tuscan native can play in various positions in the midfield, either as a triquartista attacking midfielder, or as a vice-Pirlo, playing deep and distributing the ball.  While born in Italy, the 28 year old also holds a German passport (as his mother is German), which must have pulled on his heart strings following the semi final game in last year's European Cup semi final.
21) Andrea Pirlo
One of Prandelli's core players, Pirlo is the cornerstone of the Italian attack.  He is the model regista, having incredible technique, is a fantastic dribbler with wonderful control of the ball, great vision and creativity, and his ability to deliver accurate passing is a thing of beauty.  He is a master of set plays, his costless kicks continue to dazzle opposing keepers, and who can forget his incredibly timed penalty against England in the quarter finals of last year's European Championship.  During the 2006 World Cup, Pirlo was instrumental in leading the Italians to the final, and ultimately in winning the final.  His importance to the team was shown in 2010, when he missed the first two games due to injury, and played only a portion of the third game, as Italy was knocked out after the first round.
Giaccherini is another multi tooled player in Prandelli's squad.  While some question his inclusion with the national team, he has the ability to add a spark.  He can play as an attacking midfielder, as well as both wings, and offers some choice coming off the bench, or as a starter when required by Prandelli's formation.  While never having played on any Italian national team prior to Euro 2012, Giaccherini has won the trust of the coach, and in the end, is all that matters.
A native of Prato, Diamanti has shown that he can be an explosive player with the ball on his feet.  Domestically, the past two seasons has seen him score 14 goals and assisting on 17 others.  At Euro 2012, he was used as a late game substitute, being used in his more natural seconda punta position; however he is also capable of being fielded in an attacking midfield role.
If you had to define an ideal striker, you would make him strong, fast, and agile.  You would give him a powerful shot and give him the ability to score from anywhere.  This is, Super Mario.  The Milan star is one of the premiere strikers in Serie A, and put that on display after his transfer from Manchester City earlier this year, scoring 12 goals (6 from PKs) in 13 games for the northern giants.  In last year's European Championship, Balotelli was a force in the semi final versus Germany, scoring both goals to lead Italy into the final.  Although off the field Balotelli can tend to get into trouble, he is at home on the field.  He will garner a lot of attention on it from opposition defenders, who will try to goad him into taking silly fouls.  If he can head this distraction, and focus on the task at hand, he has the capability of carrying this azzurri squad on his back.
As a contrasting player to Balotelli, it would be difficult to find one more physically different than Sebastian Giovinco.  Standing at almost a foot shorter, The Atomic Ant uses his size and quickness to beat players with agile dribbling skills.  He can also line up behind the ball to curl in a costless kick when required.  As a Turin born youngster of southern parents, Giovinco came through the Juventus youth ranks to make a name for himself, making his debut for the senior team in 2007, and also being called to the Under 21 squad that same year.  Prandelli has used Giovinco mainly coming off the bench, using his fresh legs against tired defenders.
 It seems that Gilardino has been around forever, and it is easy to forget that he is only 30 years old.  He is the highest scoring player on the team with 18 international goals.  Gilardino made a name for himself at Parma, scoring 50 goals in 96 games before being transferred to Milan in 2005.  There, while no longer being the focus of the attack, still managed to score 36 goals in 94 games over 3 seasons.  He moved to Fiorentina for 3 and a half seasons, netting 48 goals, but only 2 goals before being transferred to Genoa mid season in 2012.  Genoa transferred the veteran to Bologna, where he has gone through a bit of a renaissance this season, scoring 13 goals in 35 games, catching the eye of Prandelli, and recalling him to the national team after a one year absence and missing Euro 2012.  The World Cup winner has shown that he still has the ability to find the net and his experience will be a valuable tool.
The son of an Egyptian father and Italian mother, the former Genoa youth team product made his Serie A debut in 2008 at the age of 16, becoming the 4th youngest player in league history.  He was loaned out to Serie B side Padova for the 2010/11 season, where he received the Serie B Player of the Year award.  After that season, he was transferred to Milan for 15.5m€, and quickly became a fan favourite by scoring the tying goal versus Udinese in his second appearance for the team.  While mainly used as a substitute his first season, his second season at Milan has been a break out year in finding the back of the net.  He is a speedy forward, has great technical skill and looks like he has the ball glued to his boots when dribbling.  He has the ability to take long strikes and is a threat to score from anywhere around the penalty area.  Along with Mario Balotelli, the Milan duo looks to have their forward partnership to grow on the international stage.
Alessio Cerci needed a move to Torino to revive a promising career that was struggling in Fiorentina.  One of the few truly "wide" players on this team, the left footed forward can play either flank, but prefers the right side so he can cut into the central position and take a shot with his strong foot.  This past season, not only was he able to find the back of the net on 8 occasions, he was also able to create goals, assisting on 12 more, being directly involved in 20 of Torino's 46 goals this season.  A creative player and relative new comer to the azzurri, should he get a chance to play in Brazil, Cerci may quickly become a house hold name.