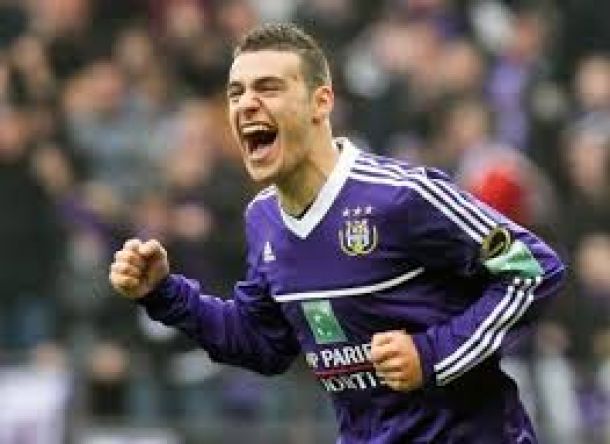 In a bizarre turn of events, the 2.Bundesliga transfer record was today apparently broken, but £9 million RB Leipzig signing Massimo Bruno was immediately loaned out to Austrian club Red Bull Salzburg.
However, sporting director Ralf Rangnick has since stated that the purchase price is "at five million plus the corresponding extremely performance-based bonus payments upon reaching the respective goals." Taking this into consideration, the fee is no longer the most expensive in 2.Bundesliga history (1899 Hoffenheim paid in the region of £7 million for Carlos Eduardo in 2007), but it is still a strange thought to loan out one of the clubs star men.
The issues, or solutions if you prefer, lie deeper under the surface. Both sides are sponsored by Austrian sports drinks manufacturer Red Bull. The ability to move players within the sides sponsored by the company has previously been used. For example, Marcel Sabitzer. The 20-year-old, who is regarded as one of the most talented young professionals in Austria, also chose to move to RB Salzburg via RB Leipzig. Because Sabitzer had a release clause for a move abroad, he took a detour via Leipzig. This is just one of numerous examples in which the players of each side have swapped clubs.
Bruno himself feels that RB Leipzig are a possibility in the future "With Anderlecht I could even play in the Champions League already, to achieve the same with my new club, is a great goal. And also the perspectives that exist on RB Leipzig, are extremely exciting for me, " said the 20-year-old, who was previously linked with the likes of Arsenal, and is currently a Belgian U-21 international.
"My goal is to have maximum success in the future with two clubs in the respective countries. With Leipzig we made two ascents within the last two years and are now facing a big challenge in the 2nd Bundesliga. Our medium-to long-term goal is and remains the Bundesliga, "said sporting director Rangnick. Seemingly, the likes of Bruno would return to Leipzig should they achieve top flight status in German football.
In the Red Bull consortium, this "synergy" would not be seen anywhere else to this extent worldwide. Says Rangnick ""If we discover a player, then it's just a question that I have to decide, if it's more of a Salzburg player or rather one for Leipzig."
To summarise, the 2.Bundesliga outfit splashed out in excess of £5 million on a player that they will not have available to them next season, which hardly seems normal, but there are certainly positives to the system.
Unlike most transfer systems, the communications network between the clubs bankrolled by the Red Bull consortium work in harmony, and in the near future, this may well become quite a common theme in global football.