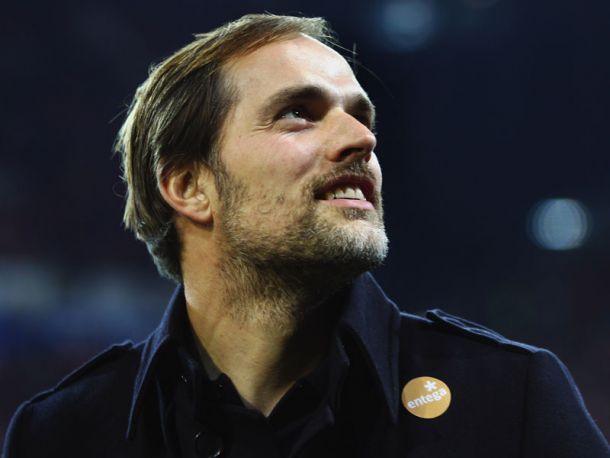 There is absolutely no doubt that the situation surrounding Thomas Tuchel is quite extraordinary, and intriguing at every level. The former 1.FSV Mainz 05 manager quickly became one of the most respected and sought-after coaches in European football after having taken over the reins from one Jürgen Klopp to guide the Karnevalsverein from Bundesliga bottom-feeders into a top-ten side playing fantastically entertaining football without spending extortionate amounts of money in the transfer market. There always was something special about the way he saw football and identified talent, setting his team up to perform at levels only dreamt about by other managers who may even have had more capital at their fingertips.
He was the true successor to the now-Borussia Dortmund manager in every sense of the word. Relentless pressing high up the pitch was complimented by lightning fast breaks when the ball was regained, while possession stats were of little, if any, concern. Defensively, 1.FSV Mainz 05 under Thomas Tuchel were quite solid, and could ride out the storm against sides adept at attacking admirably, before striking on the counter-attack with devastating effect. Interestingly, according to a Spielverlagerung.de article from 2011, which is still very relevant, it is brought to one's attention that Thomas Tuchel was very prolific in his use of substitutions, with all three allowed personnel changes per game regularly being used. Winning the ball back, high-octane attack and the ability to change games with subtle changes and keeping players fresh; that is what made the Karnevalsverein everyone's favourite underdog for a number of years.
Thus, the odd and slightly acrimonious divorce from 1.FSV Mainz 05 came as a complete surprise to many. From the outside looking in, all seemed calm beneath the surface, particularly given the fact that Die Nullfünfer had just completed a fantastic season which saw them finish seventh in the Bundesliga and consequently qualify for the preliminary round of the UEFA Europa League. However, it quickly emerged that the departure was a long time coming, as reports emerged claiming that Thomas Tuchel had already informed the club of his desire to prematurely end his contract quite a while back. The request was not granted, and the rest, as they say, is history, as the manager moved to successfully void his deal at the Coface-Arena. The club, in as many words, made it clear that any club keen on signing their former manager would have to compensate 1.FSV Mainz 05 quite handsomely.
"Contracts have always been adhered to here at Mainz. A change without the blessing of the club is not possible, and it will stay that way. It is not known yet what legal implications there might be, because this is a first for us"
- 1.FSV Mainz 05 Sporting Director Christian Heidel, only a day after the club played their last game of the season
So, a new chapter began for the club as Kasper Hjulmand was swiftly confirmed as their new manager, but the puzzling question still remains about what lies ahead for Thomas Tuchel. It has been well documented that he decided to take a season-long sabbatical from football, a la Pep Guardiola, but what happens afterwards remains an open topic for discussion.There is no doubt that there is significant interest from numerous clubs, but oddly enough the strongest rumor has come from one of the the unlikeliest sources imaginable for the casual football fan; RB Leipzig. Die Roten Bullen clearly have ambition to make their stay in the 2.Bundesliga a very brief one, with the top division of German football and then eventual continental competition a clear target for everyone at Red Bull, with no expense being spared in order to make this a reality.
But would this be a good career move for such a prodigiously talented manager? It is no secret that the RB Leipzig project is frowned upon by fans and opposition clubs alike, which could make for a far less enjoyable job than at perhaps an established and respected 'traditional' club. Also, the only sure thing in football is that there are no sure things in football, and the prospect is always there that Die Roten Bullen might not win promotion this campaign, despite their strong start to the season and current position. Would Thomas Tuchel be prepared to manage a 2.Bundesliga side if they do not make the step up to coincide with the end of his sabbatical? That is highly doubtful. The possibility that the DFB could bar RB Leipzig from entering the Bundesliga if they do indeed gain promotion due to their organizational structure is unlikely, but not completely unthinkable, which leaves a certain air of intriguing uncertainty around this job.
For the Bundesliga fan, perhaps the perfect fit for Thomas Tuchel, and the club involved, would be to take over the reins at Schalke. Die Köningsblauen have been searching for years to find the right coach to return them to a position of royalty within German football, and Thomas Tuchel certainly seems to fit the bill. The potential for real greatness is there, with their renowned youth academy, the Knappenschmiede, churning out incredible talent at an amazing rate. Youngsters like Max Meyer, Kaan Ayhan, and of course, Julian Draxler, have the pure talent and potential to take the league by storm under the right guidance, while the next generation of Donis Avdijaj, Marvin Friedrich and Leroy Sane promise more of the same. For Thomas Tuchel, it would also provide a wider platform and a stepping stone into the Champions League, with Schalke having asserted themselves as a consistent top-four threat in the past couple of seasons. Previous manager Jens Keller had done a decent job, but the fact that he was not universally liked by fans and thus carried most of the blame when things went south just illustrates what a volatile enviroment it is to work in, and Roberto Di Matteo is most certainly not in a position of invincibility at the Veltins-Arena - particularly with said Thomas Tuchel unattached at this juncture in time. However, what looks like the perfect fit in theory does not always work out that way in reality, and there might be reluctance from the manager's side to commit to what really can be a thankless job.
Speaking of thankless jobs, the sacking of Hamburger SV manager Mirko Slomka predictably saw his name drawn into the conversation regarding becoming a possible successor at the Imtech-Arena, before Under-23 manager Josef Zinnbauer was awarded the job instead. HSV Director Dietmar Beiersdorfer was recently quoted as saying: "To my knowledge, Thomas Tuchel is not currently on the market, thus we appointed Josef Zinnbauer". This not only reiterates the fact that nobody really is sure where things stand with Thomas Tuchel, and whether his sabbatical is actually contractually obliged by 1.FSV Mainz 05 in order to avoid any unsavoury legal action (despite the fact that everyone involved with the club maintains that there are no hard feelings, and only have praise for Thomas Tuchel), but that he, in fact, was a topic of discussion, to a certain extent at least, for Die Rothosen. Of course, it is hard to imagine Thomas Tuchel taking such a demanding job at a club in constant disarray, seemingly on the verge of ending their uninterrupted stay in the Bundesliga and plunging into the second tier of German football, but one feels that it is only a matter of time before Josef Zinnbauer also gets casted aside. Who better could there possibly then be to restore Der Dinosaurier to their former glory? If he is prepared to take on such a big challenge, the potential reward could be immortalization as the man to have made Hamburger SV great again, or at least for helping them in the right direction. Is it unlikely? Yes. Completely inconceivable? Never say never.
Another intriguing possibility that has arisen is at the very top of the pile - The Rekordmeister, Bayern Munich. The German tabloid BILD recently reported that Thomas Tuchel had held a secret meeting with Pep Guardiola at the Allianz-Arena in December, which, for the sake of playing devils' advocate, could suggest the Catalan manager had hand-picked his eventual successor at Säbener Straße, given his constant search for new challenges and now-notorious reluctancy to sign a new contract at Bayern Munich, despite the ever-intensifying efforts of CEO Karl-Heinz Rummenigge. At the moment, this is nothing more than a theory, but Thomas Tuchel would certainly fit what the Bavarians are currently trying to achieve - Winning football, but in a beautiful way, constantly pushing the envelope of possibility. The German manager is technically astute, with the ability to think outside the box, qualities which does remind of Pep Guardiola himself. Many who are not as familiar with the finer nuances of the Bundesliga would probably wonder why some manager who previously only managed 1.FSV Mainz 05 of note could possibly be linked, albeit tentatively by those who see that meeting with Pep Guardiola as more than just a social call, to a job as prestigious as that at Bayern Munich, but the fact is that he is the most in-demand local manager of his generation, as ground-breaking as Ralf Rangnick and Jürgen Klopp were when they initially burst into prominence.
Whatever happens on the pitch this season, we can be sure that Thomas Tuchel will remain a constant issue in the background. The questions regarding his future will keep on lingering, and German football fans in particular will be keeping an eye out for any new development regarding which step he possible might take next. Whether it be expected or something completely out of the blue, we will simply have to wait and see.