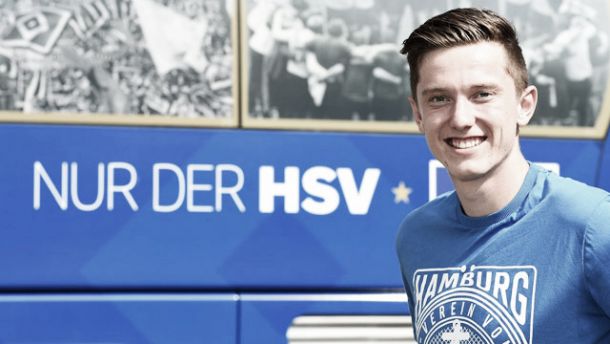 After week-long talks between Hamburger SV and VfL Bochum, it is finally confirmed that U-21 Austrian international Michael Gregoritsch has signed a four-year deal until 2019 with the Rothosen.
The waiting came to an end and both all sides now have clarity on the matter. Hamburg got a young winger with a lot of potential for their team, the player himself can adjust on his new challenge and VfL Bochum made a brilliant deal - selling Michael Gregoritsch for around €3m.
The new signing joined the team for their training camp in Harsewinkel directly after signing the contract, and also played his part in training and met his new team-mates.
"I sat on the terrace during the relegation battle"
After signing his new contract, Michael Gregoritsch made some time for an interview with hsv.de and answered some questions. In this interview, he said that he is "happy to be at Hamburg after waiting week after week for the final confirmation".
The player also added that the talks between him and HSV started "before the relegation battle against Karlsruher SC", where he also sat on terrace and "kept his fingers crossed" for the Bundesliga dino.
"I had some good talks with Peter Knäbel, Dietmar Beiersdorfer and later on with the coach Bruno Labbadia. I am happy to get the chance to estalbish myself in Bundesliga", he explained.
Sporting director, Peter Knäbel, also had his say: "Michael [Gregoritsch] is a multi-talented attacking player. We see the essential potential in him to strengthen our attack."
The youngster made 40 appearances in the 2. Bundesliga for FC St. Pauli and VfL Bochum, scoring eight goals and assisting four.
Steinmann loaned out to Chemnitzer FC
20-year-old youth International, Matti Steinmann, was loaned out to third division team Chemnitzer FC just before the Gregoritsch move. The Chemnitzer also have an option to buy after the loan, but they can only make use of this option to buy if they earn promotion to the 2. Bundesliga.