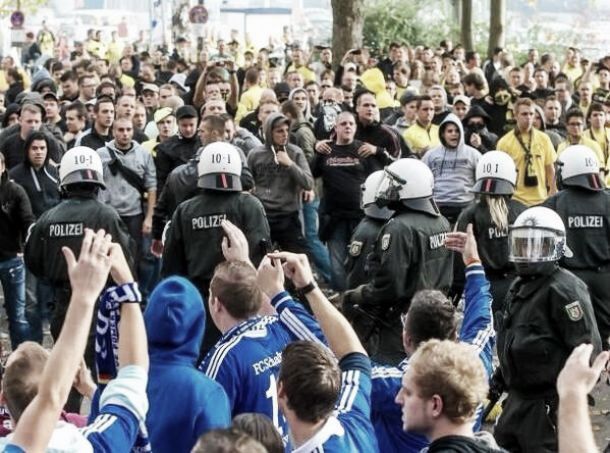 Schalke fans are set to boycott a fixture against Borussia Dortmund after the international break in response to security regulations.
Die Knappen were expecting the usual allocation of over 8,000 tickets for the Revierderby, however according to Bild they will be given just 6,500 tickets for the fixture on November 8th.
This combined with the strict conditions imposed by local police on their movements to and from the stadium on matchday has proven too much for many Schalke supporters to take, with the 'Ultras Gelsenkirchen' announcing on its website that the fangroup would not be attending the match.
Due to recent trouble between the supporters and police, the latter have taken the action to implement such restrictions.
In the February 2015 match in Dortmund, local police said Schalke supporters had marched from a train station to the stadium unlawfully, while 51 cases of violent disorder on the day were investigated..
Official club statement
Schalke 04 have released an official statement on the matter, in which they outlined their views.
"Schalke have decided not to dictate to our own fans how they should make their way to the stadium," a Schalke club statement read. "We are also rejecting the introduction of personalised tickets with vouchers.
The club has asked its fans to "distance themselves from any violence or criminal damage, not to burn any pyrotechnic material or provoke anybody" and to "distance themselves from anybody who should think differently to this."
More than just a game
With it being such a big game in the region, there has been clashes in the past between the rival supporters.
The most recent notable incidents occurred in 2014 and 2012 when in both instances fans fought police and made the smooth running of the day all the more difficult.
Both sides have started the season very well, sitting in 2nd and 3rd, meaning there is an added buzz to the fixture next month.
It is not clear yet as to how many visiting supporters will attend the game and how many will protest, but figures should become available nearer to the time as ticket sales should indicate.